2024 Toyota Prius Prime
3rd Generation
Sold in the USA = 2023-Present
Overall Ratings: 8.5/

10
2024 Toyota Prius Prime Price in the USA
Prius SE
Start at:

32,350 $

Prius XSE
Start at:

35,600 $

Prius XSE Premium
Start at:

39,170 $
The Toyota Prius Prime is a plug-in hybrid electric vehicle (PHEV) produced by Toyota. It's an advanced version of the popular Toyota Prius hybrid, designed to offer increased electric-only driving range and greater fuel efficiency. The Toyota Prius and Prius Prime look the same on the outside and inside, and they share many of the same tech and safety features. There's a crucial difference that the Toyota Prius Prime is a plug-in hybrid that can run on electricity alone for a distance.  The 2023 Toyota Prius Prime is about as close as Toyota gets to making an all-electric vehicle. It can still use gasoline when needed, and it gives you a taste of all-electric driving, making it a more environmentally friendly option. Toyota has given the Prius Prime a complete makeover for 2023. This plug-in hybrid has a fresh appearance and a completely updated chassis. It's now based on the second generation of Toyota's TNGA-C architecture, which means it has a sturdier structure, is lighter, and has a lower center of gravity compared to the previous TNGA-C platform used in last year's Prius. These changes aim to enhance the car's performance and efficiency. The new Prius Prime has a bigger engine that works together with its electric motors to give it an extra 99 horsepower compared to the previous Prius Prime model. It also features a new lithium-ion battery pack that should allow the Prius Prime to travel for nearly 40 miles solely on electricity before gasoline. This means you can enjoy longer electric-only driving without worrying about recharging or refueling as often.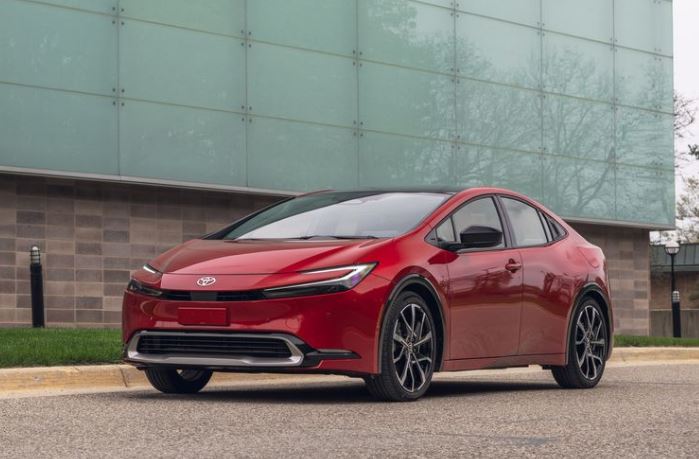 Trims & Variants:
Toyota made some changes to the trim levels of the Prius Prime. They've removed the LE, XLE, and Limited trims, and replaced them with the SE, XSE, and XSE Premium grades. These new trims emphasize the Prius Prime's sportier and more dynamic qualities.
Engine & Powertrain:
The previous 1.8-liter four-cylinder engine in the Prius Prime is gone now. It is equipped with a larger 2.0-liter engine that delivers 160 horsepower and 139 pounds-feet of torque. This engine works alongside two electric motors. One of them provides power to the driving wheels, while the other manages a special gear system that distributes the engine's power in a way that's similar to a continuously variable automatic transmission (CVT). All combined, this setup generates a total of 220 horsepower, which means the Prius Prime has more oomph and can accelerate more quickly than before.
Performance & Drive:
 You'll find that the Toyota Prius Prime has plenty of power for most situations. It leans more towards using its electric motors, which provide a quick and robust torque. Whether you're starting from a standstill or passing slower cars on the highway, you don't have to think too much about it; the Prius Prime has you covered. It still uses a CVT automatic transmission, but it's been adjusted to reduce the noise from the engine, making for a smoother and more enjoyable driving experience.  It can accelerate from 0 to 60 miles per hour in 6.7 seconds, which is pretty quick when the Prius Prime combines its gasoline and electric power. It takes a bit longer, about 11.2 seconds to reach the same speed when relying solely on its electric motors. The Prius Prime is a front-wheel-drive car by default, but expectedly Toyota might offer an all-wheel-drive option for an additional cost in the future. The new Prius Prime now boasts a larger lithium-ion battery pack, which means it can go even farther on electric power alone. It used to offer about 25 miles of electric range according to EPA ratings, but now it can travel up to approximately 44 miles before needing to use the gasoline engine.  The XSE model managed to cover 33 miles on the highway at a speed of 75 miles per hour before the battery ran out, and the gasoline engine took over. The Prius Prime's battery's recharging is more convenient than ever. It comes with solar panels on the roof that help recharge the battery when the car is parked. These solar panels also power accessory items like air conditioning when driving. It's important to note that these solar panels are exclusive to the higher-end XSE trim and are not available on the lower-end SE and XSE trims. The Prius Prime surprises with its responsive steering and excellent control, making it feel smooth and easy to handle. It handles well on winding roads, offering a nimble and intuitive driving experience. It also has a lively acceleration and brakes that respond predictably. These qualities make driving the Prius Prime quite enjoyable, especially on curvy roads.
If you were to put some high-grip tires on it, the Prius Prime might even resemble a hybrid version of a sporty hatchback, delivering a bit of a sporty driving experience.
Exterior Design & Features:
The latest 3rd generation Prius has received a fantastic makeover in terms of its appearance. Toyota has given it a fresh and sportier design, making it more appealing and stylish. The new exterior design is sleek and streamlined, which is bound to catch people's eyes and turn heads. It might be challenging to spot all the differences between the regular Prius and the Prius Prime. The updated design of the 2023 Prius enhances its desirability and adds a sporty touch to the driving experience.
Interior Design & Features:
The Updated Prius and Prius Prime models have a tad smaller cargo and cabin space compared to some larger vehicles, but they still offer ample legroom and storage capacity. Drivers and passengers can anticipate having a cabin and cargo area similar to what you'd find in most sedan cars available in the market. So, there's still plenty of room for comfort and storing your belongings. You'll find a stylish cabin with a modern wraparound dashboard design. It prominently features a large infotainment screen positioned at the center. Unlike older Prius models that had the gauge cluster in the center, the latest Prius Prime has its cluster right in front of the driver, which is more conventional and easier to read. It offers a shift lever, which used to be on the dashboard but has now been relocated to the center console. This shift in design gives the interior a fresh and updated look, making it more in line with contemporary car layouts. The Prius Prime offers two options for its infotainment system. The SE and XSE models come standard with an 8.0-inch touchscreen. If you opt for the XSE model, you have the choice to upgrade to an even larger 12.3-inch screen. The top-tier XSE Premium trim includes the big 12.3-inch screen and adds a high-quality JBL audio system for a premium audio experience.
Safety & Features:
The latest Prius Prime comes with a range of safety features to help keep you and your passengers safe; It has a built-in display that shows you what's behind the car when you're backing up, which can help you avoid obstacles. Blind Spot Monitor (BSM) helps to keep an eye on your blind spots and alerts you if there's a vehicle in them, helping you make safer lane changes. When you're reversing out of a parking space or driveway, Rear Cross-Traffic Alert warns you if there are vehicles from the sides, reducing the risk of collisions. ABS prevents your brakes from locking up during hard braking, helping you maintain steering control in emergencies. The Prius Prime offers a comprehensive airbag system to protect passengers in a collision, including front, side, curtain, and knee airbags.
Pros & Cons:
Pros:
Increased Electric-Only Range: The Prius Prime offers a longer electric-only driving range compared to previous models, allowing for more environmentally friendly driving without relying on gasoline.
Improved Performance: The larger 2.0-liter engine and electric motors provide a total of 220 horsepower, resulting in quicker acceleration and better overall performance.
Sportier Trims: The new SE, XSE, and XSE Premium trims emphasize a sportier and more dynamic driving experience, appealing to those who prefer a sporty hybrid.
Stylish Exterior Design: The 2023 Prius Prime features a sleek and sporty exterior design that enhances its appeal and distinguishes it from previous models.
Responsive Steering and Handling: The Prius Prime offers excellent steering and control, making it enjoyable to drive on winding roads and providing a sportier driving experience.
Solar Panels: The higher-end XSE trim comes with solar panels on the roof, which help recharge the battery and power accessory items, such as air conditioning.
Safety Features: The Prius Prime is equipped with a range of safety features, including a backup camera, Blind Spot Monitor, Rear Cross-Traffic Alert, ABS, and a comprehensive airbag system.
Cons: 
Limited Rear Seat Headroom: The rear seats may have limited headroom, which could be a drawback for taller passengers.
Limited Storage Space: The center armrest may have limited storage space, which could be inconvenient for storing small items.
Gauge Cluster Complexity: Some drivers may find the gauge cluster to be cluttered and complicated, potentially affecting ease of use.
Major Competitors:
The Toyota Prius Prime competes in the plug-in hybrid electric vehicle (PHEV) segment, and it has several competitors from various automakers. Here are some of the main competitors of the Toyota Prius Prime:
Chevrolet Volt (Discontinued): The Chevrolet Volt was a direct competitor to the Prius Prime until it was discontinued. It offered a similar plug-in hybrid setup with electric-only driving and a gasoline range extender.
Hyundai Ioniq Plug-in Hybrid: The Hyundai Ioniq Plug-in Hybrid is a versatile PHEV that offers a competitive electric-only range and fuel efficiency. It's known for its practicality and affordability.
Kia Niro Plug-in Hybrid: The Kia Niro Plug-in Hybrid combines a spacious crossover design with plug-in hybrid technology. It offers a comfortable interior and a good balance between electric and gasoline power.
Ford Escape Plug-in Hybrid: The Ford Escape Plug-in Hybrid is a PHEV version of the popular Ford Escape SUV. It provides both electric-only driving and the versatility of an SUV.
Honda Clarity Plug-in Hybrid: The Honda Clarity Plug-in Hybrid offers a roomy interior and a decent electric-only range. It's part of Honda's Clarity lineup, which includes various electrified models.
Mitsubishi Outlander PHEV: The Mitsubishi Outlander PHEV is a plug-in hybrid SUV that offers all-wheel drive and a competitive electric-only range. It's known for its off-road capabilities.
BMW 3 Series Plug-in Hybrid: For those looking for a premium PHEV sedan, the BMW 3 Series Plug-in Hybrid offers a luxurious interior and strong performance in electric and hybrid modes.
Volvo XC60 Recharge: Volvo's XC60 Recharge is a plug-in hybrid SUV with a focus on safety and upscale features. It combines electric power with a gasoline engine for a well-rounded driving experience.
Volkswagen Golf GTE: The Volkswagen Golf GTE is a plug-in hybrid version of the popular Golf hatchback. It offers sporty handling and a decent electric-only range.
Audi Q5 Plug-in Hybrid: Audi's Q5 Plug-in Hybrid combines the practicality of an SUV with hybrid technology and a premium interior.