As the trend change so does companies act accordingly, Lamborghini isn't the only company that decided to launch SUV in future because another most luxurious and expensive brand of world Rolls Royce also showed its interest and confirmed the release of SUV name Cullinan. Company that made Rolls Royce to jump in SUV segment is Bentley that launched bentyaga in 2016 after which Rolls Royce realized the demand of SUV's. Cullinan name to car is given after famous uncut diamond gargantuan which weighs 3106.8 carats; name of vehicle will surely attract millionaires & billionaires who have strong interest in SUV's. This new SUV by company will base on aluminum-space frame architecture that is used for building next generation Rolls Royce. There are no chances that this new SUV Cullinan will leave huge price tag norms of company as some other vehicles including Escalades, Q7S, Cayenne and Tahoes never move out of certain price limit even though these vehicles stayed for quite long time.
Read Also: Corbellati plan to introduce world fastest Missile car at Geneva auto show 2018
Engine:
Rolls Royce will use same 12 cylinders reliable engine for cullinan while there is also expectation for another option of Ghost's twin turbo 6.6 liter engine, a Plugin hybrid version of cullinan will also introduced.
Expected price tag of this Luxurious SUV is 430000 $ and expected to launch at the end of this year.
Competitors:
Lamborghini URUS
Merced AMG G65
Land Rover Range Rover Supercharged
Porsche cayenne turbo
Bell 2016 Jet Ranger
As we all know the Rolls Royce SUV will be amazing but fighting again these will require better fuel economy and acceptable price tag.
Update: 28-08-2018
Rolls Royce Cullinan SUV overwhelming Demand: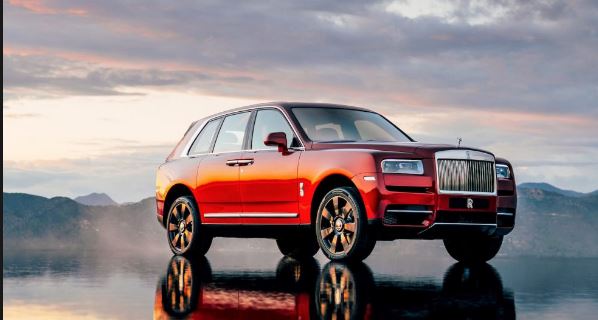 Cullinan is the first ever SUV produced by Rolls Royce, it is the first vehicle that combines luxurious styling and performance capabilities together; this is also the first vehicle that has everything required for off roading. Cullinan was launched in the last month May of 2018 and right after launch this most awaited vehicle of Rolls Royce attracted so many customers and increases its demand.
Regional PR and communication manager of Rolls Royce told that;
"Response from our customers and prospects of the media and fans of the brand worldwide has been overwhelmingly positive. The order books for Cullinan are also exceptionally strong and already stretched well in 2019, first customer delivery due early next year"
Moreover he also said;
"As the world's leading luxury house and pinnacle motor car manufacturer will not be chasing volume- a Rolls Royce is rare and precious item. Rolls Royce will and must remain exceptional and exclusive; this is what our customers demand, our success is build on long term sustainable growth"
Price of Rolls Royce Cullinan:
Cullinan is priced at approximately 3,25,000 Dollars.