Punjab safe city authority has become quite active these days and taking legal actions against those people who are roaming around on roads with illegal number plates of cars.
Before moving ahead let us first enlighten How legal number plates look like?; Registration number on the number plate starts in an ascending order and letters like I, O and U are not used so that they might not resemble with 1, 0 and v numbers. Authorized size of the number plate is 6 inches in height and 12 inches in its width. Every province has different symbolic representation on its number plates; if we take the example of Punjab then we can see metal flowers image on the registration plate of all the cars in Punjab. Similarly Sindh has enforced the use of number plate with yellow background and provincial coat of arms. Islamabad has embossed Faisal mosque picture on number plates of all cars registered in Capital of Pakistan. Different departments of Pakistan have different colors on the registration plates so they can be recognized and distinguished easily. All the cars under Government of Pakistan have green color registration plates with white numbers and letters. Armed forces have green number plates with numbers and letters embossed in black color on it. Foreign diplomats have cars with red colored registration plate and white colored numbers and letters embossed on it.
Read Also: Nissan is Expected to Launch Datsun Go in Pakistan for 2020 – 2019 News
Every car is given a different registration number by Excise and Taxation department and it should be computerized and standardized. It has been noticed that people are still using fancy number plates on their cars. One of the extreme disadvantage of such number plates is that it cannot be read by the cameras installed throughout the city. Cameras installed on road can only read the computerized number plates. E challan is sent to the users and entry to motorway is prohibited for such illegal number plate's users. Recently a crackdown operation is going on for such illegal number plates. A warning letter is issued to the vehicle user for seven days and if the registration plate is still not changed then the vehicle is cracked down by City Traffic Police.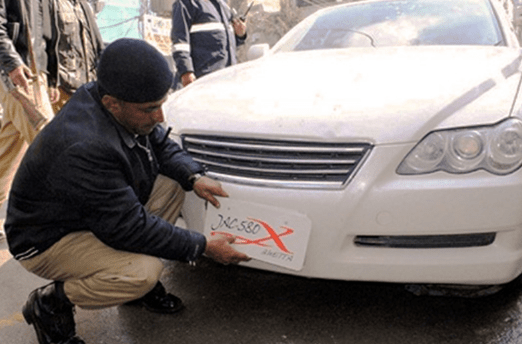 Read Also: Next 5th Generation Honda City is Expected to be Display in 2019 -News 2019
Another strict action has been taken on the blue revolving emergency lights on the cars. Such lights are fitted on vehicles for emergency conditions. These emergency lights were originally used in Germany for the first time in World War 2. The main purpose of such lights was to clear the way for emergency use, to slow down and to warn people coming their way. Such lights are used by ambulances, fire brigade, police and emergency rescuers. It has been noticed that people are using revolving blue lights in their cars for casual use. They are using such lights to decorate their cars and make a confusion with emergency vehicles. These fancy lights are getting so common on roads because no strict action has been made yet on their use. Now City Traffic Police has made laws to crackdown such vehicles. They are issuing a seven day warning letter to such vehicles and if they don't remove these revolving lights from their cars then their vehicles are banned. So if you have any of such vehicle go and make legal changes in it to be used comfortably on roads.