Sports cars are always known for their unique capabilities, and among all of sports car manufacturing companies Lamborghini remained as futuristic and favorite for many customers and fans. Lamborghini sports cars stand among most expensive, beautiful and full of sportiness vehicles but now Lamborghini moved a step ahead by creating a concept car that can heal. Many luxury vehicles of different companies can detect cracks and issue warning using sensors installed in body, engine and inside but healing capability for now is the property of Lamborghini Terzo Millennio only. This project was started about one year ago in Collaboration with Researchers of (MIT) MassaChusetts Institute of Technology.
CEO and Manager of Lamborghini said;
"Collaborating with MIT for our research and development department is an exceptional opportunity to do what Lamborghini has always been very good at – Re-writing the rules on super sports cars,

No we are presenting an exciting and progressive concept car"

We are inspired by embracing what is impossible today to craft the realities of tomorrow; Lamborghini must always create the dreams of the Next Generation"
Read Also: Special Edition Green Toyota 86 to Honor British Racing Era – 2019 News
Healing function in Lamborghini Terzo Millennio works by Detecting cracks using sensors and than repair it by filling that particular crack with nano-tubes which also prevent it from further spreading.
The healing is not the only capability of the car that is unique but this all electric car is little opposite to conventional electric cars because it is powered with small, light weight super capacitors than conventional batteries. These super capacitors made up of carbon can be transformed inside the body panels of the car because of their smaller sizes and light weight, this not only reduce the weight of the car but also provide capability to hold more power and charge much faster than conventional batteries.
Professor Mircea Dinca from MIT said;
"The new Lamborghini collaboration allows us to ambitious and think outside the box in designing new materials that answer energy storage challenges for the demands of an electric sport vehicle. We look forward to teaming up with their engineers and work on this exciting project"
Read Also: Recreation of the lamborghini countach as a modern super car – 2018 News
Beauty of the Terzo Millenio also enhanced by embedding electric engine that make the wheels glow while driving.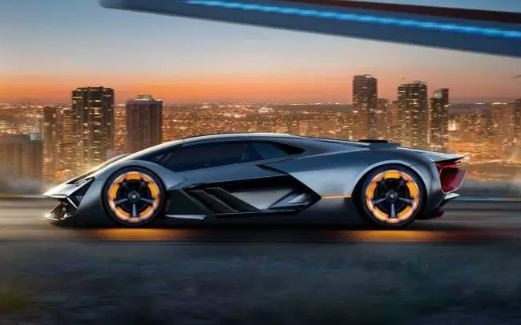 Company didn't reveal any information related to its price, power and release date yet but on official website "they talked about the sound as substitute of V12 and May the power substitute as well (fairwheels take)"
Mr Domeniceli added; exactly one year ago we have signed an agreement with the MIT Italy program at the MIT which marked the start of collaboration between two outstanding entities for the creation of a project that intends to write an important page in the future of super sports cars for the third Millennium"