BMW is already offering Ride sharing and Hailing services with the Reach Now Application and now it is getting ready by partnering with another German Giant to expand this business by bringing more vehicles in ride sharing and hailing services all around the world. Both the German Giants are going to invest about 1.1$ Billion for mobility services which also include electric cars.
Reach Now Ride sharing service by BMW works on "Pay according to time Model"

And after the partnership with Daimler, the services offered by BMW will increase up to five including "Ride sharing, Ride Hailing, Chauffeur services, find and pay for parking spots and electric charging points" while all of these will be under the name of BMW.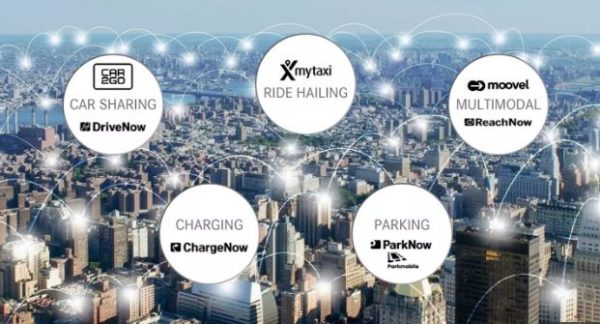 Read Also: BMW ReachNow Application is better than UBER – 2018 News
On the joint venture Dieter Zetsche CEO of Mercedes Benz said;
We are pooling the strength and expertise of 14 successful Brands and investing more than 1 billion Euros to establish a new player in the fast-growing market of urban Mobility.
fairwheels take;
We all are well aware that both of the Brands were great rivals but constantly changing automotive trends made them to join hands to survive better against new competitors and challenges.
Krueger said;
These five services will merge even more closely to form a single mobility service portfolio, still further in the future the two firms will offer and all electric self driving fleet of vehicles that charge and park autonomously and interconnect with others modes of transport.
Read Also: Toyota and UBER on the same Path for Autonomous cars­ – 2018 News
fairwheels take;
Both the brands are preparing to fight the coming challenges of autonomous electric cars in coming future and they are already facing tough competition because of Tesla, UBER and other new electric-autonomous competitors.
He added further;
BMW and Daimler's car sharing and other services like park now or MY taxi today boast a combined 60 million customers.

Companies said;

The new joint venture will be based in German capital and tech industry hub Berlin, and create up to 1,000 jobs worldwide.

Further added;

The business underscores the auto industry's shift toward new technologies and Business models based on software and Mobile communication"
Read Also: Amazon Jumped into self driving vehicle Race | Amazon and Autonomous cars – 2019 News
                        Apple is Already in Race of Autonomous Vehicle Technology – 2018 News
                       Yandex self Driving Taxis in the city of Future Russia – 2018
fairwheels take;
It has become much important for the companies to joint ventures to bring autonomous vehicles earlier than any other brands because there is not only the fear of other auto industry giants but also the pioneers and giants of silicon valley including Google, Amazon and Apple those are also preparing to hit the market with their AI (Artificial intelligent) vehicles earlier than any other automobile giant.