Proton x70 to start its manufacturing soon in Pakistan
Proton is a Malaysian automobile company manufacturing its vehicles since 1983.  X70 series of Proton came to Malaysia in December, 2018. It was Protons' first SUV project that was introduced in four variants with a starting price of 99,800 Ringgits. Proton is now doing a joint venture with AL Hajj group of Pakistan to start manufacturing vehicles from this June. Proton is setting its plant in Southern port city of Karachi and it is told we can see Proton cars on roads in June and Prime minister Dr Mahathir Mohammad presented replica key of Proton X70 car to Prime minister Imran Khan on a ceremony held in Islamabad in this regard. This is one of the investment deals of Malaysia with Pakistan that were signed by the prime ministers of both countries. This will be first Malaysian car with a slogan of made in Pakistan. Let us discuss the features and specifications of this upcoming SUV in Pakistan in detail.
Features and Specifications of Proton X70
Proton x70 will be probably available in four variants including standard two wheel drive, executive two wheel drive, premium two wheel drive and standard two wheel drive. All variants will be run by 1.8 liters TGDi turbocharged four cylinder petrol engine generating a torque of 1700 to 4400 rpm and horsepower of 181hp at 285Nm. Fuel consumption is expected to be 7.8 liters per hundred kilometers and it can speed up from zero to hundred kilometers in only 10.5 seconds. It will be available with seating capacity up to five persons and will includes all safety features including central locking, power locks of door, air bags for drivers and passengers on front and back, anti lock braking system, front and back seat belts, child locks system, traction control, engine check warning and parking sensors. It offers a fuel tank capacity of sixty liters and front suspension will be Macpherson strut while back suspension will be multi-link. It will be having an alloy wheel type with a size of seventeen inches and radial type of tyre. It will have a rack and pinion electric power steering that will be adjustable.
Exterior of Proton X70
Proton X70 is a SUV with a total length of 4519 millimeters, width if 1831 millimeters and height of 1694 millimeters with a total weight of 1660 kilograms. It will be available in following exterior colors; flame red, jet grey, snow white, cinnamon brown and armor silver. Front headlights and tail lights are designed sleekly with LED and the eighteen inches alloy wheel gives a real SUV look to the car. The design of grille is winged with three parallel bars that merges into Proton name plate Fog lights and back windows defogger ease your drive in extreme weather conditions. Fuel lid opener is automatic and it offers outside back view mirror turn indicator.
Interior of Proton x70
Interior is as stylish as the exterior of the car with a seating capacity for five persons and six airbags for safe drive. Seats and steering are covered with Napa leather in premium model while executive variant has black synthetic leather covering on seats. Dash board is made deluxe with silver and wool coverings. Sunroof is also available n executive variant. It also offers 360 view camera to give a 3d view of all surroundings of the car. The infotainment system comes with an eighteen inches film transistor that has a display of 720 pixels in all variants and an internal storage memory of sixteen GB. It is operated via cable or Bluetooth connection with mobile phone and USB. It will be having eight speakers and a powerful amplifier and offers features like traffic status, GPS navigation, radio connection, back view camera, voice control commands, climate control and drivers assistance program.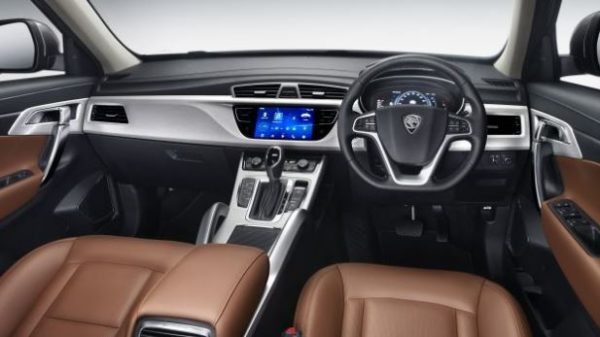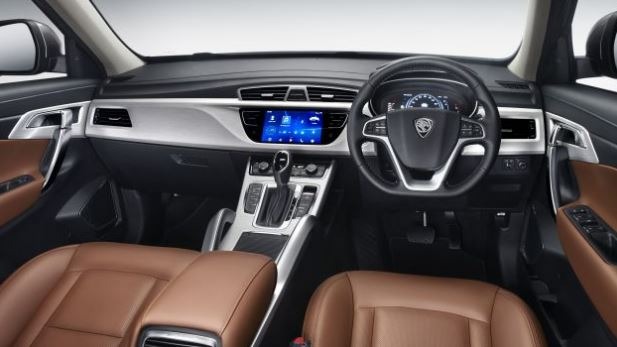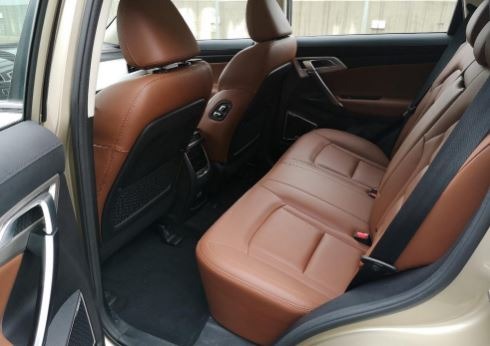 Reviews of car in Malaysia
Proton x70 is an affordable car in Malaysia that is loved by the people because of its spacious interior and high quality of interior material used for the comfort of people. It provides well appreciated safety measures to the passengers and the refinement offered by it makes the ride superb luxurious but people are complaining of slow steering, gear box being a bit sluggish and the GKUI system is a bit rough. We hope to see the better features in Pakistani manufactured Poton x70.
Expected price of Proton X70 in Pakistan
Price of the car has not been revealed yet but it is expected to be around 34 to 35 lacs Pakistani rupees. It is expected to be launched this June and further details can be getting from upcoming news about its exact price and launch date in Pakistan.