Land Rover Defender showed itself in 1980s and this British four wheeled drive vehicle ended its production in 2016. Land Rover again announced a V8 engine powered Land Rover Defender limited edition in 2018 and now news is confirmed about the debut of the car in 2020 again. More details about the comeback of this luxury car will be given till end of 2019 but till now it has been spotted several times on roads of Sweden. British marquee is testing the reliability and safety of the drive by driving it in extreme conditions like four thousand meters above sea level and extreme temperature changes from -41 to 50 degree Celsius. Some news are not yet confirmed but it is heard that 2020 Land Rover Defender will be showcased at Frankfurt Motor Show this September but it is confirmed that we will get more details about it in late 2019 and bookings for the car will open in early 2020 in US and Canada. Defender is one of the most vintage cars that is a versatile vehicle fit for both the leader and the common person. It can ensure safe drive off roads over muddy tracks and rocky pathways and is capable to face any extreme condition and climates. 2020 Defender maintained the historic versatility, reliability, durability, luxury and advanced technology in it. It will be available in two variants; one is 90 model that will have three doors and the other will be 110 model which will be larger and it will be having five doors
Engine and performance of the car
It will be having two liters four cylinder petrol and diesel option engine and expected to have a forty eight volt hybrid system to offer electric range. It will be available in both manual and automatic transmission option. Hybrid model is expected to be powered by an electric motor alongside a petrol engine and it is expected to offer thirty one miles of electric power. It will have an improved suspension system that will prevent the vehicle from being unstable and let the driver to have a control on its drive even in evasive maneuvers. Ladder chassis will be strong enough to let the car pull huge loads and it can easily carry heavy load. The smaller wheel size in Defender will help to drive on rocks and tall pathways easily and the tyres will offer more grip and traction on roads while the great axle articulation helps to keep tyres on ground even on uneven roads.
Exterior of the car
Spy shots have snapped the camouflaged version of the Defender being covered in wrap of black and white colors and clearly revealed tall heighted car with angular silhouette and upright front screen with flattened side windows. Side windows leans upwards and the tail gate design let the drivers reach to boot. Spare wheel has been spotted with the boot. It offers D7 aluminum body architecture and it will preserve the traditional body style of Land Rover Defender. The design of wheel will assist to drive uphill with steeply angles and gradients. On front the badge of Land Rover is embossed with a classic design and it has a simple bumper that is not as fancy as the other cars. There are simple flat panels on backside of car which is easy to be maintained and it will have a new styled number plate on its back. It will have LED lights on front and back tail lights.
Interior of the car
Interior of car was leaked on twitter that showed a modernized cabin inside with an infotainment system that will have a central screen and a DAB digital radio with wireless kit. There will be two sets of these kits; one will be in the dashboard and the other will be behind the steering and you can control the systems and functions of car with them. It will offer Clear Sight Ground View feature which will help you to see the ground beneath your car so you can turn your steering wheel around hurdles. 2020 Defender will let you chose the interior color option according to your choice. Central console is most likely made of plastic and the instrumental panel is rectangular and digital. A Defender logo can be seen on side of dashboard in leaked images. The pedals are also styled with name logos on it giving brake 'STOP' logo and accelerator a 'GO' logo. Overall look of cabin is very simple and elegant.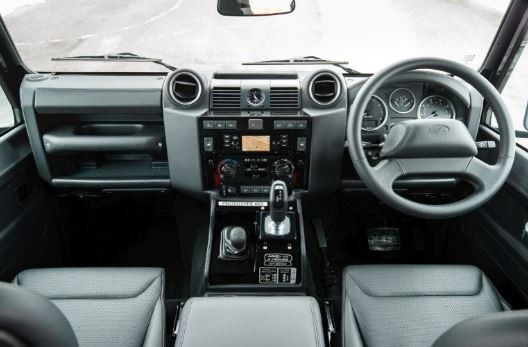 Major competitors
A major competition to 2020 Land Rover Defender will be given by Mercedes Bens G class, jeep Wrangler, Toyota Land Cruiser and Lexus LX570. All these cars best SUVs in their class and will give a tough competition to Defender.
Estimated price and arrival
Land Rover Defender 2020 might be showcased at Frankfurt motor show in September and we could get more details about it but up till now all we know is that Defender 2020 will be available for bookings in early 2020 and its price in United Kingdom will be around forty thousand pounds for entry level variant and around seventy thousand pounds for top variants. It will be launched in United States and Canada too and it could have a price range of hundred thousand American dollars in United States.
Conclusion
Many features have been spied that the company offers and it is a big engineering challenge to fulfill all these features and to provide the safety standards and this modernistic car after retaining the original vintage of the car because it's easy to show anything on screen but difficult to implement practically on roads and we might see a delay in its launch because company is already doing many test drives on the car. Secondly the styling of car is not that much luxurious and stylish as compared to its competitors so company has to detail it a bit more attractive in appearance. Lastly it's very costly especially when imported in United States and its rivalry vehicles might be a little cheaper than the Defender so customers will go for the other options. If the company succeeds in giving all expected features to its customers, after testing their safety and emission standards on the vehicle then customers will go for Land Rover Defender 2020 despite its high cost and we hope to see a good market of Defender 2020.