Volkswagen has been ruling the world since 1937 and it was declared the largest automobile company according to its worldwide sales in 2016 and 2017. China is the biggest market for Volkswagen because 40 per cent of its sales and profits are delivered by the Chinese market. It has been surprising the world with its all-new concepts since the time it came into being by introducing pure ethanol vehicles, flexible fuel vehicles, hybrid vehicles, plug-in electric vehicles and the all amazing SUVs. Volkswagen amazingly surprised the whole world by introducing the concept of hovercars in 2011. It launched the marketing campaign in Chinese automobile market named as PEOPLE'S CAR PROJECT to share the ideas for future cars and the participants of this campaign submitted their ideas and designs of the models of the future cars on Volkswagen website. More than 1190,000 ideas were received and three ideas were selected naming Music Car, Hover Car and Smart key and Volkswagen selected Hover concept to proceed further. A participant named Wang Jia resident of Chengdu, Sichuan in China uploaded the concept of flying car for two persons. Volkswagen team rounded out the conceptual model of the levitating car sent by Jia to Volkswagen group and the company viral the video made showing the design and function of the flying car.
Jia's Concept of Hover car:
The concept of this flying machine was based on magnetic levitation similar to the maglev trains that travel on special railway tracks using electromagnetic suspension. The maglev train in Shanghai has been running successfully since 2004 on a track of thirty kilometres between Pudong International airport and city and runs at a speed of four hundred and thirty kilometres per hour. A similar concept was introduced in Jia's flying model. It flew at a constant altitude for a few meters. The hovercar can fly up to a specific altitude through anti-gravity principles and repulsive technology so it eliminates all friction forces. This concept does not need any tires and it does not create a dust cloud too. The car is designed to be levitated by magnetic fore and it was light in weight so that it can be raised off the ground. Jia uploaded the video in which her parents took the wheel-shaped hovercar ride and it showed a successful response all over the world.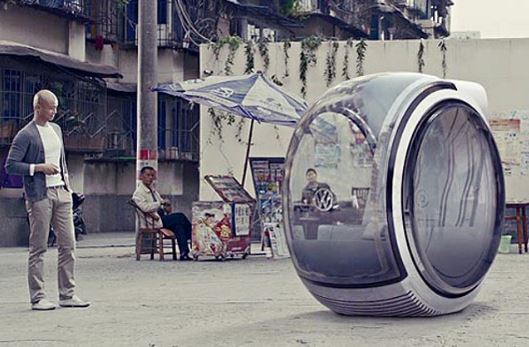 Volkswagen hovercar concept
Volkswagen presented the concept of their upcoming vehicle HOVER CAR in Beijing Motor Show in 2012.it was around wheeled vehicle that has two seats for passengers and it floats about a foot above the ground. The hovercar is powered by CGI and the thrusters on the back will provide forward motion to the car.it needs electromagnetic strips for its function, the electromagnetism will repel the car off the ground and the forward thrust is provided by an electric motor. It is a dime shaped model that is very energy efficient because of a lack of friction and it does not have any tires. The electromagnetic energy used in it will let the car detect other vehicles on roads and can judge the distance from other cars and it can also take turns easily on congested roads. It can be parked easily due to its small size .the Hover concept has two modes in it; one is the driving control by the person sitting inside the car and the other is driving by the special sensors and networks provided by the car so it can be driven without drivers. It is proposed that the car will be cost-efficient and more efficient than ordinary fuel cars. Many controversies are roaming around related to the Hover car and some people say it is a rumour but this is not a rumour and the concept was introduced in Beijing Motor show and Stanford University fellows are working on this design and concept. This will be an amazing prototype for disable patients because this car will let them live independently by riding in this car without a driver.
Launch of Volkswagen Hover car
No definite date related the launch of Hover car has been announced yet by the Volkswagen Company but it is expected that the car will launch by the end of 2020 and no exact price has been announced but the company promised this car to be less expensive than ordinary cars.
Conclusion
There are many obstacles in the final product because the car is a concept and to drive it in real traffic special testing is needed to be done plus the roads should also be electromagnetic as the train tracks in Shanghai Maglev train so that it can run easily and successfully on roads. Volkswagen is working hard on all these obstacles and it is expected that we can see these flying machines soon in 2020 and if it will be successful then it will be a history-making car that will make the society technologically more advance and we are so excited to look forward this new prototype.
Volkswagen Hover Car