Lexus is the luxury vehicle manufacture brand that has been manufacturing and marketing in more than seventy countries since 1989. It was ranked among Japanese ten largest international brand in market. It has been producing sedan, coupe, convertible and SUV vehicles and since 2000 it expanded its market in United States and it was introduced in South Asia, Europe and other regions too. Latest models of Lexus available in automobile markets include Lexus 2019 UX, Lexus ES 350 2019, 2018 Lexus Is and 2018 Lexus RX 350. According to the news from Japanese website Spyder7 Lexus is planning to release all new LF1 Limitless prototype in 2020. The concept of LF1 was released in Detroit Auto show in 2018 which gave us the hint of the debut of this luxury vehicle. Lexus LF1 Limitless is the boldest, ever eye catching, luxurious and most radical vehicle of Lexus brand in the twenty nine years history of the company. It has also been labelled as sexiest SUV of the world. It is far more advanced and better styled than the current signature models including LS and LC. Name of this new prototype indicates the similarity to Bradley Cooper in movie LIMITLESS who was able to access his brains capacity, thus we are looking forward to challenge limits and the limitless impression is obtained by a single glance to the car which has the signature grille expanding all away from nose to the A pillars below the front screen. It is going to be assembled on Toyota's studio CATLY in California. Let us discuss the sexiest features of this hatchback in detail that makes it a special car.
Features and specifications
Luxury vehicle automaker announced that the concept of limitless can be powered by fuel, hybrid, gasoline, and plug in hybrid or even all electric version on the world premiere of LF1 Limitless. Spyder 7 cited that the model will be powered by 3.5 liters V6 engine in LS350 version (2GR-FKS) and it can be multi stage hybrid (8GR-FXS) in LS 500H version. A version of four liters V8 twin turbo engine can also be introduced producing 670 PS horsepower. It can have rear engine with all-wheel drive option just as LC F.  Lexus is proving a boosted horsepower that definitely makes it exceptional among its competitors. Lexus will also be available as pure electric version or an electrified version by 2025 and it will let you notice that your fuel consumption or battery charging that will help you judge when refueling is needed and let you reach nearest recharging service station.
Exterior of Lexus LF-1 Limitless
Limitless does give the aggressive outlook because of its ever expanded brand's x shaped expanded grille and it has a split roof spoiler at back that provides continuity of beam of light through the glass roof into the car creating a mesmerizing and magical environment inside the cabin while the LED front LED headlights have daytime running lights on which lightens in synch and the tail lights are protruding out giving a 3D effect in a organically styled design. Handle of door pops out when you move forward towards the car thus giving passengers a gesture of welcome. There are cameras in window mirrors that let the drivers know the surroundings of the car. Large alloy wheels gives more aggression to its appearance with eye catching design.
Exterior View: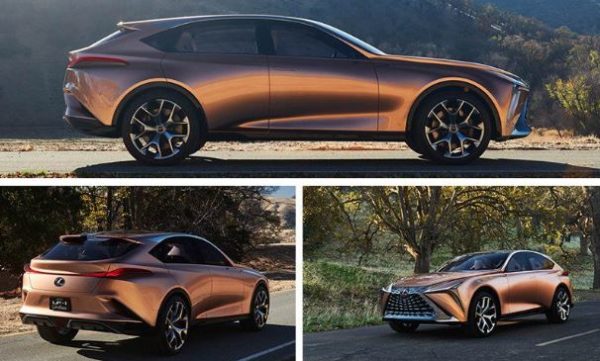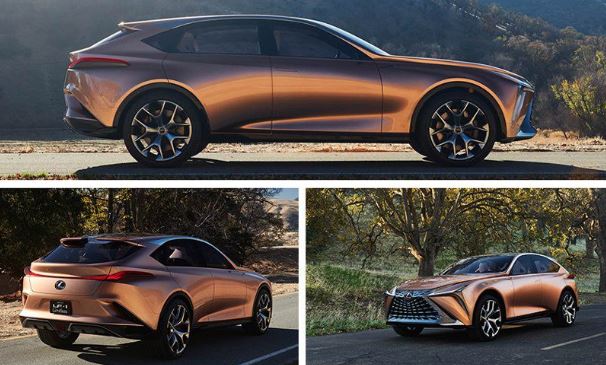 Interior of Lexus LF-1 Limitless
Coming to its interior, LF-1 has fiber optics lighting fixed inside the door panels that will shine and brighten in the dark cabin giving the look of shining twinkle stars in sky on night. LF-1 introduces a four dimensional satellite navigation system that considers time on suggesting you rests and coffee breaks in your long journeys. There is a touch screen display on top of steering wheel that let you chose a driving mode including self- driving mode that is also called CHAUFFER mode that allows semi-autonomous driving beyond. LED headlights have light detection and ranging that helps to judge the distance by the help of special sensors. Cameras in windows are displayed on screen mounted on dashboard that helps the driver to have a wide angled view and let him see his blind spots. Wooden paneling inside gives a deluxe look and the color combinations used inside the cabin along with grey, black and white with wooden work creates a marvelous look. It will have all the premium safety features including air bags, anti-lock braking system, blind spot, rear view camera, hill hold control, traction control and etc. there is epitome of luxury and a lot of best premium features in the cabin along with advanced technology.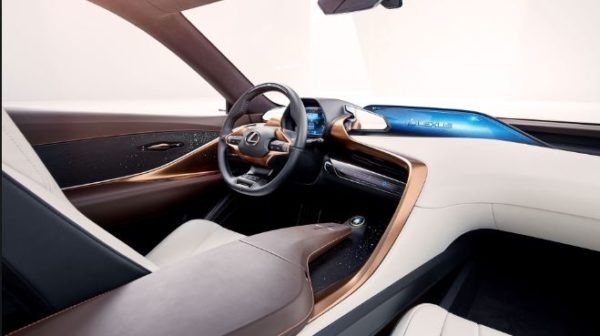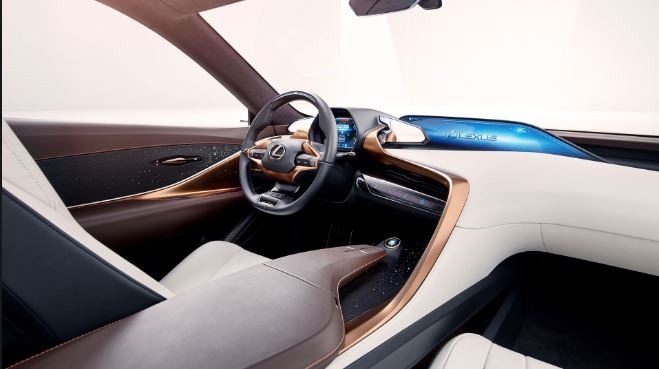 Expected price of Lexus LF-1 Limitless
It is expected to be around 150,000 US dollars which will make it a costly crossover of the company but it makes an exceptional car comparing to power to cost ratio as compared to Lamborghini Urus with a price of 200,000 US dollars and generating 641 hp.
Major competitors
It can get a tough competition from Grand Cherokee Trackhawk that comes with a starting price of 87,695 US dollars creating 707 horsepower and it less price than LF-1 Limitless can attract many customers and if Lamborghini is successful in upgrading Urus to plug-in hybrid option then it will give a heavy competition to the upcoming model of Lexus.
Expected date of launch of Limitless
It is rumored that the model will be displayed as the world premiere at international auto show to be held in 2020 and the car will be ready to launch and sales will start in 2021.
Conclusion
Lexus is claiming a V6 powered powerful engine car which everyone is looking forward to. It will be available in a pure electric or electrified option model too and it will be sexiest SUV of the world but the thing is that it is still a concept and it needs the highest level of finish as the company is promising. America's CNET Roadshow declared it the MOST DARING LEXUS. Everyone is looking forward for the final confirmation of the model exhibition so all the promises and hints are proved correct. Now the thing is this, is Lexus ready to deliver all these features? Should people expect such tremendous hatchback? It is a concept so we cannot say definite things about the features and release of this prototype but if this concept take the formation of the real SUV then with no doubt it will break many records in the luxury vehicles. LF-1 with no doubts have those features and credentials to be called as WORLDS SEXIEXT SUV and we are so looking forward for its launch and we are hoping a good business of LF-1 Limitless all over the world. The price in India could be around 2 crore Indian rupees and it is not coming to Pakistani automobile markets yet. It will be launched in India by the beginning of 2021 as in other countries.
Limitless LF1 Gallery: