Kona electric price has been reduced by Hyundai Motor India due to the decrease in GST rates on motor vehicle by the government of India. The GST rates are decreased from 12 percent to 5 percent and even the GST charge on Ev chargers is also reduced to 5 percent from 18 percent. Kona electric was initially priced 25.3 lac and has now decreased to 23.71 lac and it became the reason that Hyundai encounter 152 booking in 20 days from the day it was launched.
Power & Capacity of Hyundai Kona:
The Kona electric India will have a 100 Kw motor that functions to power the front wheel and its output will be equal in value to 131 bhp and 395 Nm of peak torque. Kona electric size and shape is much the same as Hyundai Creta but its design isn't excessively advanced like other vehicle out there but it is distinct enough to separate itself from other on the road. Comprehensively, the Kona Electric has two alternatives, which are a 39.2 kWh unit and a 64-kWh unit. India will only be provided with the forgoing, which only provides e guarantee range of 452 kilometers on a single charge. To charge the battery almost seven to eight hours are required but in case of using fast charger as it gradually increases its charging capacity results in almost 80% will be charged under an hour.
Portable Charger Capacity for Hyundai Kona:
Hyundai customers will be offered with a portable charger and AC wall box charger. The portable charger has the capacity to plug into any three-pin 15 Amp and charge for a top up to 50 km in less than three hours. The 7.2 kW Ac wall box charger can top up the vehicle in less than one hour of running 50 km.
Hyundai is preparing the Super Chargers Infrastructure in India: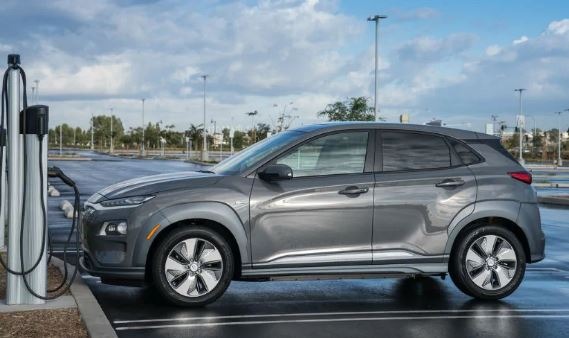 Hyundai Motor India is also functioning on building up a charging substructure and has partnered with Indian Oil Corporation to further enhance their company. And they want to build up a fast charging skill initially in selected cities that include Mumbai, Bengaluru, Chennai, and Delhi. Hyundai will put money into in the utensils and will be installing fast chargers that can further enhance charging capability and will charge up to 80% in an hour. The change in prices of Kona electric mentioned above will be effective from august 2019.