Audi has now officially launched its latest flagship SUV Audi Q7 Black Edition in India and now it has come with a variety of exterior updates and looks more sporty and astonishing than its other models. The production of this car will be restricted to 100 units only. It carries a black stylish collection which resembles a bit with what was observed from SQ7. The grille of this SUV is slightly unique and different from its other models as it is finalized in titanium gross black across with the air intake struts. Moreover, the high gross black treatment highlights to the door trim strips and also on the window edges. The rear spoiler and the roof of this beast are finalized in matte black across with the stylish alloy wheels finalized in Titan Black. These all magnificent qualities sums up and make this SUV looks like a beast on the road and attracts all young sports car lovers towards its drive.
Head of Audi India remarks:
Giving remarks on the latest SUV Audi Q7, Balbir Singh Dhillon gave remarks that Audi has been on the top in the luxury SUV segment and specifically the latest model Audi Q7 has retained competing advantage ever since it is launched. In terms of luxury and comfort, Audi Q7 provides all the features and latest accessories that Audi customers want. He further announced that only 100 units will be available for sale and is confident that Audi family members and luxury SUV lovers will avail this opportunity to own this stunning car. On this festive season, Government of India has taken an evolutionary initiative of 30% depreciation to boost the consumer attention.
Standard features list & interior of Audi Q7 Black Edition:
Audi Q7 includes power steering, front power windows, Anti Lock braking system and multi-functioning steering wheel. It contains a seating capacity of seven persons including the first two rows have plenty of space and comfort while traveling. Moreover there are eight-way power adjustments that make it easier to choose your comfort and relaxing position. Driver and passenger seats have airbags and heated seats facility. The cabin of this SUV is amazing which contains standard leather and real wood trim pieces. It has 8.3-inch display and features such as Bluetooth, multiple USB ports, satellite radio, navigation and Android Auto and Apple CarPlay.
Exterior of Audi Q7 Black Edition:
The exterior of Audi Q7 includes front Fog lights and alloy wheels. The dynamic and sharp body edges of Audi Q7 provide it a wide and sporty range. It comes up with a single frame and shiny grille which gives it a decent look and its sharp LED headlights make it look like a beast on the road. The Audi lover who chooses SUV Q7 has a collection of eight different color choices to choose from.  It has a length of 5052 mm and width of 2212 mm along with a wheelbase of 2994 mm.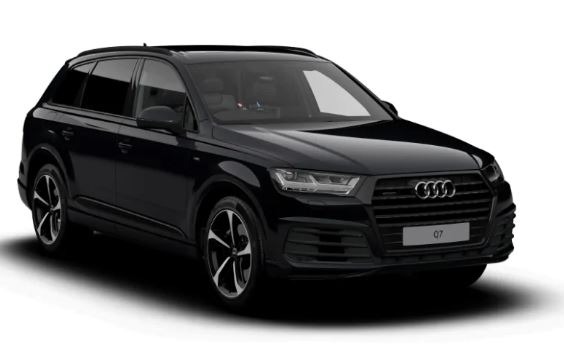 Engine of Audi Q7 Black Edition:
The Audi Q7 comes up with the 2.0-litre petrol and 3.0-litre diesel engine options. The 2.0-litre petrol engine contains a 248 bhp and 370 Nm of peak torque whereas the 3.0-litre engine diesel contains 245 bhp and 600 Nm of peak torque. Both the petrol and diesel engine are combined to an eight-speed automatic transmission as standard. Audi Q7 has an efficient mileage of 13.5 to 14.75 km per liter relying on fuel category. It covers 0-60 km in just 5.7 seconds.
 Price of Audi Q7 Black Edition:
The road price of Audi Q7 begins from 73.82 lakh and reaches up to 85.28 lakh as it is available in 4 variants. It has 2 petrol and 2 diesel versions.