The Bugatti baby 2 has up to 75% resemblance with Type 35 and it has a sliding pedal box for all ages of drivers. Although it is Bugatti, it is not expected to surpass the limits and set any earth-shaking speed record. It will be specifically targeting the rich kids, who would love to have this special car in their lives. At 2019 Geneva Motor Show, it was first presented as a 3D printed model. Bugatti Baby 2 will have a limited edition run as Bugatti will only manufacture 500 units. The interesting thing is that it is entirely sold out as 500 teenagers with good luck have already awarded one in their carriage.
History of Bugatti's President: 
The president of Bugatti, Stephen Winkelmann's history describes that he has experience working with fast car brands and he is also fascinated by the Bugatti Baby 2 and is curious to notice it driving across the Bugatti's place. Fortunately, Baby 2 also marks Bugatti's 110th birthday. It has collaborated with the Little Car Company to manufacture this small car. The XP1, which is its preliminary version, is already set for test drives at La Grande Fete in Molsheim. To enable the car to be driven by both adults and children, it has been increased from 50 percent scale to 75 percent scale which resembles the Type 35. The engineering team digitally scanned every single component of a 1924 Type 35 Lyon Grand Prix car in the early stage of its beginning. After that, it got the latest electric power-train which consists of lithium-ion batteries and renewal braking across with some more newly designed components to match the need of modern era customers.
Interior:
The interior consists of a four-spoke steering wheel ahead of an aluminum casing that presents Bugatti's signature elements. This vehicle will come up with a horn, rearview camera, handbrake, headlights and remote control that enables to lock or unlock the car within the range of 50 meters. The unique chassis number of the car is placed in the middle of the dashboard and on the nose of every car Bugatti's popular 'Macaron' badge built of 50g of strong silver will be displayed, just like Chiron.
 Exterior:
This vehicle comes up with two power modes for rivers of unalike experience as it has a rear-wheel power-train. The standard car will get painted in French Racing Blue with a Black leather interior. Moreover, several colors will be accessible for both interior and exterior. It comes up with the standard eight-spoke alloy wheels shod in the latest Michelin tires and also the latest hollow front axle across with the suspension and steering mechanism from the old Type 35.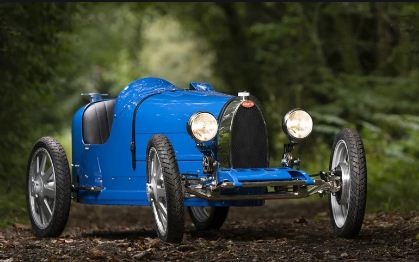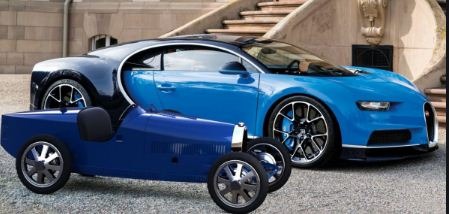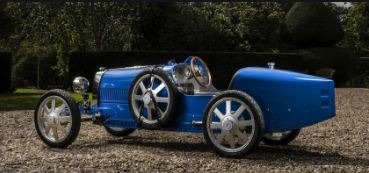 Engine:
The past oil and pressure meters are now modified with battery level, indicator and power gauge. The clock which is used to identify the race performance in the iconic Type 35 is unchanged and remains as a symbol. The fuel pressure pump has also been modified and now used as a forward or reverse control. A 1 kW 'child mode' comes up with the top speed restricted to 20 km/h, while a 4 kW 'adult mode' comes with the top speed restricted to 45 km/h. There is also an option of Speed Key for confident and experienced drivers which make the total power output to 10 kW. The car will be accessible in two sizes of removable batteries and a standard 1.4 kWh pack and a long-range 2.8 kWh version.
 Price:
The smallest member of Bugatti company lineup, Baby 2 costs Rs 25.95 lakh.