Travelling on Bikes & Scooters within city is easy but not comfortable, Sometimes you just get fed up  and start looking for alternatives those give you more comfort, pleasure without putting the burden on the pocket and most important of them make you travel swiftly within city traffic.
To solve this issue an alternative has been introduced by Squad; Alternative is a two seated solar car that lets you travel swiftly within the cities. In compare to all other electric cars this could be considered as one of the cheapest EV because it costs only 5750 Euro (6330 $).
Design of Squad Solar:
Design of the car is so much similar to golf car but as this is made to travel on roads that is why it has more speed and features as well. In comparison to Motorbikes and Scooters it saves the rider from rain showers as it has roof, Windshield and floor and if someone faces sideways rain showers than squad has remove able side covers as well. Other than having seats for two persons it also has seats for two children's as well which means small family could travel easily.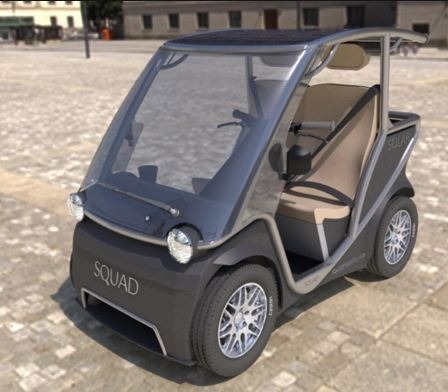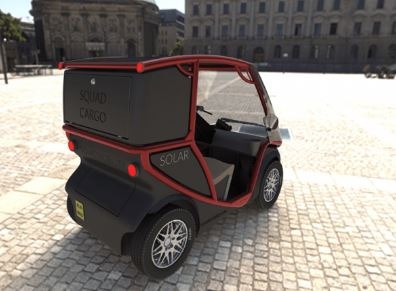 Some safety features Squad solar have includes; seat belts, full roll cage and inherent stability.
CEO Robert Hoevers Explained to Electrek website;
"Emissions and traffic congestion's are the two main issues in today's urban mobility. Our solar electric squad can charge up to 9,000 km per year in a sunny country with its own solar roof, making it completely emission free for most users driving circa 30 km or 1 hour per day for 300 days a year in an urban environment, most vehicles in this segment don't have more than 6000 km per year. Extra range can be charged directly from the grid with an ordinary plug and or our portable batteries.
Speed & Acceleration:
As it is a light weight that is why top speed of squad is limited to 45km/hour (28 miles), this limited top speed keep this vehicle as an L6e light four wheeled vehicle in Europe. This is the initial version; faster version of squad with speed up to 80km/hour has been planned by company when there will be enough demand.
Other details explained by Chief Designer of squad Klok;
"The squad is conceived as an essential mobility solution, with state of the art technology such as in wheel motor and solar panels. This combination will make the squad accessible for much larger group of users, without the hassle of maintenance. It's not co incidence that the squad technically resembles to scooter. The first post-war scooters were designed with exactly those values in mind. Today we offer this for two people with safety and better protection against the elements. The strength of the concept is that we keep both efficiency and costs low by focusing on bare essentials.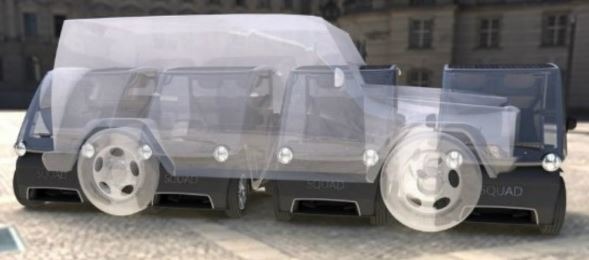 Delivery will start in 2021, pre booking can be done with 500$.