Mitsubishi announced its improved Outlander plug in electric hybrid at 2018 Geneva Motor show to be launched with bigger battery and more powerful engine for the year 2021 and it has been spied on roads in Europe which shows it is in testing phase while it will be officially available to customers till January, 2021. This SUV has brought us the plug-in electric hybrid technology that let you charge it easily and saves fuel by giving you efficient fuel economy along with lots of intuitive features. Previous generation of Outlander PHEV was run by a 2 liters four cylinder engine while the 2021 Mitsubishi Outlander will be having a 2.4 liters more powerful engine producing more horsepower while the battery will also be of bigger size. The 2021 Mitsubishi Outlander PHEV will be built on the same platform as used for the manufacturing of Nissan Rogue while it will be sharing similar looks as the Mitsubishi Engelberg Tourer. The mileage of upcoming Outlander PHEV will also be double in amount as compared to previous models.
Trim Levels:
It will be available in two trim levels that include SEL and GT trim which will be having similar powertrain and differs in their respective features. As the 2020 model of Mitsubishi Outlander PHEV is already rated on number seven among other plug in hybrid vehicles thus we expect the upcoming 2021 model to be more improved to beat the others and to move on the top.
Drivetrain and performance
2021 Mitsubishi Outlander PHEV will be charged by a 2.4 liters 4 cylinder engine generating 126 horsepower and torque of 94 Nm while it will be paired with two electric motors powered by 13.8 kilowatt hour lithium ion battery that will be giving you a horsepower of 93 hp and torque of 69 Nm. This updated model will be giving you more mileage than previous models driving a range of up to 70 kilometers when run on electric power only while the battery can be charged in one night by using a 120 volts outlet or a 240 volts outlet can charge it more quickly.
Driving Dynamics:
The acceleration test of previous model was not very efficient taking 9.8 seconds to speed up to sixty miles per hour thus it is expected that the upcoming model will be having an improved acceleration taking less time to reach sixty miles per hour. Handling capabilities of 2021 Outlander PHEV will also be improved to instill more confidence to drivers providing you more precise steering control and producing very little engine noise giving passengers maximum comfort and relaxation.
Exterior design and features:
The spied Outlander PHEV shows us a basic design and appearance of the vehicle basically having similar concept with Engelberg introducing wing shaped side mirrors and more prominent door handles. The front end of Outlander features a new Dynamic shield chrome accented grille and front bumper merges beautifully with the bonnet while LED headlights are beautifully designed providing you with daytime running lights too. It will be having a floating roof design with black colored A pillars and the eye catching tail lights is stretching into the tail gate beautifully giving it an attractive appearance.
SPY Shots:
Highly Expected Similar Design: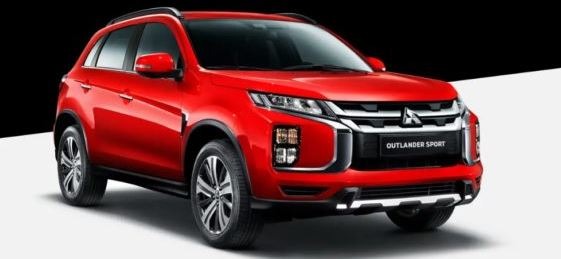 More Spy Shots:
Interior design and features:
The cabin of Mitsubishi Outlander PHEV 2021 will be spacious enough to accommodate four passengers comfortably but it will be a little tight for accommodating the fifth passenger on rear seats. The entry and exit openings to the cabin are made easy because of its tall doors and the cabin material is also updated to remove the cheap feeling in the cabin. 30.4 cubic foot of cargo area is very generous to carry much luggage while 66.6 cubic feet of more cargo space is increased by folding rear seats enhancing its versatility.
 It will be equipped with all latest technology providing you with updated infotainment technology, smartphone link display audio, one touch start feature, climate control system, navigation system, adaptive cruise control, lane changing assistance, blind spot detection, rear cross traffic alert alarm, multi around monitor, electric sunroof, rear view camera and much more.
Major competitors:
2021 Mitsubishi Outlander PHEV will be giving a tough competition to  Toyota RAV4 Hybrid,  Kia Niro Plug in hybrid, Hybrid Kona electric, BMW X5 xDrive, Volvo XC60 and Audi Q7 TFSI.
Price:
Exact price of upcoming 2021 Mitsubishi Outlander PHEV is not declared yet but is expected that its starting price will be around 40,000 US dollars and it will be hitting the global markets in January, 2021.