Mercedes-Benz, the renowned German automaker, has experienced a decline in its share of the luxury market in the United States as customers have increasingly traded in their V8 sedans and SUVs for Tesla vehicles. In response, Mercedes-Benz is taking a page out of Tesla's playbook by establishing its own charging network, accelerating the electrification of its fleet, and incorporating Level 3 autonomous driving technology into its vehicles.
The primary objective for Mercedes-Benz is clear: to become the most sought-after luxury brand for electric vehicles. Dimitris Psillakis, the President and CEO of Mercedes-Benz North America, is overseeing the company's ambitious efforts in the EV space. In October 2021, Mercedes-Benz unveiled its first electric vehicle, the futuristic EQS sedan. This was quickly followed by the introduction of four more models, including three electric SUVs. The EQS SUV and EQE SUV are manufactured at the company's Tuscaloosa, Alabama plant, while the lithium-ion batteries are supplied by Mercedes-Benz's new factory in Bibb County. The company's ultimate aim is to transition to a fully electric vehicle lineup by 2030.
Psillakis, in an interview with ABC News, emphasized the importance of striking a balance between exceptional products, innovative design, and supportive services to achieve their goal of being the most desirable luxury brand for electric vehicles. He clarified that Mercedes-Benz does not view Tesla as a direct luxury competitor but rather as a disruptor in the automotive industry, particularly in the realm of electric vehicles.
By developing their charging infrastructure, expanding their electric vehicle offerings, and embracing advanced autonomous driving technology, Mercedes-Benz is positioning itself to regain its prominence in the luxury market and meet the evolving demands of environmentally conscious consumers.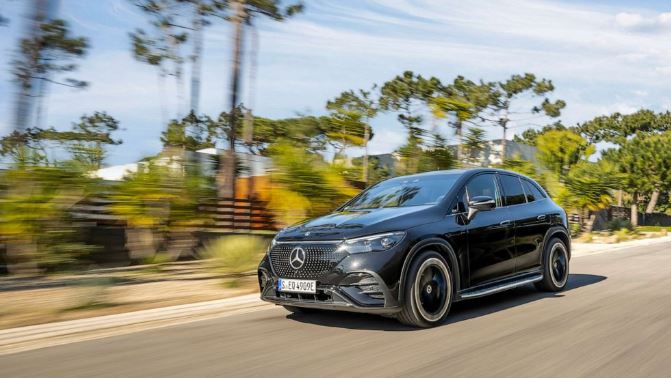 Mercedes-Benz's strategic approach appears to be yielding positive results. The company reported a significant increase in electric vehicle (EV) sales, with 7,341 units sold in the first quarter of 2023, marking a 251% surge compared to the previous year. EVs now contribute to 12% of Mercedes-Benz's total sales in the U.S., as stated by the company.
According to Jessica Caldwell, the Executive Director of Insights at Edmunds, luxury buyers exhibit a heightened interest in EVs due to their higher disposable income and tech-oriented mindset. She explains that Tesla has redefined the concept of luxury in the automotive industry; however, its market share has gradually declined over time. Tesla's dominance peaked in 2019 when it held an 80% market share.
Currently, EVs account for 6% of the overall U.S. automotive market. Caldwell highlights that concerns related to range anxiety and the availability of public charging infrastructure remain significant factors preventing more drivers from transitioning to electric vehicles.
Caldwell further acknowledges the importance of charging infrastructure in alleviating customer concerns. She views Mercedes-Benz's investment in charging stations as a means of reassurance for customers and a sound marketing strategy, despite being an expensive endeavor. By establishing their charging network, Mercedes-Benz aims to address the apprehensions surrounding EV ownership and enhance the overall ownership experience for their customers.