."M'Bay Mobility, named after the Wolof word for 'cultivate,' is on a mission to foster the growth of the green mobility sector in West Africa, starting with Dakar, Senegal. With a vision to become a pioneer in the electric car industry in Senegal and the wider West African region, M'Bay aims to spearhead the transition to electric mobility in an area that is still in the early stages of embracing EVs.
To achieve its goals, M'Bay is taking a holistic approach, collaborating with key stakeholders such as insurance companies, banks, government entities, international donors, and local garages in Senegal. One of their notable achievements is the development of a comprehensive insurance package tailored specifically for e-mobility. In recognition of their efforts, M'Bay secured a 75,000 euro grant from the Netherlands to implement a training program for technicians focused on electric vehicle maintenance. This initiative was carried out in collaboration with the Senegalese Ministry of Education and SolarTaxi Ghana.
Furthermore, M'Bay is actively engaged with the government and other partners to explore incentives for electric mobility adoption. One significant proposal involves replacing the existing high import tax of 70% with taxes that come into effect only after the EVs are on Senegalese roads, allowing users to experience cost savings. This collaborative effort aims to create a favorable environment that encourages the widespread adoption of electric vehicles and supports the growth of the green mobility sector in Senegal.
M'Bay Mobility is committed to driving the sustainable and eco-friendly transportation revolution in West Africa, leveraging partnerships, innovative solutions, and government support to cultivate a thriving electric mobility ecosystem in the region."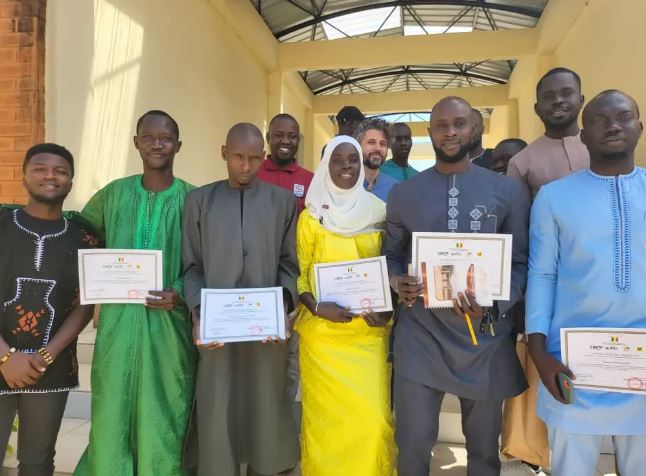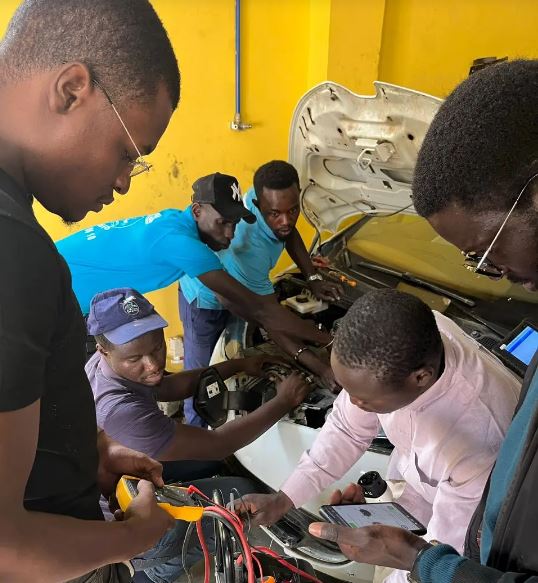 Mbay Mobility has identified and prioritized two pressing issues: the escalating levels of air pollution and carbon emissions caused by the significant number of aging internal combustion vehicles present in congested urban areas. The vehicles on the roads of Dakar predominantly rely on low-quality fossil fuels, resulting in an annual emission of approximately 2.2 million tonnes of CO2. The associated social cost of these emissions amounts to a staggering $97 million per year. Disturbingly, these numbers continue to rise at an alarming rate.
Moreover, the detrimental effects of air pollution extend beyond environmental concerns. Shockingly, a quarter of infant deaths in West Africa can now be attributed to air pollution. Additionally, the presence of polluted air leads to the development of various diseases, which subsequently incur increased public health expenses. Furthermore, air pollution adversely affects educational outcomes by impeding learning capacities in schools. Lastly, it hampers productivity levels in workplaces, posing a significant challenge to overall economic growth.
By addressing these challenges head-on, Mbay Mobility aims to combat the detrimental impacts of air pollution and carbon emissions. Through their efforts, they aspire to improve public health, enhance educational opportunities, and boost productivity in West Africa, while concurrently mitigating the environmental effects caused by outdated combustion vehicles.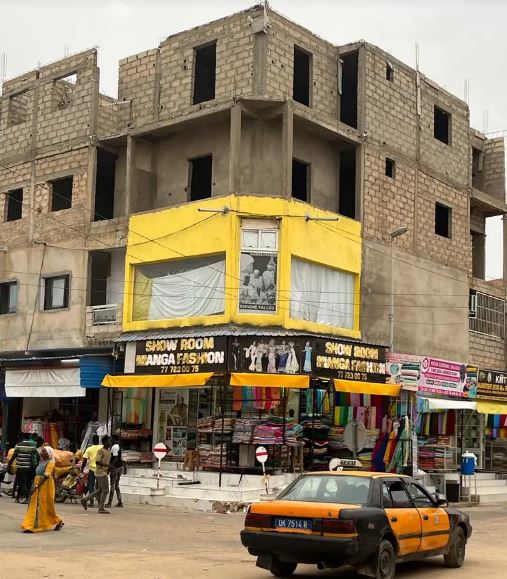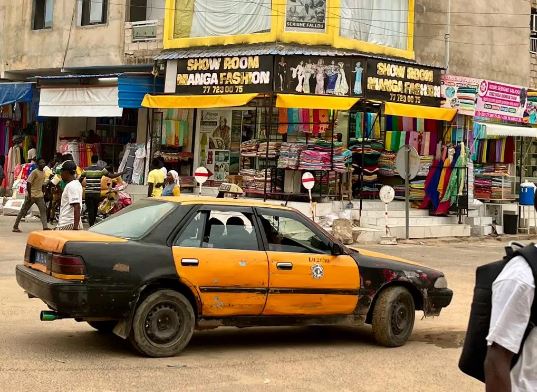 One of the primary contributors to the escalating pollution issue in Dakar, Senegal, is the aging taxi fleet. Despite comprising less than 5% of the total vehicle population in Dakar, which is estimated at about 16,000 taxis, they account for approximately 45% of the overall traffic flow as they tirelessly traverse the city in search of customers. These taxis alone contribute to at least 20% of the air pollution in Dakar, underscoring the urgent need to transition them to electric vehicles (EVs) for the benefit of the entire city.
Mbay Mobility, as an importer and retailer of electric cars, has identified the taxi industry as a crucial target market. Mbay recognizes the immense advantages that EVs can bring to taxi owners, drivers, and passengers alike. By switching to electric taxis, significant cost savings can be achieved for owners, while drivers can enjoy improved working conditions. Moreover, passengers will experience enhanced comfort and security during their journeys. To address the unique requirements of the local context, Mbay has ensured that these EVs are specifically adapted for Dakar. The vehicles feature higher ground clearance to navigate non-paved roads effectively and utilize domestic-plug charging to circumvent infrastructure limitations. With a range of approximately 250 km, the EVs align with the daily travel needs of taxis in Dakar. Considering that the average taxi covers about 175 km per day, the 250 km range proves to be more than sufficient.
Through its focus on the taxi industry and the introduction of electric vehicles tailored to local conditions, Mbay Mobility aims to make a significant impact on reducing pollution levels in Dakar. The transition to electric taxis promises not only environmental benefits but also economic advantages, improved working conditions, and enhanced travel experiences for all stakeholders involved. Mbay Mobility has conducted calculations that indicate a significant cost advantage for taxi operators who make the switch to their electric cars. According to their analysis, by transitioning to electric vehicles, taxis can save approximately $33 per day due to reduced fuel expenses, as well as lower servicing and maintenance costs. This equates to substantial annual savings of around $12,000 per car, and an impressive total of $150,000 over the lifespan of the vehicle within the taxi industry.
Additionally, Mbay recognizes that the introduction of brand new electric cars will mark a significant advancement for the taxi industry, which is currently dominated by the use of aging internal combustion engine (ICE) vehicles. To facilitate the transition and lower entry barriers, Mbay is collaborating with banks and other financial institutions to develop financing packages. In conjunction with this, Mbay has implemented a geolocation and immobilization software system that can be utilized in cases of non-payment or default. This PayGo feature enables remote deactivation of vehicles, thus reducing payment risk for banks and allowing for more accessible and affordable financing options. The banks themselves are keenly interested in supporting this project as it provides them with a platform to finance green initiatives, aligning with their environmental, social, and governance (ESG) targets and mandates.
Through these strategic measures, Mbay Mobility aims to facilitate the adoption of electric vehicles within the taxi industry, offering substantial cost savings, improved vehicle quality, and access to attractive financing options. By collaborating with financial institutions and incorporating innovative technologies, Mbay aims to accelerate the transition to greener transportation and contribute to the achievement of sustainable and environmentally friendly objectives.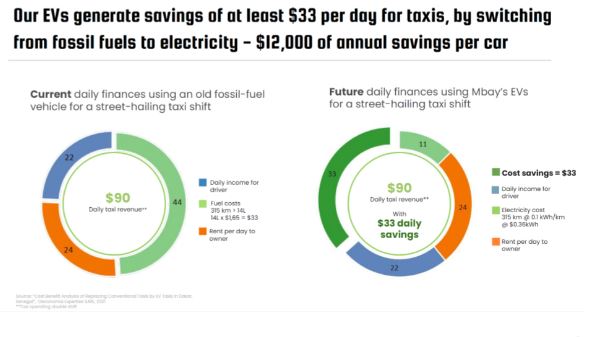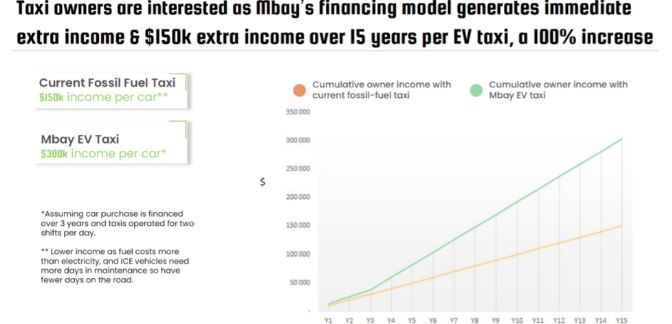 Mbay Mobility is making strides in addressing the challenges of air pollution and carbon emissions caused by aging internal combustion engine (ICE) vehicles in congested cities. One specific area of focus for Mbay is the taxi industry in Dakar, Senegal, where the prevalence of aging taxis contributes significantly to air pollution. With approximately 16,000 taxis in Dakar, they account for a substantial portion of the city's traffic flow, despite representing less than 5% of the overall vehicle population. Switching these taxis to electric vehicles (EVs) would yield substantial benefits for the environment and the city's residents.
Mbay is actively involved in importing and retailing electric cars, with a particular emphasis on targeting the taxi industry. By introducing EVs, Mbay aims to offer taxi owners attractive savings, improved working conditions for drivers, and enhanced comfort and security for passengers. The electric cars provided by Mbay are specifically designed to suit the local context, featuring higher ground clearance to navigate non-paved roads and domestic-plug charging to overcome infrastructure constraints. With a range of approximately 250 km, these EVs can easily meet the daily requirements of taxis in Dakar, where the average distance covered is around 175 km.
According to Mbay's calculations, taxi operators who switch to their electric cars can achieve daily savings of about $33. These savings cover the monthly loan payments and interest costs, thereby accelerating the adoption of EVs within the taxi industry. However, despite the economic advantages, there are currently no incentives for electric cars in Senegal. Mbay suggests that the introduction of incentives, such as reducing import taxes and duties, would significantly lower the costs for taxi owners and expedite the clean transportation revolution they aim to stimulate. Additionally, Mbay provides domestic charging services to cater to the needs of its customers.
Mbay has engaged in consultations with drivers in the taxi industry, shedding light on the challenges they face. Many drivers expressed their interest in transitioning to Mbay's EVs, citing issues such as the high costs of renting and maintaining aging vehicles, as well as the negative impact of pollution on their health and the well-being of their families. By driving cleaner and more comfortable cars, they believe they can improve their income and quality of life. Mbay's initiatives align well with Senegal's green development plan, known as Le Plan Sénégal Emergent Vert, which promotes green growth and sustainable development.
Looking ahead, Mbay has plans to expand its operations to Abidjan and Accra, following successful scaling efforts in Senegal. The company, founded by Matthew Sellar, Thebean Gilfillian, and Stefan Heijboer, recognizes the transformative potential of financing platforms in revolutionizing the taxi industry and transforming the broader transportation and mobility landscape. While efforts have predominantly focused on electrifying the motorcycle sector in several African countries, the prominence of ICE cars in countries like Senegal highlights the opportunity to enhance service quality through programs that facilitate the financing of modern vehicles, consequently lowering operational costs, improving incomes, and transforming lives.