The facelifted Kia Picanto stands out from its predecessor with a striking and noticeably different appearance. Its angular new face features large headlight clusters, resembling Kia's EV9 electric SUV, and exudes a wide and confident stance. The back of the car also adopts straight lines and showcases new rear clusters, accompanied by what appears to be a full-width light bar. While the middle section of the light bar may not have lighting elements, it still adds a visually appealing touch to this city car.
Inside the Picanto, the changes are more subtle. The overall design remains largely unchanged, but Kia offers new "nature-inspired" color packs, including 'Adventurous Green' and 'Rich Brown.' The latter, with its underrated appeal, could be an appealing choice for many buyers. All new Picanto models come equipped with a 4.2-inch digital instrument cluster and an eight-inch touchscreen infotainment system as standard, which includes Android Auto and Apple CarPlay integration. Notably, both systems can now receive over-the-air updates, ensuring they stay up to date with the latest features and improvements.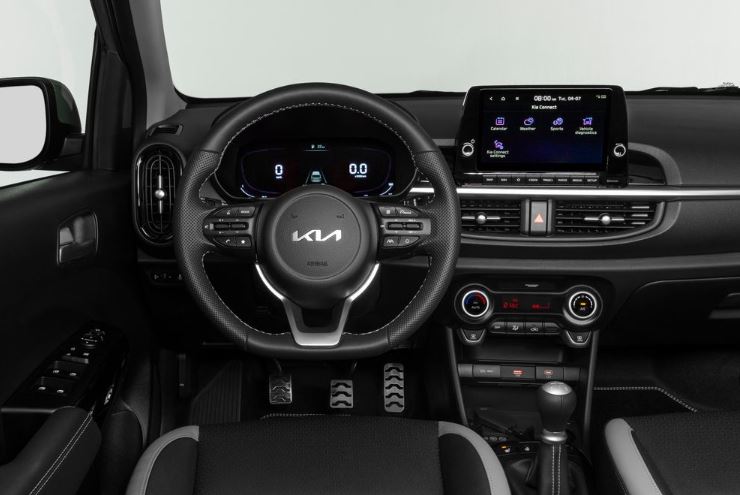 Interestingly, the 2023 Kia Picanto breaks the trend of turbocharged engines prevalent in new cars. The range retains the entry-level 66bhp 1.0-liter inline-three engine from the previous model, while the 99bhp turbo version is no longer available. Instead, those seeking more power can opt for the naturally aspirated 1.2-liter inline-four engine. Kia hasn't disclosed the power output for this engine, but the driving experience of modest-output inline-four engines can often be enjoyable and spirited. This change in engine options adds an element of excitement for prospective buyers eager to experience the performance of the Picanto.
Specific acceleration figures for the engines have not been provided, but it's expected that the inline-three engine will deliver a leisurely 0-62mph sprint time of around 13.8 seconds, similar to the previous model. Fuel economy figures have also not been announced, but it's anticipated that both engines will comfortably achieve over 50mpg. Kia has enhanced the engines with improvements such as better exhaust gas recirculation, adjusted intake valve timing, and enhanced combustion chamber cooling, aiming to optimize efficiency and performance.
The Kia Picanto lineup is refreshingly simple, with two main trim options: the baseline model featuring cloth seats and 14-inch wheels, or the GT-Line with 16-inch rims, artificial leather upholstery, and sportier exterior trim elements. While pricing details have not been disclosed, it's expected that the starting price could exceed £15,000.
Overall, the facelifted Kia Picanto offers a noticeable transformation in design, updated technology features, and a revised engine lineup. These changes aim to attract buyers with its striking appearance, improved infotainment system, and the promise of an enjoyable driving experience.