BMW CE 02: The Urban E-Parkourer Redefining Electric Two-Wheelers
The automotive industry is experiencing a revolution with the introduction of electric powertrains, and this eco-friendly trend is now making its way to motorcycles. BMW Motorrad, a well-known motorcycle manufacturer, is expanding its electric lineup with the introduction of the CE 02. Designed as a smaller and more affordable alternative to the CE 04, which debuted in 2022, the CE 02 aims to provide urban commuters with a practical and stylish solution for their daily rides.
The CE 02: An "E-Parkourer" for Urban Environments:
BMW Motorrad has coined the term "e-parkourer" to describe the CE 02, although it's challenging to categorize it strictly as an e-motorbike or an e-scooter. Nevertheless, the CE 02 features a street-smart design that seamlessly blends into urban landscapes. Its compact size and agile handling make it an ideal choice for maneuvering through congested city streets.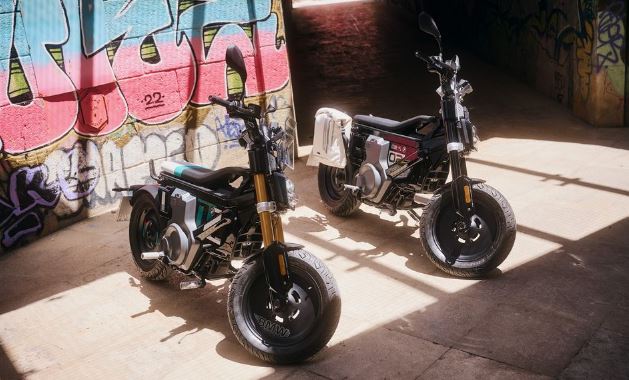 Global Versatility and American Power:
The CE 02 will be available in two versions for global markets. The first variant is equipped with a 5-horsepower electric motor and a single 1.96-kilowatt-hour (kWh) battery. However, American buyers will have access to the more powerful version, which boasts a 15-horsepower motor and dual batteries totaling 3.92 kWh. This configuration allows the CE 02 to achieve an estimated range of approximately 56 miles on a single charge, with a top speed of 59 mph.
Convenient Charging Options:
BMW Motorrad understands the importance of convenient charging for electric vehicle owners, and the CE 02 is designed with this in mind. The standard configuration includes a 0.9-kilowatt (kW) home charging adapter, enabling easy charging at home. However, for riders who frequently cover longer distances, upgrading to the optional 1.5-kW charger is recommended as it significantly reduces charging time. This higher-powered charger is part of the optional Highline package, which offers additional features such as Bluetooth phone connectivity, a smartphone holder, heated hand grips, and an upgraded seat.
Smart Technology Integration:
To enhance the overall riding experience, the CE 02 incorporates smart technology features. Positioned between the handlebars, a 3.5-inch display provides riders with essential information, including speed and remaining range. Moreover, a USB-C port is conveniently available for charging smartphones while on the go. BMW Motorrad takes the integration a step further by introducing smartglasses that synchronize with the bike's telemetry system. These glasses display key information, such as speed, battery charge level, and turn-by-turn directions, directly on the right lens. The smartglasses are also compatible with other BMW Motorrad products, allowing riders to benefit from this technology across different models. During a recent BMW event, we had the opportunity to try the smartglasses, and we found them to serve as a head-up display, offering users a clear view of the road ahead and the displayed information. Although they may not be the most stylish eyewear, their functionality is undoubtedly valuable, particularly for frequent riders. However, potential buyers might have reservations due to the price, which is currently around $750.
Affordability and Availability:
While the CE 02 offers an attractive solution for urban transportation and congestion avoidance, it comes with a relatively high starting price of approximately $8,200. BMW Motorrad has yet to announce the pricing for optional features, but with the inclusion of the Highline package, it's possible that the CE 02 could approach the $10,000 mark. The CE 02 is expected to arrive at BMW Motorrad dealerships in the United States in early 2024.
Conclusion:
As the automotive industry continues to embrace electric powertrains, BMW Motorrad is expanding its electric motorcycle offerings with the CE 02. Positioned as an "e-parkourer," the CE 02 seamlessly blends into urban environments with its street-smart design. Offering a choice of powertrain options, convenient charging capabilities, and smart technology integration, the CE 02 aims to provide an enjoyable and practical urban commuting experience. While the starting price may be a consideration for some, the versatility and eco-friendly nature of the CE 02 position it as an enticing option for riders seeking sustainable and efficient mobility solutions. With its anticipated arrival in early 2024, the CE 02 presents an exciting prospect for urban riders looking to embrace the future of electric two-wheelers.