The Punjab Board of Revenue recently decided to spend a lot of money, more than Rs. 2.3 billion, on new cars for important government officials. They made this decision official by sending out a notification.
The main reason for spending this money is to give better and modern cars to key officials who work in different parts of Punjab. These officials include additional commissioners in each area, extra deputy commissioners in all districts, and assistant commissioners in each Tehsil.
The board carefully picked specific car models for these officials:
Additional Commissioners of Each Division will get Toyota Corolla Altis 1.6 CVT.
Additional Deputy Commissioner (General) of Each Division will receive the Toyota Yaris ATIV 1.3.
Assistant Commissioners in Each Tehsil of Punjab will have the Hilux Double Cabin Revo G 2.8 TD Manual.
Notification: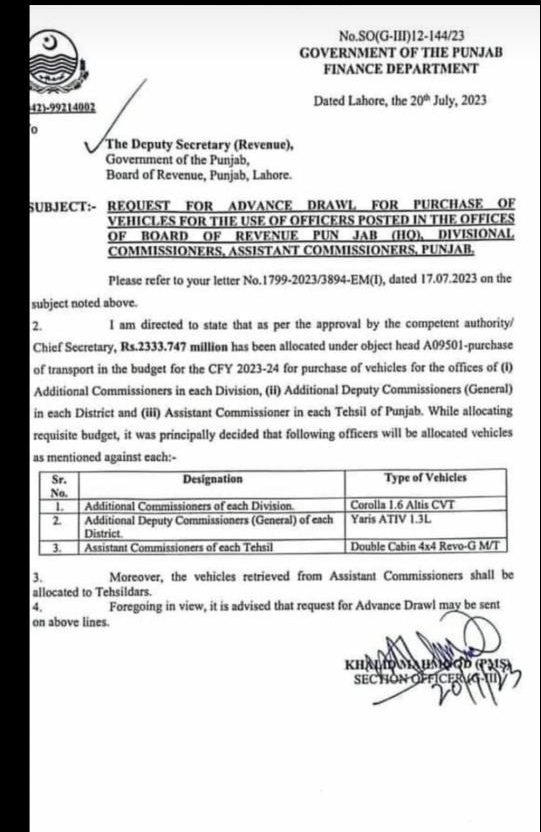 Before the official announcement, some people on social media, especially Twitter, said that the officials would get Toyota Fortuner cars. But this was not true, and trustworthy sources clarified that.
After the announcement, many people on social media started talking about it. A lot of them are unhappy with the government spending so much money on new cars for officials. They think it's unnecessary because there are other important things that need funding, like public services and infrastructure projects.
Even though people are criticizing the decision, it seems the Board of Revenue already has enough money to go ahead with it. So, any protests or objections from the public might not stop the plan from happening.