Pakistan's Motorcycle Boom: The Super Star Falcon Takes Flight
Amidst Pakistan's challenging economic condition and currency devaluation, the automotive industry is facing a severe crisis. However, a surprising trend has emerged as people seek more economical and fuel-efficient transportation solutions. Motorcycles have become increasingly popular in the country, and one motorcycle, in particular, has caught the attention of enthusiasts – the highly anticipated Super Star Falcon 150cc scrambler motorcycle. Despite a prolonged delay caused by the economic struggles, the Super Star Falcon is now ready for delivery in Pakistan.
Positioning in the 150cc Segment:
Designed to compete in the local 150cc motorcycle segment, the Super Star Falcon aims to rival well-established players like the Hi-Speed Infinity 150cc and the Suzuki GS 150. With its powerful 150cc engine and impressive features, the Falcon is determined to make a mark on Pakistani roads and win over riders.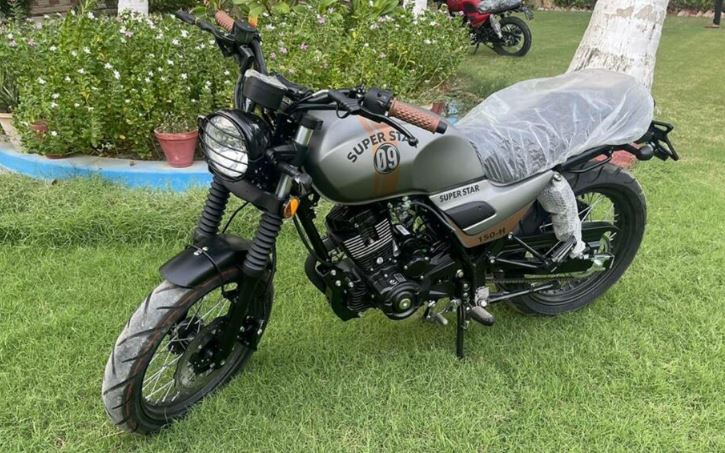 Super Star Motorcycles' Announcement:
Super Star Motorcycles, the manufacturer of the Falcon, proudly announces that the 150cc scrambler is finally "ready to rule on the roads." This announcement brings relief to eager customers who have been anxiously waiting for its release amidst the uncertainties of the country's economy.
Affordable Price Strategy:
One of the most appealing aspects of the Super Star Falcon is its competitive price. Initially priced at Rs. 295,000 at the time of booking a few months ago, the motorcycle significantly undercuts its competition, such as the Infinity 150cc Café Racer. In a market where affordability is a priority, the Falcon's pricing strategy has garnered significant attention from potential buyers.
Impressive Specifications and Features:
Under the hood, the Super Star Falcon boasts a robust OHV 150cc engine, paired with a 5-speed gearbox. This combination ensures a balance of power and efficiency, making it suitable for both city commuting and adventurous off-roading journeys. Additionally, the motorcycle features self-start and a digital speedometer, adding modern conveniences for riders.
Long-Travel Suspension for Adventure:
A standout feature of the Falcon is its long-travel suspension, enabling it to handle rough terrains and off-road trails with ease. This capability sets it apart from other motorcycles in its class and adds to its appeal for adventure-seeking riders.
Stylish Design:
While dubbed a scrambler motorcycle, the Super Star Falcon's design shares similarities with the Hi-Speed Infinity 150cc Café Racer. Its sleek appearance, combined with practical features, makes it an attractive option for a wide range of riders, blending style and functionality.
Vibrant Color Options:
To cater to individual preferences, the Super Star Falcon 150cc is available in five vibrant colors: Grey, White, Army Green, Red, and Black. This diverse range of colors allows customers to personalize their riding experience and express their unique style.
Thriving Amid Industry Shift:
Amidst Pakistan's shift towards more affordable and fuel-efficient transportation options, the Super Star Falcon's debut is well-timed. Its competitive pricing and compelling features position it as a strong contender in the local market, where consumers seek value for money.
Symbolizing Freedom and Adventure:
The arrival of the Super Star Falcon heralds a new chapter in Pakistan's motorcycle landscape, demonstrating that innovation and demand for practical transportation solutions prevail even during challenging economic times. As more riders take flight with the Super Star Falcon, it signifies not just a mode of transport but also a symbol of freedom, adventure, and the enduring spirit of Pakistani motorcyclists.
Conclusion:
With the Super Star Falcon taking flight in Pakistan's motorcycle boom, its presence on the roads represents the changing landscape of the automotive industry. Despite economic challenges, the Falcon's appeal and affordability have captured the hearts of riders, paving the way for an exciting future in the country's motorcycle market.