Xpeng's Vision for Flying Cars: A Glimpse of Tomorrow
The future of flying cars, known as eVTOL vehicles, seems very exciting and futuristic, like something from a science fiction story. But not many companies have made flying cars that actually look like cars. Xpeng AeroHT has just revealed two concepts that look like they came from a sci-fi comic book, adding a futuristic touch to the world of flying cars.
These concepts were shown at Xpeng Tech Day. At first glance, the flying car may look like a sleek, unusual sports car. But when it transforms into a flying mode, you'll see the reason behind its long back end. Four arms come out, each with eight propellers, turning the car into a flying vehicle with the press of a button. The company hasn't given us many details about this prototype, but they are working on ways to store the propellers safely. The concept also has a steering wheel that can be hidden, allowing the driver to use a joystick while flying.
Xpeng AeroHT expects its first flying car to weigh around 2,204 pounds and cost around 1 million Yuan, which is about $136,666 USD. They plan to launch their first flying car in 2024, but it's uncertain if they can achieve this goal.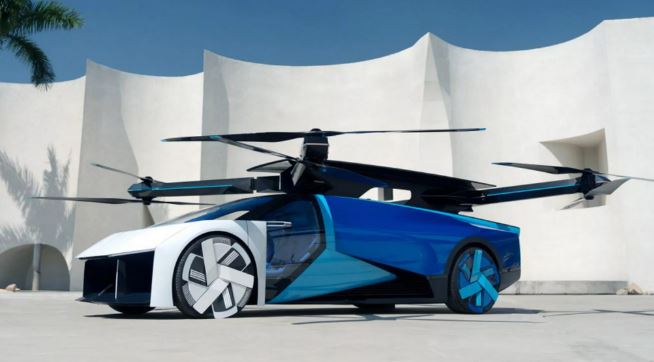 To speed up development, they are looking at other flying vehicle solutions, like the Modular Flying Car. Instead of making a car that can also fly, they are making a smaller vehicle that can fit inside a van. This van, called the 'mothership,' can carry up to five passengers and has electric motors to power its three axles. It also has an internal combustion engine to generate power for both itself and the eVTOL.
The flying part of the vehicle can carry up to two passengers and can be flown by a pilot or autonomously. It has a wide field of view from its cockpit, providing great views and visibility.
Xpeng is thinking about selling these vehicles to regular people and also sees potential for emergency rescue services to use them, especially in search and rescue missions.
We don't know when these vehicles will be available to the public, but Xpeng says that Chinese authorities are working on safe ways to use this technology, and similar efforts are happening in the United States.