Renault Unveils New Compact SUV for Emerging Markets
Renault has revealed a brand-new Kardian compact SUV specially made for growing markets. This SUV will be entirely built in Brazil as part of Renault's global plan until 2027.
The Kardian is a step up from the Kwid and is like a replacement for the Renault Sandero. It's built on a platform called CMF, and it's designed for the South American market. At first, it will be available in Brazil, and later, it will be in Morocco. This is the first car outside of Europe to have Renault's newest design style.
The Kardian is about 4,119 mm long, 2,025 mm wide, and 1,595 mm tall. Its wheelbase is 2,604 mm. It's got a pretty high ground clearance of 209 mm. The car has a unique look with split headlights, strong front and back bumpers, and a big double-layer grille that fits with Renault's design. The back of the car has taillights that look like a "C," which is similar to the Renault Kiger. The fancier models come with extras like 17-inch alloy wheels, roof rails, a shark-fin antenna, and shiny chrome touches.
Inside the Kardian, there's a cool dashboard with a drive mode selector, an 8-inch touchscreen for entertainment, and a three-spoke steering wheel that has the Renault SUV style. Depending on how fancy the model is, the inside can have wood decorations, shiny black parts, and fake brushed metal touches.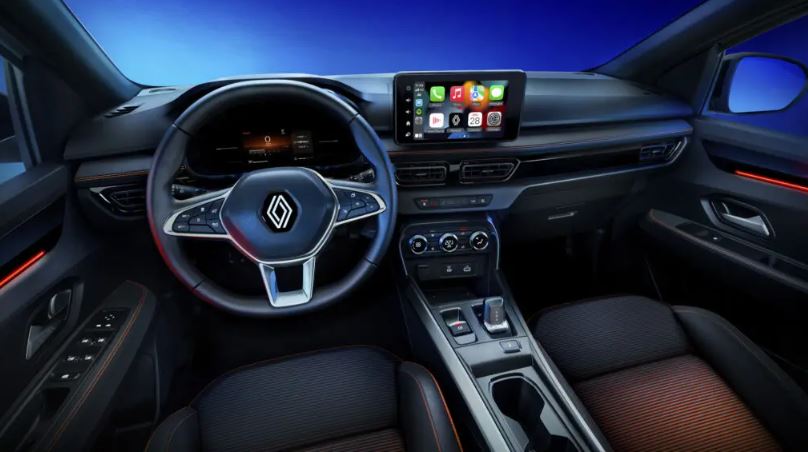 The Kardian is powered by a new 1.0L turbo-petrol engine. It comes with a 6-speed automatic transmission. This engine can make 123 hp and 220 Nm of torque. It can run on petrol or ethanol, making it really versatile.
The Renault Kardian is Renault's way to get into certain markets and make cars that local people want. With its compact design, special platform, and new engine, it's ready to meet the needs of the South American market and be an important part of Renault's cars worldwide.