Lexus Unveils 3 Customized SUVs at SEMA Show
Lexus is showing off three customized SUVs at the 2023 SEMA Show, and one of the highlights is the LX 600 Premium Lexus Associated Accessory Product (AAP) Build, an off-roader with lots of cool extras.
The mean-looking Lexus GX 550 sports a two-tone Earth brown and black combo, rolling on black 18-inch wheels and 33-inch Toyo Open Country A/T tires. It's equipped for off-roading with rock rails, an aluminum skid plate, and a roof rack with cargo cases. Lexus didn't mess with the powerful twin-turbo 3.4-liter V6 engine.
The 2024 Lexus GX marks a new generation with a tougher look and a body-on-frame platform. It comes with a full-time four-wheel-drive system and even a locking center differential for serious off-roading. While the one at SEMA is a concept, the production version goes on sale in early 2024, and we don't have pricing information yet.
The eye-catching Lexus LX 600 Premium is perfect for people who love paddleboarding. It's wrapped in a special Aquamarine color that changes with the light, just like the water. It also has a matte gray grille and black chrome trim. Riding on 33-inch Toyo Open Country A/T tires and 18-inch wheels, it even has an awning and a trailer hitch with a camp kitchen for outdoor cooking.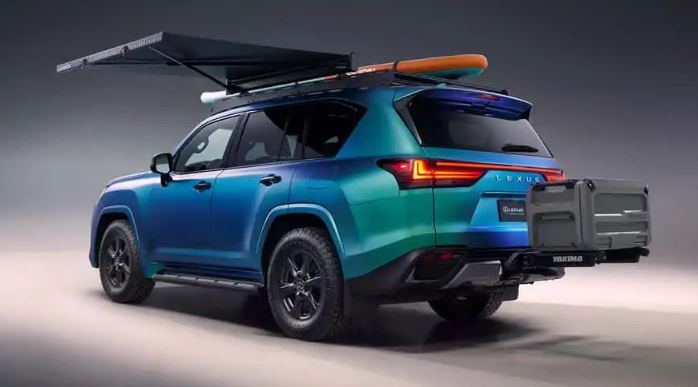 Another SUV at the show is a previous-gen GX 460 Premium AAP Build, wrapped in a Matte Yellow Saffron color. It has 34-inch Open Country A/T tires, rock sliders, and a front skid plate for off-road protection. It's kitted out with a 10-foot double hammock, a weatherproof fridge/freezer, an air compressor, and a recovery kit for outdoor adventures.