Audi's Final TT Roadster: Limited to 50 Units in the US
The special thing about this TT is its Goodwood Green pearl color, which was first used on the original model. Audi has shown the last version of the TT Roadster car. This car was around since 1999, and now it's ending with this final edition. Only 50 of these cars will be available, and they're only for sale in the United States.
The car rides on 20-inch silver wheels with adjustable magnetic dampers, and they match the green paint. The front bumper has matte gray accents that match the side skirts and rear bumper. When you put the roof down, you'll see a beautiful gray fabric top.
Inside the car, you'll find Palomino Brown seats with baseball stitching, just like the original. This color combination is unique to the Final Edition, and it also comes with special features not found in other TT models. There are special floor mats, and the center console and door panels have Palomino Brown leather covering parts of them. You'll also see some carbon-fiber details, and the gauge-cluster hood and steering wheel cover are wrapped in black leather.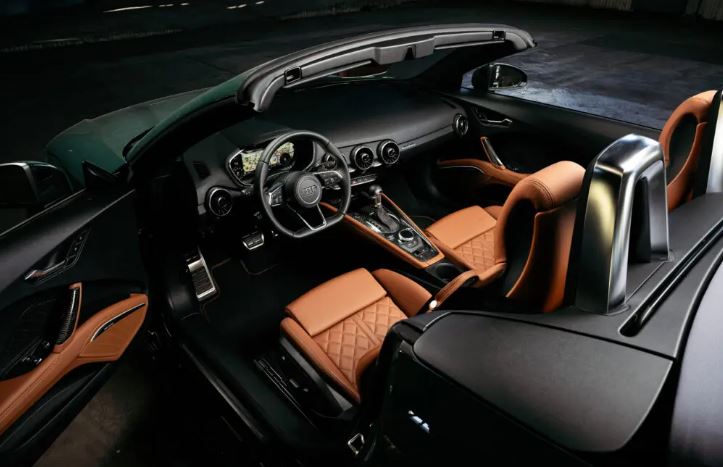 Under the hood, the TT Roadster has a 2.0L four-cylinder turbocharged engine with 228 horsepower and 350 Newton-meters of torque. It's connected to a 7-speed S-tronic dual-clutch transmission and Quattro all-wheel drive. This car can go from 0 to 100 kilometers per hour in just 5.5 seconds.
The name "TT" is connected to a famous motorcycle race, the Tourist Trophy on the Isle of Man. Back in the day, Auto Union brands like NSU and DKW had success there. Later, NSU used the "TT" name for their sporty small car, the TT Prinz.
Audi introduced the TT Coupe in 1998 and followed it up with the Roadster in 1999. Over the years, they made three different versions of the TT, with the current one debuting in 2014. Each generation had unique designs and introduced new technology, like a rear spoiler that can be raised electronically, the Audi virtual cockpit, and the first Audi car with OLED taillights. But now, the Audi TT is ending its production after the 2023 model, marking the end of a chapter of iconic design for the brand with four rings.