BMW's XM Label Red: A Hill Climb Powerhouse
On Tuesday, June 27, 2023, Matt Mullins took part in the 101st Pikes Peak International Hill Climb. He drove a new BMW SUV called the XM Label Red. This SUV is the most powerful BMW ever, with 738 horsepower and 738 pound-feet of torque. It's more than enough power to tackle the 156 twists and turns of the hill climb.
Unfortunately, on his first try, Matt Mullins went off the track and hit a tree. That ended BMW's hopes of setting a new race-day record with the Label Red.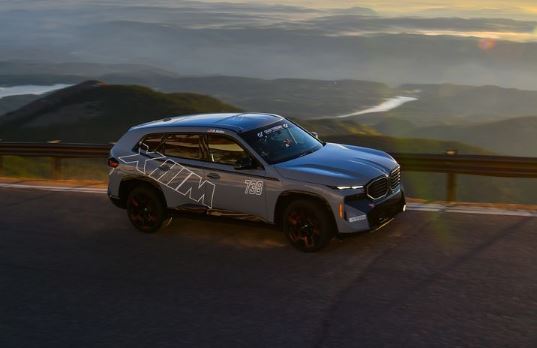 But they didn't give up. In September, BMW and Mullins went back to the hill climb to set a new record for hybrid-electric SUVs. This time, Mullins drove the Label Red up the steep course in a new best time of 10:48:60.
While his second run was faster, it was made after the official race day, so it won't be counted as a race-day record. However, it's still an officially certified run. The new time is nearly 1.5 seconds faster than the 2018 Bentley Bentayga's race-day record of 10:49.902.
To show what happens behind the scenes at Pikes Peak, BMW sent a camera crew to document Mullins and the team during their attempts. They created a two-part documentary that shows the initial disappointment of Mullins' crash in June and the joy of achieving their goal in September. You can watch both parts on the BMW USA YouTube channel.