Xpeng's P7i 550 LFP Version: Budget-Friendly EV Option
On November 6th, Xpeng unveiled the new Xpeng P7i 550, starting at 223,900 yuan (around 30,800 USD).
Shifting Battery Technology: P7i 550 LFP Version
The Xpeng P7i 550 LFP version shares similarities with its predecessor, the Xpeng P7i 702. The major change involves switching from a ternary lithium battery pack to an LFP battery pack, reducing capacity from 86.2 kWh to 64.4 kWh. EVE, the battery supplier, also provides batteries to brands like Forthing, which is affiliated with Dongfeng. In 2021, Xpeng offered an LFP option for the P7, boasting a 480 km range with CATL batteries. Due to limited demand from Chinese buyers, this option was discontinued. However, Xpeng is making a comeback with LFP batteries, resulting in a range reduction from 702 km to 550 km, along with a price reduction of 26,000 yuan (approximately 3,600 USD).
Power and Performance:
The new P7i offers both two-wheel drive and four-wheel drive models. The two-wheel drive model delivers a maximum power of 203 kW, maximum torque of 440 N·m, accelerates from 0 to 100 km/h in 6.4 seconds, and achieves a range of 670 km to 702 km. Meanwhile, the dual-motor four-wheel drive model boasts a maximum system power of 348 kW, maximum torque of 757 N·m, accelerates from 0 to 100 km/h in 3.9 seconds, and offers a range of 610 km.
Fast Charging Convenience:
For rapid charging, the two-wheel drive model can recharge 240 km of energy in just 10 minutes, while the four-wheel drive model can achieve 210 km within the same timeframe. Both models can charge from 10% to 80% in just 30 minutes.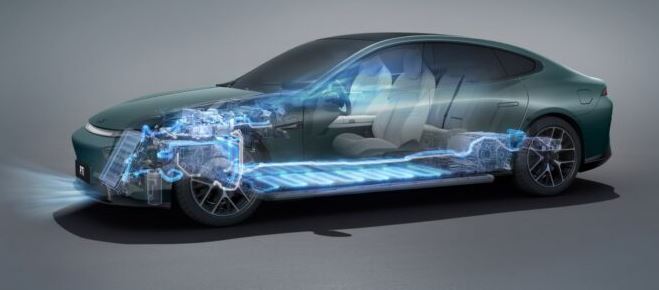 Upgrades in Design and Technology:
Although the exterior remains relatively unchanged as a mid-term update, most of the enhancements are found in the interior and technology:
The introduction of a new "interstellar green" paint color.
An upgraded chipset to the Snapdragon SA8155P.
Standard features like a heat pump, a new electric suction door, and an external trunk switch.
Advanced Driver Assistance:
The new P7i is equipped with the same driver assistance hardware as the G9 model, which includes lidar, an 8-megapixel camera, and 2 Orin X chips.