Turkey's TOGG T10X: A Hit in Kazakhstan and Beyond
The electric vehicle market in Turkey is experiencing significant growth, with sales increasing by over 584% in the first seven months of 2023. This surge amounts to 17,307 electric vehicles sold, constituting 3.4% of all vehicles sold in the country during that period. TOGG, being a domestic brand, is well-positioned to capture a substantial portion of this expanding market.
The TOGG T10X, Turkey's first domestically produced SUV, began production in April of this year. The response from the Turkish public has been positive, with more than 2,500 units already delivered to customers.
President Erdogan had previously shared this electric SUV gift with other notable figures, including the Saudi Prince, as well as the Emirs of Qatar and the UAE. Another unit found its way to Azerbaijan's President, Ilham Aliyev.
In a recent meeting at the Turkic States summit in Kazakhstan, Turkish President Recep Tayyip Erdogan gave a special gift to Kazakh President Kassym—a brand-new Turkish-made TOGG T10X electric SUV. The Kazakh president thanked Erdogan and praised the success of Turkey in starting the mass production of electric vehicles within its own borders.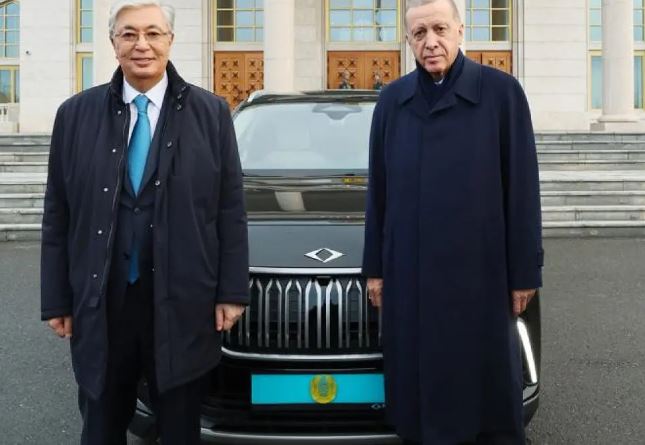 This exchange took place during the 10th-anniversary summit of the Organization of Turkic States, held in the capital city of Kazakhstan, Astana. The summit focused on the theme of a "Turkic Century."
With aspirations to become a global leader in electric vehicles (EVs), TOGG has set an ambitious target of manufacturing 1 million automobiles by 2032. This production plan includes the introduction of five additional models in the coming years, ranging from sedans and crossovers to MPVs. The Turkish government projects that 97% of these vehicles will be sold to consumers, while public institutions will acquire the remaining 3%.
In conclusion, Turkey's venture into electric vehicle production is gaining momentum, with the TOGG T10X leading the way and garnering positive responses. The country aims not only to meet domestic demand but also to establish a strong presence in the global electric vehicle market in the years to come.