2023 Aprilia SR GT 200
Sold Worldwide = 2022-Present
Engine Technology = i-get 200 engine with Start & Stop RISS technology
2023 Aprilia SR GT 200 Price in UK
| | |
| --- | --- |
| SR GT 200 | 4050/- £ |
| SR GT 200 Sport | 4450/- £ |
Unleash your urban explorer spirit with the ultimate blend of city finesse and off-road prowess – the remarkable Aprilia SR GT! This extraordinary bike stands as an unstoppable force, seamlessly navigating bustling city streets while eagerly awaiting thrilling adventures beyond the city limits. Embodying versatility and performance, the Aprilia SR GT comes in two remarkable variants, the SR GT 125 and the phenomenal SR GT 200. Meet the true marvel on wheels – the Aprilia SR GT 200, a scooter that embodies a perfect balance of agility, dynamism, and top-notch performance, poised to conquer any road condition that crosses its path. Concealed beneath its sleek and captivating exterior, lies a powerhouse – a brand-new 174-cc single-cylinder engine that ignites a sense of excitement with every twist of the throttle.
Effortlessly glide through congested city traffic with the SR GT 200. Its practical design, paired with ample power, transforms maneuvering through crowded streets into a pleasurable experience. The integration of long-stroke suspension and sleek wheels bestows the scooter with the capability to handle rough terrains and bumpy roads with enviable ease. The Aprilia SR GT 200 presents the ideal companion for those seeking a practical yet formidable two-wheeler that delivers unmatched performance. Feel the exhilaration of a ride like no other, as this scooter grants you the freedom to embrace and conquer any urban challenge that lies ahead. So, embark on your journey, embrace the thrill, and allow the Aprilia SR GT 200 to be your trusted road conqueror, where every ride becomes an unforgettable escapade, redefining your perception of urban mobility. Hop on and experience the sheer joy of riding a true urban legend!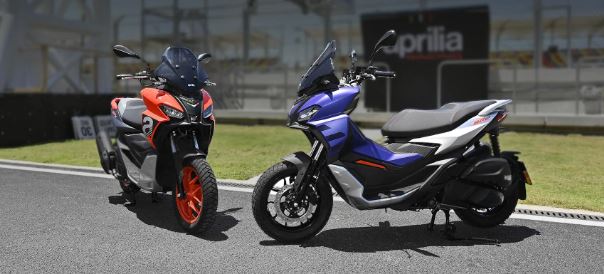 Engine & Performance:
Experience the remarkable might of the Aprilia SR GT 200, propelled by a groundbreaking 174-cc single-cylinder engine that unleashes a formidable 13kW of power at 8500 RPM, alongside an astounding 16.5 Nm of torque at 7000 RPM. At the heart of this scooter lies the i-get 200 engine with Start & Stop RISS, elevating its performance to unmatched levels. The engine boasts a revolutionary aluminum cylinder coated with Nickasil, inspired by the world of motorcycling, resulting in optimized fuel consumption. Embodying a driving force like no other, the i-get 200 engine propels the SR GT with effortless prowess, allowing it to conquer any road with ease. Adding to its allure, the Start & Stop RISS feature enhances convenience by automatically shutting down the engine when at a stop, conserving fuel and reducing emissions. Get ready to revel in the power, efficiency, and unparalleled performance of the Aprilia SR GT 200, where every ride is an exhilarating journey through innovation and excellence.
Discover the pinnacle of technological innovation in the Aprilia SR GT 200, where the aluminum cylinder coated with Nickasil sets a new standard inspired by high-performance motorcycles. This engineering marvel elevates the SR GT, transforming it into a category-defying powerhouse that puts unprecedented control at your fingertips. With a top speed of 100 miles per hour and a continuously varying automatic transmission, the SR GT 200 unleashes an exhilarating riding experience. Fuel efficiency meets practicality, offering 35 miles per gallon in the city and an impressive 45 miles per gallon on highways, backed by a generous 12-liter fuel tank capacity that extends your adventures further.
Setting itself apart from competitors, the SR GT boasts a specially designed suspension setup. The hydraulic telescope front suspension and double hydraulic shock absorbers rear suspension create a larger, stronger, and more capable system. Engineered with long-stroke calibration, it guarantees superior control across diverse terrains, making every ride smooth and absorbing bumps and rough patches with ease. The result? Unrivaled handling, stability, and responsiveness, even on uneven surfaces, ensuring your safety with better grip and control. To complement its power, the SR GT features hydraulic disc brakes that deliver efficient stopping power. Whether navigating city roads or venturing off the beaten path, the SR GT 200's braking system ensures you're always in command. Experience the epitome of technological advancement, unparalleled performance, and safety with the Aprilia SR GT 200. This exceptional scooter empowers riders with an extraordinary blend of ingenuity and excitement, redefining urban exploration and off-road adventures like never before.
Exterior Design & Build Quality:
Embrace the sporty and adventurous essence of the Aprilia SR GT 200, a true standout with its bold and distinctive design. The scooter exudes a gritty and original personality, enhanced by sporty finishing touches, top-notch materials, and the iconic Italian style that adds to its undeniable charm. The wide naked handlebar offers a full-fledged motorcycle experience, while the double-cradle steel frame and special suspension setup contribute to its exceptional performance. With a ground clearance of just 175 mm, the SR GT 200 boasts a low center of gravity, creating a sensation of speed and invincibility when conquering obstacles. The clever positioning of the 9-liter fuel tank in the middle of the scooter not only enhances its rugged appearance but also provides a comfortable footrest, elevating both style and convenience.
Diving into the practical side, the SR GT 200 surprises with its generous 25-liter storage compartment beneath the seat, accommodating a full-size helmet and all your essential gear, making it ideal for city commuting or thrilling adventures. The thoughtful features of the SR GT 200 enhance the overall riding experience. A USB port discreetly placed in the leg shield allows you to charge your devices on the go, eliminating the fear of running out of battery during your journeys. The futuristic LCD dashboard provides essential information at a glance, ensuring you stay informed while on the move. For an even more connected ride, opt for the Aprilia MIA extra, enabling seamless Bluetooth connectivity between your phone and the scooter. With handlebar controls, you can effortlessly access your phone's functionalities right at your fingertips, adding a touch of modernity and convenience to your rides.
Whether you crave thrilling escapades or smooth city cruising, the SR GT 200 proves to be the perfect companion, combining style, practicality, and tech-savviness all in one remarkable package. Embrace the spirit of adventure, savor the cutting-edge features, and immerse yourself in the undeniable allure of the Aprilia SR GT 200. It's time to elevate your riding experience to new heights with this exceptional two-wheeled wonder.
Pros & Cons:
Pros:
Powerful engine (174-cc single-cylinder engine with 13kW power and 16.5 Nm torque)
Start & Stop RISS feature for improved fuel efficiency and reduced emissions
Top speed of 100 miles per hour
Continuously varying automatic transmission for a smooth ride
Excellent fuel efficiency (35 miles per gallon in the city, 45 miles per gallon on highways)
Generous 12-liter fuel tank capacity for extended adventures
Specially designed suspension setup for superior handling and control
Hydraulic disc brakes for efficient stopping power
Bold and distinctive design with sporty finishing touches
Wide naked handlebar for a motorcycle-like experience
Double-cradle steel frame for enhanced performance
25-liter storage compartment for a full-size helmet and gear
USB port for charging devices on the go
Futuristic LCD dashboard for essential information
Optional Aprilia MIA extra for Bluetooth connectivity with your phone
Cons:
Limited ground clearance (175 mm) may restrict off-road capabilities
It's a scooter, not a motorcycle, which might not appeal to some riders looking for a traditional motorcycle experience.
No mention of advanced safety features such as traction control or ABS, which could be a drawback for some riders.
The specific pricing and availability are not mentioned, which may impact the accessibility of the scooter.
Limited passenger seating and storage capacity compared to larger motorcycles or touring bikes.
Verdict:
The Aprilia SR GT 200 is a groundbreaking scooter that offers an exceptional blend of city finesse and off-road prowess. With its powerful i-get 200 engine, Start & Stop RISS technology, and outstanding fuel efficiency, it delivers unmatched performance and efficiency. The specially designed suspension and hydraulic disc brakes ensure superior control and safety, making it a reliable road conqueror. The sporty and adventurous design, coupled with practical features like ample storage, USB port, and futuristic dashboard, add to the overall riding experience. Embrace the spirit of urban exploration and off-road adventures with this remarkable scooter that redefines mobility and exhilaration.
Major Competitors:
Honda PCX150: The Honda PCX150 is a popular scooter known for its fuel efficiency, comfortable ride, and modern design. It features a 149cc engine, ample storage space, and a sleek body style, making it an excellent choice for city commuting.
Yamaha XMAX 300: The Yamaha XMAX 300 is a powerful scooter with a 292cc engine, offering a blend of performance and comfort. It boasts a sporty design, spacious under-seat storage, and advanced features like LED lighting and a large digital instrument cluster.
Vespa GTS 300: The Vespa GTS 300 is a classic and iconic scooter, representing Italian craftsmanship and style. It comes with a 278cc engine, vintage-inspired design elements, and a premium feel, making it a choice for those seeking a stylish and elegant ride.
Suzuki Burgman 200: The Suzuki Burgman 200 is a versatile scooter with a 200cc engine and a spacious seating position. It offers a balance between urban maneuverability and highway cruising capabilities, making it suitable for both city commuting and longer rides.
Kymco Downtown 350i: The Kymco Downtown 350i is a powerful scooter with a 320cc engine, providing ample performance for various riding conditions. It offers a comfortable and spacious seating position, along with advanced features like ABS and traction control.
Piaggio Beverly 300: The Piaggio Beverly 300 is a stylish and agile scooter equipped with a 278cc engine. It is designed for urban mobility and offers a comfortable ride with a focus on practicality and ease of use.
BMW C 400 X: The BMW C 400 X is a premium mid-size scooter from the renowned German manufacturer. It comes with a 350cc engine, sophisticated design, and advanced technology features, making it an excellent choice for riders who value luxury and performance.
SYM Cruisym 300: The SYM Cruisym 300 is a well-rounded scooter featuring a 278cc engine, comfortable ergonomics, and a large windshield for added wind protection. It offers a balance between practicality and style, suitable for daily commuting and weekend getaways.
Benelli Zafferano 250: The Benelli Zafferano 250 is a scooter known for its smooth and efficient performance. It features a 250cc engine, comfortable seating, and a streamlined design, making it a practical choice for urban riders.

Peugeot Citystar 200i: The Peugeot Citystar 200i is a compact and agile scooter with a 200cc engine. It offers good fuel efficiency, a user-friendly design, and a comfortable ride, making it suitable for city commuting and short trips.