2023 Benelli 752S
Sold in Pakistan = 2021-Present
Engine Technology = 750cc liquid-cooled inline twin-cylinder engine with advanced engineering (Euro-V)
2023 Benelli 752S Price in Pakistan
Benelli 752S

32,000,00/-

PKR
Established in 1911, Benelli stands as a venerable emblem of Italian motorcycle craftsmanship, an illustrious narrative interwoven with a lineage of innovation and dedication. The spectrum of their motorcycle repertoire has evolved over epochs, encompassing an array of machines tailored to diverse riding inclinations. Notable among these are the Benelli Naked Bikes trinity, comprising the dynamic Benelli 752S, the spirited Benelli TNT600i, and the nimble Benelli TNT300. The Benelli 752S, an embodiment of contemporary aesthetics, derives its vigor from a 750cc liquid-cooled inline twin-cylinder engine. This mechanical prowess bestows upon it an amalgamation of athletic maneuverability, ergonomic comfort, and multifaceted versatility. Emanating a commendable equilibrium between horsepower and torque, the 752S asserts itself as a mid-size powerhouse. Its robust frame and suspension orchestrate a harmonious symphony of equilibrium and smoothness.
Modernity finds its home within the heart of the 752S, wherein advanced electronics, including ABS and adaptive riding modes, converge to elevate the riding experience. Urban commutes and spirited escapades find common ground in the thoughtful design of the 752S, offering a poised riding posture that navigates the contours of both the mundane and the audacious. Available in three captivating shades—ebony, crimson, and alabaster—the 752S is bedecked with an exhaust system that marries sportiness with visual allure. Fueled by a capacious tank, this steed embraces long-haul journeys, sidestepping the inconvenience of frequent pit stops. LED illumination ensconces the 752S, from its piercing headlights to its trail-blazing taillights and blinkers, ushering enhanced clarity and safety. The legacy of Benelli endures through an expansive network of dealerships, wherein enthusiasts can partake in the odyssey of owning a Benelli 752S. In culmination, the Benelli 752S emerges not just as a motorcycle, but as an emblematic embodiment of a storied heritage and an invitation to traverse roads less traveled.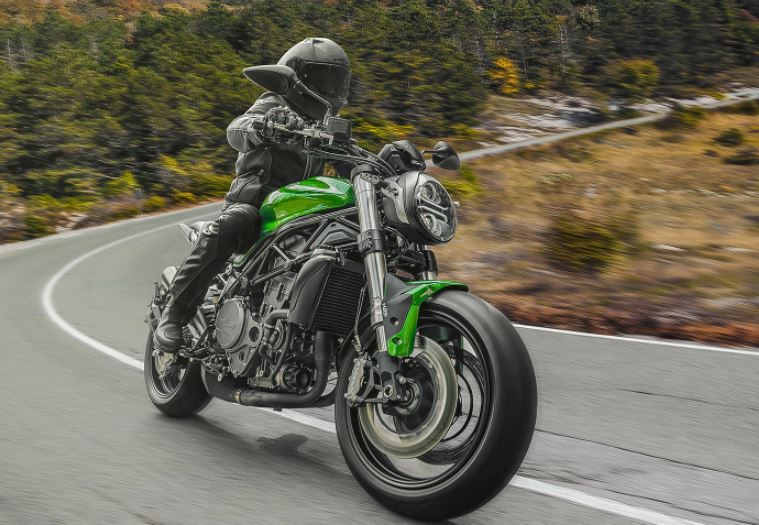 Engine, Power & Fuel Ecomomy:
The heart of the Benelli 752S pulses with a 750cc liquid-cooled inline twin-cylinder engine, a configuration where two cylinders align in unison, bestowing a symphony of smooth power delivery, blending performance prowess with fuel frugality. Emitting a spirited 81 horsepower at 8500 RPM and a resilient 67 Nm of torque at 6500 RPM, this mechanical symposium engenders adaptability across diverse terrains. The linear harmony of the twin-cylinder setup in the Benelli 752S strikes a chord between performance, fluidity, and wieldy power deployment. A spirited urban sojourn or an unhurried highway cruise both bear the imprints of this engine's exuberance, inviting riders into an engaging reverie. Sipping fuel judiciously at 15 kilometers per liter, the 752S finds its stage upon a 14.5-liter canvas, setting the pace for explorations. With an anticipated top velocity of 177 kilometers per hour, the 752S unfurls its potential in measured bursts, the 0 to 60 mph sprint potentially unfolding within the span of 4 to 5 seconds. Applauded for its dexterity, the 752S becomes a beacon for those drawn to the allure of a mid-sized naked sports motorbike. A symbiotic trinity of design, chassis, and suspension dance together to create an orchestration of control and agility, a harmonious ballet of road mastery.
The 752S's embodiment is one of nimbleness and responsiveness, a testament to its urban acumen and traffic prowess. Embracing its lightweight stature and compact dimensions, it unravels confidence and ease, rendering each ride an ode to seamless handling, a ballet of maneuvers. In essence, the Benelli 752S isn't just a motorcycle; it's an invitation to a kinetic symphony, where power, precision, and grace converge on the open road. Constructed upon a robust framework, the Benelli 752S establishes a steadfast foundation, a cornerstone for seamless cornering and adept handling. Engineered with precision, its chassis is a testament to harmonious equilibrium, seamlessly aligning with the rider's intent, particularly in exhilarating escapades along serpentine routes. The 752S stands as a harmonious composition, owing to its artfully crafted suspension system that artfully reconciles comfort and performance. Both fore and aft suspensions collaborate to absorb undulating terrains, sculpting an unruffled passage. Immersed in a poised riding stance, the 752S orchestrates a symbiotic dance with its pilot. A carefully tailored ergonomic ensemble—seating posture and handlebar disposition—becomes the conductor's baton, orchestrating impeccable control and equilibrium as the journey unfolds. The significance of tire selection on a motorcycle's handling prowess is paramount. The 752S adorns itself with high-quality rubbers, exemplifying adept grip and traction, thereby nurturing its cornering acumen and unwavering handling assurance.
This kinetic sonnet extends to the realm of braking prowess. Dual front disc brakes, partnered with a singular rear disc, seamlessly harmonize to offer requisite stopping potency, supplementing the ensemble of deft handling. Notably, the Benelli 752S may embrace the virtue of an Anti-lock Braking System (ABS), a guardian angel of braking efficacy and safety. The orchestration of handling, akin to a symphony, assumes subjective dimensions molded by individual predilections and riding modalities. Within this melodic spectrum, the Benelli 752S emerges as a beacon of equilibrium, a testament to its adept handling demeanor, impeccably poised for urban jaunts and spirited frolics along meandering byways.
Fuel Economy:
The Benelli 752S has an average fuel economy of approximately 15 kilometers per liter, which is equivalent to roughly 35 miles per gallon (mpg). Keep in mind that actual mileage may vary depending on various factors such as riding conditions, maintenance, and individual riding style.
Exterior Design & Build Quality:
Draped in a contemporary and audacious façade, the Benelli 752S embodies the quintessential aesthetics of a mid-size naked sports motorcycle. A symphony of mechanical prowess, the 752S sheds the veils of excess bodywork, unveiling the intricate ballet of its engine and machinery. This design ethos is an ode to functionality, a window into its mechanical soul, cloaking it in an aura of athleticism and sinew. The 752S's countenance is a tapestry of bold strokes, highlighted by its distinctive front fascia, a crescendo of aggression embodied in a sharply etched LED headlamp unit. Illuminating the path with modern luminance, this luminous emblem is a testimony to innovation, casting its radiance upon the canvas of contemporary design. The sinuous silhouette of its sculpted fuel tank is a lyrical dance of form and function, not only bestowing ergonomic harmony but also adding to the visual allure.
Sleek side panels, reminiscent of brushstrokes on a canvas, grace the flanks, accentuating the athletic dynamism of the 752S. Here, the insignia of Benelli finds its canvas, a testament to legacy and heritage. The rear reverberates with minimalistic finesse—a compact tail section adorned with an LED taillight—its artistry in restraint, encapsulating modernity within clean lines. The exhaust system, a harmonious fusion of engineering and artistry, stands as a visual symphony. With an option of dual-exit or underbelly configuration, it mirrors the bike's bold stance, an auditory reminder of its visceral power. The ensemble is crowned by stylish alloy wheels, akin to kinetic sculptures, partnered with premium tires that flirt with the boundaries of grip and precision.
Assembled with meticulous attention, the Benelli 752S stands as a paragon of reliability. A robust framework, components of substance, and meticulous finishes weave a tapestry of resilience. From the sinews of its suspension to the sinews of its electrical pathways, the 752S bows to quality, ensuring longevity and steadfastness. In essence, the Benelli 752S is not merely a motorcycle; it's an artistic narrative, an assemblage of design, technology, and craftsmanship, coalescing into a journey of precision and passion. A canvas of modernity, an ode to mechanics, it captures the imagination and beckons riders to embrace its symphony of form and function.
Pros & Cons:
Pros:
Diverse Motorcycle Repertoire
Benelli Naked Bikes Trinity
Advanced Electronics (ABS, Adaptive Riding Modes)
Modern Design and Aesthetics
Comfortable Riding Posture
LED Illumination for Safety
Expansive Dealership Network
Robust Chassis and Suspension
Potential ABS Integration
Quality Build and Reliability
Cons:
Subjective Handling Preference
Lack of Detailed Model Information

Potentially Higher Maintenance Costs (Premium Components)
Verdict:
The Benelli 752S stands as a remarkable embodiment of Italian craftsmanship and innovation, offering a harmonious fusion of contemporary aesthetics, powerful performance, and thoughtful design. With its robust chassis, advanced electronics, and agile handling, it beckons riders to explore urban landscapes and meandering byways with confidence. Its captivating exterior design, coupled with quality build and reliability, showcases an artistic narrative that captures both form and function. In essence, the Benelli 752S is a dynamic invitation to traverse roads less traveled, encapsulating the essence of precision and passion within its mechanical symphony.
Major Competitors:
The Benelli 752S competes in the mid-size naked sports motorcycle segment. Some of its major competitors include:
Yamaha MT-07 (FZ-07): A popular choice known for its versatile performance and agile handling.
Kawasaki Z650: Offers a blend of sporty performance and comfort, with a smooth inline-four engine.
Honda CB650R: Features a refined inline-four engine and modern styling.
Suzuki SV650: Known for its responsive V-twin engine and straightforward design.
Ducati Monster 821: Offers Italian style and a strong L-twin engine.
Triumph Street Triple: Renowned for its powerful triple-cylinder engine and agile handling.
KTM 790 Duke: Known for its sharp handling and spirited parallel-twin engine.
MV Agusta Brutale 800: Offers distinctive Italian design and performance.