2023 Benelli Imperiale 400
Sold in Pakistan = 2021-Present
Engine Technology = 400 cc traditional single-cylinder, air-cooled engine (Euro-IV)
2023 Benelli Imperiale 400 Price in Pakistan
Benelli Imperiale 400

13,850,00/-

PKR
The Benelli Imperiale 400, an emblematic creation from the renowned Italian manufacturer Benelli, stands as a testament to their commitment to classic motorcycle artistry. Mirroring the aesthetic essence of its elder sibling, the Imperiale 500, this masterpiece is a charming invocation of the golden era of two-wheelers in the 1950s and 1960s. At its heart, the Imperiale 400 houses a potent 374cc single-cylinder engine, celebrated for its air-cooled finesse. Exhibiting a harmonious blend of yesteryear's elegance and contemporary engineering, the motorcycle exudes a timeless appeal through its circular headlamp, gracefully curved teardrop fuel tank, and nostalgic fenders. Riding comfort finds its paramount expression in the form of a telescopic front fork and paired twin rear shock absorbers. This well-crafted suspension setup ensures a silky-smooth journey across diverse terrains.
In the domain of braking, the Imperiale 400 boasts a front disc brake and a rear drum brake, endorsing safety without compromising style. Its instrument cluster, bedecked in a vintage analog layout, offers essential ride statistics such as speed, fuel levels, and odometer readings. Striking a balance between maneuverability and substance, the bike's manageable weight welcomes riders of varying proficiencies, accompanied by a capacious fuel tank that accommodates extended voyages. The Benelli Imperiale 400, although sharing its DNA with the Imperiale 500, distinguishes itself through a smaller engine displacement. This strategic adaptation renders the Imperiale 400 a global contender, catering to diverse licensing requisites across regions. Its competitive stance is palpable, engaging in a spirited rivalry with the likes of the Chinese OW Ninja 400cc motorcycles. In essence, the Benelli Imperiale 400 stands as a manifestation of classic allure intertwined with modern performance, embodying the spirit of a bygone era while remaining tailored to contemporary riders worldwide.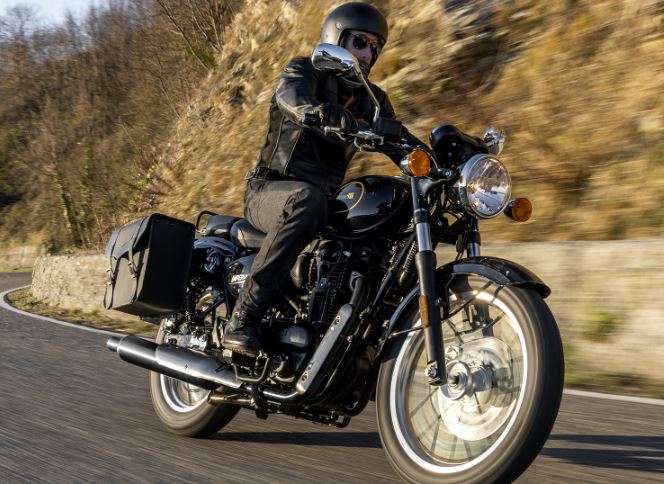 Engine, Power &  Performance:
The Benelli Imperiale 400 embodies a Single-Cylinder, 4-Stroke, 374cc air-cooled, EFI engine meticulously crafted to blend efficient power delivery with urban convenience and leisurely highway escapades. The engine's 374cc single-cylinder configuration harmoniously orchestrates potent performance tailored for city commutes and unhurried highway rides. The venerable air-cooling system not only exudes classic charm but also ensures effective temperature management for the engine's well-being. Fueling this artful machine is a precision fuel injection system that choreographs seamless fuel delivery, adhering to contemporary emission standards while elevating fuel efficiency. This symphony results in an impressive average of 25 kilometers per liter, reinforced by a generous 12-liter fuel tank capacity. The engine's prowess takes the form of 21 hp power at 5500 RPM and a robust 29 Nm torque at 3500 RPM, translating to a smooth and linear acceleration that navigates city labyrinthine and effortlessly merges onto highways.
The Benelli Imperiale 400 showcases a persona of composed cruising over blistering speed, with its top speed generally resting between 130 to 140 kilometers per hour. The focal point resides in its comfort-laden gait, embracing a suspension system adorned with a telescopic front fork and twin rear shock absorbers. This ensemble choreographs a dance of comfort and stability, gracefully gliding over an array of road surfaces. In the realm of braking mastery, the Imperiale 400 paints a picture of security and finesse. The front wheel boasts a disc brake, while the rear wheel gracefully resonates with a drum brake. In some iterations, an Anti-lock Braking System (ABS) graces the stage, amplifying braking assurance and safety. The symphony of engineering within the Benelli Imperiale 400 encapsulates a tale of harmonious power, comfort, and security, inviting riders to experience the journey with both heart and mind at ease. The Imperiale 400 stands as a beacon of fuel efficiency within its class and displacement, bestowing respectable mileage upon its riders. This practical gem, the Benelli Imperiale 400, is a testament to comfort and functionality, tailored for connoisseurs of classic aesthetics and proponents of serene journeys. While its prowess may not be anchored in high-performance theatrics, it finds its zenith in curating velvety rides, a seamless duet of everyday commutes and leisurely ventures.
Crafted with an essence of relaxation, the Imperiale 400 introduces a relaxed, upright riding posture accompanied by vintage-style handlebars and forward-set footpegs. Such a composition doesn't merely pay homage to classic designs; it extends a tapestry of comfort that weaves through extended voyages and bustling cityscapes. Stability and predictability emerge as the cornerstones of its design ethos, setting forth a chassis and suspension that beckon a harmonious journey, especially along linear paths and graceful arcs. As a nimble choreographer of urban passages, the Imperiale 400 navigates bustling traffic and confined spaces with an elegant ease. Its moderate turning radius paints a canvas of graceful control amidst urban landscapes. This ease is underpinned by a manageable weight that envelopes the motorcycle in a cloak of balance and stability, whether orchestrating low-speed maneuvers or gliding along highways.
However, the Benelli Imperiale 400 isn't cast for the dramatic flair of aggressive cornering or sporty escapades. Instead, its choreography aligns more with the nostalgic ballet of its classic cruiser visage. In the realm of rider preference, it's an ode to comfort and tranquility, a gentle symphony that resonates with those who opt for an unhurried and relaxed voyage, serenading the roads with an ensemble of ease.
Fuel Economy:
The fuel economy of the Benelli Imperiale 400 reported to be around 25 to 30 kilometers per liter (km/l) or approximately 59 to 70 miles per gallon (mpg), depending on riding conditions and individual riding habits. Please note that fuel economy can vary based on factors such as riding style, maintenance, road conditions, and fuel quality.
Exterior Design & Build Quality:
The Benelli Imperiale 400 stands as a testament to nostalgia, a masterpiece of classic retro-styling that reverently tips its hat to the iconic motorcycles of the 1950s and 1960s. Embracing a timeless design ethos, the Imperiale 400 exudes a symphony of classic aesthetics woven seamlessly into every contour. It's a visual sonnet composed of heritage-inspired elements, from the captivating round headlamp that casts a warm glow, to the teardrop-shaped fuel tank adorned with vintage graphics, and a generously cushioned single seat that beckons riders to embark on journeys reminiscent of a bygone era. Enveloped in the embrace of chrome accents, the motorcycle wears its elegance with pride. Chrome graces the headlamp bezel, exhaust system, mirrors, and handlebars, an ode to refinement that enhances the allure of its retro charm. Its character is further adorned by the resilient embrace of spoked wheels, a nostalgic touch that adds not just aesthetics but also durability and robustness.
Within its visual symphony, the Imperiale 400's paint schemes stand as timeless verses, often adorned with classic hues that pay homage to its vintage lineage. Its fenders echo simplicity and poise, mirroring the elegance of classic design philosophies, perpetuating an unadulterated connection to the golden age of motorcycling. In the heart of this homage beats a classic-style analog instrument cluster, a portal to a simpler time, complete with a speedometer and a symphony of essential indicators. The design of the motorcycle is a harmonious ballet of relaxation, with wide handlebars and forward-set footpegs orchestrating an upright riding posture that extols comfort and ease, inviting riders to embark on unhurried journeys.
Branding and legacy are etched into the very DNA of the Benelli Imperiale 400, often bearing the esteemed badges and logos that serve as echoes of the brand's rich heritage. This melding of timeless charm with modern engineering prowess creates an alchemical masterpiece that captures the essence of classic motorcycling, without forsaking the reliability and practicality sought after in contemporary rides. At its core, the Imperiale 400 is more than a mere symphony of visuals; it embodies the promise of quality craftsmanship. Benelli, a venerable Italian motorcycle manufacturer, has seamlessly woven classic aesthetics with modern engineering, employing a robust steel frame as its foundation. This amalgamation of elements results in a motorcycle that's not just visually captivating but also enduring in its build quality.
In the tapestry of motorcycling, the Benelli Imperiale 400 weaves a tale that transports riders to a different time, while carrying them forward with unwavering reliability and enchanting charm. It's an ode to the past, penned for the present, and destined to dance into the future.
Pros & Cons:
Pros:
Classic retro-styling

Comfortable riding posture

Efficient fuel delivery

Vintage aesthetics

Stable and predictable handling

Nostalgic design elements

Robust build quality

Manageable weight
Cons:
Modest top speed

Not designed for aggressive cornering

Limited sporty capabilities

Relatively smaller engine displacement

Drum brake at the rear

May not appeal to performance enthusiasts

Restricted high-performance potential
Verdict:
The Benelli Imperiale 400 gracefully embodies the spirit of classic motorcycling with its timeless design and comfortable riding posture, perfect for unhurried journeys through both urban landscapes and open highways. Its efficient fuel delivery system and robust build quality contribute to a reliable and enduring companion on the road. While its performance leans towards composed cruising over high-speed thrills and aggressive cornering, the Imperiale 400's nostalgic charm, stable handling, and manageable weight make it a compelling choice for riders who value comfort, aesthetics, and a connection to the golden era of two-wheelers.
Major Competitors:
Some major competitors of the Benelli Imperiale 400 in the cruiser or retro motorcycle segment included:
Royal Enfield Classic 350: One of the most popular retro-style cruiser motorcycles, known for its classic design and thumping single-cylinder engine.

Jawa Motorcycles: Jawa re-entered the market with retro-styled motorcycles like the Jawa and Jawa Forty Two, which aimed to capture the classic cruiser feel.

Honda CB350 H'ness: Honda introduced the CB350 H'ness as a direct competitor to the Royal Enfield Classic 350, offering a similar retro charm.

Suzuki Intruder 150: The Intruder 150 featured a modern cruiser design and aimed to provide an alternative option in the segment.

Bajaj Avenger: Bajaj's Avenger series offered various cruiser options in the market, catering to different tastes and preferences.

UM Renegade Commando: This cruiser from UM Motorcycles aimed to provide an affordable alternative in the retro cruiser segment.

Yamaha FZ series (FZ16 and FZ25): While not purely cruisers, Yamaha's FZ series motorcycles offered a mix of sporty and classic styling elements.

Kawasaki Vulcan S: The Vulcan S from Kawasaki offered a unique take on the cruiser segment with its modern design and adjustable ergonomics.