2023 Benelli Leoncino 500
Sold in Pakistan = 2021-Present
Engine Technology = 500 cc liquid-cooled 500cc twin-cylinder engine (Euro-IV)
2023 Benelli Leoncino 500 Price in Pakistan
Benelli Leoncino 500

19,100,00/-

PKR
The Benelli Leoncino exemplifies a captivating embodiment of modern ingenuity within the Leoncino lineage. Beneath its sleek exterior lies a potent liquid-cooled 500cc twin-cylinder engine, a powerhouse that exudes a fierce roar of power while maintaining an uncanny smoothness. This mechanical marvel finds its home within a chassis crafted from lightweight yet durable steel lattice, perfectly melding utility with aesthetics, resulting in an exquisite fusion of form and function. The suspension system of the Leoncino 500 is a testament to its finesse on the road. A lateral single-shock setup graces the rear, standing proudly and allowing personalized adjustments to suit the rider's preferences. Meanwhile, the robust inverted fork at the front boasts 45mm tubes and a generous 4.9 inches of travel, providing a comfortable and responsive ride.
The 17-inch cast-alloy wheels shod with low-profile, high-grip tires establish an unbreakable bond with the asphalt, ensuring a confident connection to the road. Complementing this setup are ultra-strong disc brakes that deliver unparalleled stopping power. The inclusion of anti-lock braking elevates safety to new heights, instilling unwavering confidence in navigating every twist and turn. Navigational clarity is guaranteed by the advanced digital instrumentation, which relays vital information to the rider, eliminating any guesswork. When the sun sets, the path ahead remains illuminated with remarkable clarity, thanks to the cutting-edge LED headlight technology that pierces through the darkness like a guiding beacon.
With the dexterity and agility of a seasoned dancer, the Benelli Leoncino 500 gracefully outshines its scrambler counterparts. Its lightweight construction allows it to maneuver with unparalleled nimbleness, leaving riders awestruck. The Leoncino 500 effortlessly bridges the gap between heritage and innovation, where timeless charm converges with modern sensibilities. This captivating motorcycle captures the affections of both adventurous spirits and discerning enthusiasts, confidently and gracefully heralding the future of two-wheeled exploration.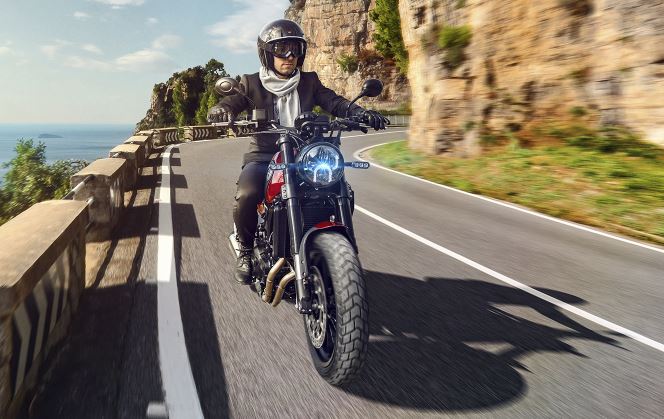 Engine, Performance & Fuel Economy:
The Benelli Leoncino 500 stands out with its advanced liquid-cooled 500cc twin-cylinder engine, meticulously engineered to strike a seamless balance between dynamic performance and silky smoothness. This powerplant is tailored to cater to diverse riding scenarios, seamlessly transitioning from urban commutes to spirited adventures. The liquid cooling system takes center stage, actively regulating the engine's temperature to optimize efficiency and extend its operational lifespan. The twin-cylinder layout not only endows the Leoncino 500 with a spirited dose of power and torque but also ensures a user-friendly ride, catering to riders of varying expertise. Its design harmoniously aligns with the motorcycle's character, facilitating the delivery of refined performance and an uninterrupted power flow. The engine delivers 48 horsepower at 6000 RPM and an impressive 106 Nm of torque at the same RPM, propelling the Leoncino 500 to a top speed of 180 kilometers per hour. It flaunts a frugal fuel consumption of 20 kilometers per liter, backed by a capacious 13.5-liter fuel tank.
Acceleration on the Leoncino 500 is brisk and energetic, attributed to its torque-rich engine and an overall lightweight structure. Its capability to promptly reach highway speeds makes it a versatile choice for urban commutes as well as extended journeys. The lightweight yet robust steel lattice frame, inverted front forks, and the customizable single-shock suspension at the rear culminate in exceptional handling and unwavering stability. Negotiating corners feels effortless, while the ride quality remains plush over a range of road surfaces. The Leoncino 500 comes equipped with 4-piston calipers and substantial 320mm discs at the front, guaranteeing potent and consistent braking performance. Augmented by an anti-lock braking system (ABS), the motorcycle's safety quotient is elevated, instilling confidence in abrupt braking situations and challenging road conditions. In essence, the Benelli Leoncino 500 harmonizes power, performance, and safety in a captivating symphony of modern motorcycling.
Weighing in at a relatively modest 170 kg (375 lbs), the Leoncino 500 embodies a lightness that underpins its remarkable agility and maneuverability. Its adeptness in navigating varied environments is owed in part to the robust inverted fork at the front, featuring 45mm diameter tubes. Renowned for their heightened rigidity and responsiveness, inverted forks excel in handling the diverse demands of on-road as well as light off-road excursions. The 45mm diameter tubes ensure a steadfast foundation, fortified with ample strength to support the front wheel with unwavering confidence. At the rear, a laterally mounted and adjustable single-shock suspension takes its place, epitomizing adaptability. This setup extends an invitation to personalize the rear suspension's behavior, accommodating the rider's distinctive inclinations and the ever-changing landscape of road conditions. Working in unison, the front and rear suspension systems orchestrate a harmonious ballet, nurturing a ride marked by both comfort and mastery. This orchestration is particularly attuned to urban commutes, modest touring endeavors, and intermittent dalliances with off-road pathways, equipping the rider to gracefully tackle an array of terrains.
The compact proportions of the Leoncino 500 are an asset in bustling urban settings, where its nimble stature finds its groove amidst traffic's intricate choreography. The synchronization of its engine's responsiveness and brakes' effectiveness paints a picture of control, enabling the rider to deftly maneuver through the bustling cityscape. While the Leoncino 500 does not venture into the realm of a full-fledged off-road machine, its DNA carries a hint of rugged exploration. The design cues borrowed from scrambler aesthetics, coupled with moderately rugged tires, allow riders to embark on ventures down gravel roads or less formidable off-road tracks. This infusion of versatility invites exploration without trespassing into the unknown, ensuring that riders remain comfortably within their sphere of confidence.
Exterior Design & Build Quality:
The Benelli Leoncino 500 stands as a captivating embodiment of design fusion, harmonizing the classic echoes of yesteryears with contemporary aesthetics. Rooted in reverence for the 1950s original Leoncino, this motorcycle artfully marries nostalgia with modernity. Unveil the key facets that define the Leoncino 500's captivating exterior design. Drawing inspiration from its scrambler lineage, the Leoncino 500 dons a visual ensemble steeped in tradition yet laced with innovation. The signature rounded headlamp, minimalist bodywork, exposed trellis frame, and the commanding high-mounted exhaust unite in symphony to conjure the quintessential scrambler allure. A classically sculpted fuel tank, replete with graceful contours, extends an authentic retro punctuation, weaving into the bike's overall aesthetic fabric.
The infusion of contemporary prowess is evident through the Leoncino 500's LED lighting ensemble. Employing energy-efficient, luminous LED technology, the headlight, taillight, and turn signals coalesce to illuminate the path forward while celebrating modernity against the backdrop of tradition. A digital instrument cluster takes the stage, offering riders a succinct yet comprehensive conduit to vital information. This digital interface harmonizes seamlessly with the broader theme, a blend of progressive utility woven into retro sensibilities. Mounted on 17-inch cast-alloy wheels, the Leoncino 500 strikes a modern chord while it treads. These wheels, clad in purposeful low-profile tires, deftly navigate the delicate balance between on-road agility and off-road potential, ensuring a versatile ride experience.
Meticulously adorned with thoughtful finishes, the Leoncino 500 bears an aura of meticulous craftsmanship. The exhaust, engine covers, and fork tubes glisten with tasteful accents, amplifying the motorcycle's inherent premium aura. Presented in an array of hues, the Leoncino 500 embraces a color palette that resonates with both tradition and contemporaneity. Classic shades pay homage to heritage, while vibrant options hint at modernity's vibrant pulse. Crafted from robust steel trellis frames and an assembly of premium constituents, the Leoncino 500 bridges a timeless visage with modern resilience. These exquisite materials coalesce, crafting a platform of structural robustness and enduring longevity. Ultimately, the Benelli Leoncino 500 beckons riders to traverse the intersection of time, an embodiment of design evolution poised on the precipice of the open road.
Pros & Cons:
Pros:
Modern Engine Performance: The Benelli Leoncino 500 features a potent liquid-cooled 500cc twin-cylinder engine that strikes a harmonious balance between dynamic performance and smooth operation. With 48 horsepower and 106 Nm of torque, it offers an exhilarating and responsive ride, suitable for various riding scenarios.

Aesthetic Appeal: The motorcycle's design seamlessly blends classic and modern elements, evoking a sense of nostalgia while incorporating contemporary features. Design cues from the original Leoncino are artfully integrated, resulting in a captivating and iconic appearance.

Advanced Suspension: The Leoncino 500's suspension system is carefully tuned for optimal performance. The inverted front fork and adjustable single-shock rear suspension provide comfort, responsiveness, and customization to suit different rider preferences and road conditions.

Excellent Handling: Weighing around 170 kg (375 lbs), the Leoncino 500's lightweight chassis, agile maneuverability, and nimble handling make it well-suited for urban commuting and spirited rides. Its capability to navigate through traffic and corners with ease enhances the overall riding experience.

Safety Features: The inclusion of ultra-strong disc brakes with an anti-lock braking system (ABS) ensures reliable and controlled stopping power, enhancing rider safety. LED lighting technology contributes to better visibility, both during the day and at night.

Versatile Riding: The motorcycle's adaptable design and components make it suitable for a range of riding scenarios, from urban commuting to light touring and occasional off-road adventures. This versatility adds to the bike's appeal and broadens its utility.
Cons:
Off-Road Limitations: While the Leoncino 500 possesses some off-road capability, it is not intended for demanding off-road terrains. Riders seeking extensive off-road adventures might find its capabilities limited compared to dedicated off-road motorcycles.

Limited Passenger Comfort: The motorcycle's design and focus on individual riding might result in reduced passenger comfort for extended journeys. Pillion riders might experience some discomfort during longer rides.

Seat Comfort: While the Leoncino 500 is designed for agility and performance, the comfort of the seat during extended rides could be a concern for riders seeking more touring-oriented experiences.

Storage Options: The scrambler-inspired design may limit the availability of storage options, making it challenging to carry luggage or gear for longer trips without additional accessories.

Maintenance and Availability: Depending on the region, availability of spare parts, servicing, and dealership networks for Benelli motorcycles could impact maintenance and ownership experience.
Verdict:
The Benelli Leoncino 500 harmoniously blends classic heritage with modern innovation, presenting riders with a captivating and versatile motorcycle. Its potent 500cc twin-cylinder engine delivers exhilarating performance while maintaining smoothness, though its off-road capabilities are more suited for light exploration. With an eye-catching design that seamlessly fuses nostalgia with contemporary aesthetics, advanced features like LED lighting and digital instrumentation enhance safety and convenience. While its lightweight chassis and agile handling make it an ideal urban commuter and spirited tourer, the motorcycle's passenger comfort and storage options could be improved for extended journeys. Overall, the Leoncino 500 is a compelling choice for those seeking an engaging and stylish ride that bridges tradition and progress.
Major Competitors:
The Benelli Leoncino 500 competes in the middleweight segment of motorcycles, particularly within the scrambler and neo-retro categories. Some of its major competitors include:
Ducati Scrambler: The Ducati Scrambler series, including models like the Scrambler Icon, Café Racer, and Desert Sled, offers a range of scrambler-style motorcycles with various engine sizes and features, providing a direct rivalry to the Leoncino's aesthetic and performance.

Triumph Street Scrambler: The Triumph Street Scrambler combines classic styling with modern technology and performance. It features a torque-rich engine and versatile capabilities, making it a strong contender in the neo-retro and scrambler segment.

Moto Guzzi V7 III: The Moto Guzzi V7 III offers a blend of classic design and modern engineering, appealing to riders seeking a retro experience. With its unique transverse V-twin engine configuration, it brings a distinctive character to the competition.

Royal Enfield Interceptor 650: The Royal Enfield Interceptor 650 showcases classic styling combined with an affordable price point and a smooth parallel-twin engine. It targets riders who appreciate retro aesthetics and a laid-back cruising experience.

Kawasaki W800: The Kawasaki W800 captures the essence of classic motorcycles with a parallel-twin engine and vintage design cues. It aims to attract riders seeking a traditional feel with modern reliability.

Yamaha XSR700: The Yamaha XSR700 blends modern technology with a retro look, offering a versatile and agile ride. It competes with the Leoncino by appealing to riders who value performance and style.

Honda CB500X: While not a scrambler, the Honda CB500X competes with the Leoncino in the middleweight segment, offering adventure touring capabilities with a parallel-twin engine, nimble handling, and versatility.
These competitors represent a diverse range of motorcycles, each with its unique blend of style, performance, and features, challenging the Benelli Leoncino 500 in the competitive midsize motorcycle market.