2023 Benelli Leoncino 800
Sold in Pakistan = 2021-Present
Engine Technology = 754cc parallel-twin engine with advanced fuel-injection technology (Euro-V)
2023 Benelli TRK 502 Price in Pakistan
Benelli Leoncino 800

27,000,00/-

PKR
Introducing the Benelli Leoncino 800, a remarkable addition to the Benelli lineup and their first venture into the 800cc category. This magnificent bike is offered in two variants, with the TRAIL model exclusively available in Pakistan, Asia. Boasting a captivating design and a choice of exterior colors in grey, brown, and green, the Leoncino 800 exudes a perfect blend of modern elegance and rugged appeal. At the heart of this powerhouse lies a 754cc liquid-cooled, inline twin-cylinder engine. This formidable engine provides an optimal balance of power and efficiency, catering to both city riders and long-distance highway cruisers. Drawing inspiration from the iconic scrambler-style motorcycles of the past, the Leoncino 800's aesthetic is a seamless fusion of retro charm and contemporary finesse. Constructed with a sturdy steel trellis frame, the Leoncino 800 ensures a stable and agile riding experience. Its suspension system features upside-down forks at the front and a mono-shock at the rear, offering exceptional comfort and precise control on varied terrains.
Safety is paramount with the Leoncino 800. Equipped with dual front disc brakes and a single rear disc brake, complemented by an anti-lock braking system (ABS), riders can confidently navigate challenging road conditions. To enhance the overall riding experience, modern electronics are integrated, including ride-by-wire throttle, multiple riding modes, and a digital instrument cluster. Designed to accommodate a diverse range of riders, the Leoncino 800 features a reasonable seat height, ensuring a comfortable fit for different statutes. Moreover, its distinctive exhaust system not only adds character but also contributes to a captivating exhaust note. Excitingly, the Benelli Leoncino 800 can be reserved through authorized Benelli dealers in Pakistan. Whether you seek the thrill of open roads or the daily commute, the Leoncino 800 promises an exhilarating and enjoyable journey like no other. Embrace the legacy of Benelli's craftsmanship and make the Benelli Leoncino 800 your ultimate riding companion.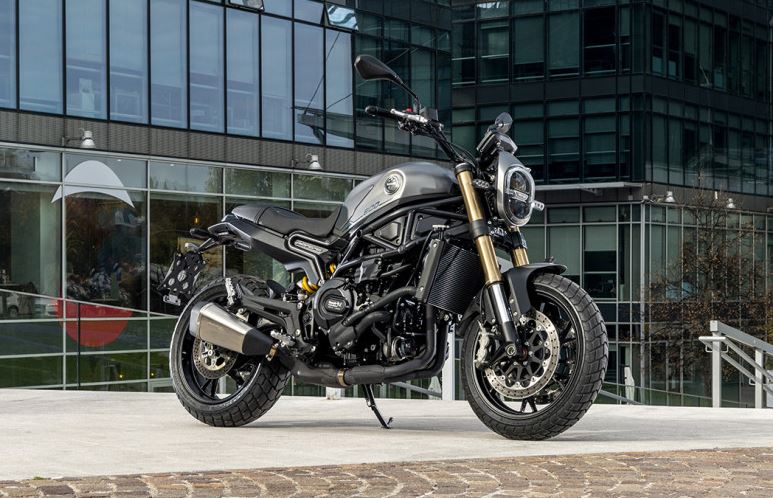 Engine & Performance:
The Benelli Leoncino 800 is propelled by an exceptional engine that sets the stage for an exhilarating riding experience. The heart of this powerhouse consists of two inline cylinders arranged in a straight line, providing the perfect equilibrium between power and smoothness. To maintain optimal operating temperatures and bolster performance and durability, the engine is equipped with a highly efficient liquid coolant system. Thanks to its advanced fuel-injection system, the Leoncino 800 ensures precise fuel delivery, resulting in improved fuel efficiency and a seamless throttle response. When it comes to power output, the Leoncino 800 doesn't disappoint, churning out an impressive 80-85 horsepower at the crankshaft. Additionally, the engine generates substantial torque, typically around 70-75 Nm, offering substantial low-end grunt for quick acceleration and effortless maneuvering.
With its commendable acceleration capabilities, the Benelli Leoncino 800 is ideally suited for navigating busy city streets and embarking on spirited rides through winding roads. The top speed of the motorcycle typically ranges from 180-200 km/h (approximately 112-124 mph), although it can be influenced by factors such as aerodynamics and gearing. Underpinning the Leoncino 800 is a meticulously crafted steel trellis frame, meticulously engineered for superior balance and stability. This well-balanced chassis ensures the motorcycle delivers agile and responsive handling, making it equally suitable for urban commuting and enthusiastic corner carving. Depending on the variant, the Leoncino 800 may offer multiple riding modes, granting riders the flexibility to tailor the throttle response and traction control settings to their preferences and specific riding conditions. This feature enhances the versatility of the motorcycle, catering to various riding styles and terrains.
The suspension setup on the Benelli Leoncino 800 strikes a harmonious blend between comfort and sportiness. With inverted or upside-down telescopic forks at the front, the motorcycle gains improved rigidity and superior damping characteristics compared to traditional front forks, ultimately elevating its handling prowess and stability. Meanwhile, the rear suspension, often a mono-shock setup, provides enhanced shock absorption capabilities and consistent performance on various surfaces. Safety is a paramount consideration, and the Leoncino 800 is well-equipped to meet the challenge. Many versions come equipped with an Anti-lock Braking System (ABS), a crucial safety feature that prevents the wheels from locking up during hard braking. This intelligent system reduces the risk of skidding and ensures stability while braking, instilling confidence in the rider and enhancing safety in diverse riding conditions.
Benelli Leoncino 800: A Versatile Roaring Ride with Room for Improvement:
The overall riding experience of the Benelli Leoncino 800 is marked by its stylish design, powerful engine, and agile handling. The motorcycle's 754cc engine provides ample power and torque for both city commuting and spirited rides on winding roads. The smooth bottom end and mid-range, along with the seamless throttle response, contribute to a pleasant and enjoyable ride. However, some shortcomings are evident in the brakes and suspension, with the front brakes lacking feedback and the front forks being initially firm. Despite its weight, the Leoncino 800 exudes a certain swagger that makes it fun to ride, especially in traffic-carving situations. While some adjustments to the front suspension and brakes could further enhance the riding experience, the motorcycle still offers solid value and deserves consideration, especially for riders looking for a versatile and stylish option in this price range.
Exterior Design & Build quality:
The Benelli Leoncino 800 stands as a testament to the perfect fusion of contemporary design and vintage-inspired elements. As a middleweight naked motorcycle, it exudes a distinct scrambler-style appearance that exudes ruggedness and adventure. The Leoncino 800 takes inspiration from classic scrambler motorcycles, originally designed for off-road use but seamlessly adapted into street-friendly bikes with a minimalist and purposeful allure. A hallmark of the Benelli Leoncino series is the iconic lion logo, proudly displayed on the fuel tank and various other parts of the motorcycle. Symbolizing strength, power, and the rich heritage of the Benelli brand, the lion logo adds a touch of regal sophistication and serves as a testament to the motorcycle's prowess.
With its compact and well-proportioned body, the Leoncino 800 boasts remarkable agility and maneuverability, making it an ideal choice for navigating congested urban traffic and curvy country roads with ease. The classic round headlamp evokes nostalgia and adds to its retro charm, creating a harmonious blend of old-world aesthetics and modern design elements. Moreover, the exhaust system, sweeping upward, not only contributes to the scrambler aesthetic but also ensures ample ground clearance, allowing riders to tackle varied terrains without hesitation. The upswept tail section at the rear, coupled with the integrated LED taillight, further enhances the scrambler-inspired look, leaving a lasting impression on onlookers. The spoked wheels of the Benelli Leoncino 800 play a pivotal role in its classic and rugged appearance, accentuating its adventurous character. The thoughtfully chosen color scheme highlights various components such as the fuel tank, side panels, and frame, imparting an eye-catching and distinctive aura to the motorcycle.
Critically acclaimed for its build quality, the Leoncino 800 boasts a well-engineered steel trellis frame that forms a solid and sturdy foundation, essential for optimal stability and precise handling. The meticulous fit and finish of components, including body panels and the exhaust system, contribute to the motorcycle's overall aesthetics and durability, ensuring it stands the test of time. Benelli's commitment to quality materials is evident in the construction of the Leoncino 800. By utilizing premium materials, they enhance the motorcycle's longevity and diminish the chances of premature wear or rusting, ultimately elevating the riding experience to new heights.
Furthermore, the choice of components and hardware, ranging from suspension components to brakes and electrical systems, further enhances the motorcycle's build quality and performance, instilling confidence in riders and solidifying the Leoncino 800's reputation as a reliable and capable machine. A manufacturer's belief in the strength of their product is often reflected in the warranty offered. In this regard, Benelli offers Leoncino 800 customers a comprehensive 1-year warranty, reaffirming their commitment to customer satisfaction and standing behind the motorcycle's quality and performance.
Pros & Cons:
Pros:
Stylish and modern exterior design with retro-inspired elements.

Distinct scrambler-style appearance exuding ruggedness and adventure.

Iconic lion logo symbolizing strength, power, and brand heritage.

Agile and maneuverable in urban traffic and winding roads.

Thoughtful exhaust system design for a captivating scrambler aesthetic and adequate ground clearance.

Well-engineered steel trellis frame ensuring stable and responsive handling.

Upside-down front forks and mono-shock rear suspension providing comfort and control.

Multiple riding modes (depending on the variant) for personalized throttle response and traction control settings.

Equipped with an Anti-lock Braking System (ABS) for enhanced safety during braking.

Reasonable seat height accommodating a wide range of riders.

Commendable acceleration and top speed suitable for city commuting and spirited rides.

Quality materials and construction enhancing longevity and durability.

Comprehensive 1-year warranty offered by Benelli for added peace of mind.
Cons:
Limited availability of the TRAIL variant in certain regions.

Limited color options compared to some other motorcycles in its class.

Some riders may prefer more powerful engines in the 800cc category.

Advanced electronic features might not be as extensive as those found in other high-end motorcycles.

Additional customization options may be desired by certain riders.

Availability of authorized Benelli dealers may be limited in some regions, affecting service and support accessibility.
Verdict:
The Benelli Leoncino 800 is a compelling middleweight naked motorcycle with a captivating design, powerful engine, and well-engineered chassis. Its scrambler-inspired appearance, including the iconic lion logo, adds to its rugged charm. With an agile and responsive ride, multiple riding modes, and safety features like ABS, it offers a versatile and enjoyable riding experience. The bike's build quality and comprehensive warranty further enhance its appeal, making the Benelli Leoncino 800 a strong contender for riders seeking a stylish and reliable companion for urban commuting and adventurous journeys.
Major Competitors:
Ducati Scrambler 800: The Ducati Scrambler 800 is a popular choice in the scrambler-style motorcycle segment. It features retro-inspired design elements, a capable engine, and a range of models to cater to different rider preferences.

Yamaha MT-09: The Yamaha MT-09 is a well-regarded naked sportbike with a powerful and torque-rich inline-three-cylinder engine. It offers agile handling, modern electronics, and a distinctive design.

Triumph Street Triple: The Triumph Street Triple lineup includes various models with different engine capacities, but the Street Triple 765 is the direct competitor in the 800cc segment. It is known for its strong performance, responsive handling, and contemporary styling.

Kawasaki Z900: The Kawasaki Z900 is a naked streetfighter with a potent four-cylinder engine, aggressive styling, and impressive performance. It targets riders looking for a thrilling and high-performance motorcycle.
BMW F 900 R: The BMW F 900 R is a versatile middleweight naked bike with a parallel-twin engine. It offers a good balance of comfort, performance, and modern technology.

Suzuki SV650: The Suzuki SV650 is a reliable and popular choice in the middleweight naked segment. It features a V-twin engine, user-friendly ergonomics, and affordable pricing.

Honda CB650R: The Honda CB650R is part of the "Neo Sports Cafe" lineup and offers a modern design, inline-four engine, and enjoyable riding dynamics.