2023 Benelli TNT 600i
Sold in Pakistan = 2021-Present
Engine Technology = 600 cc sophisticated liquid-cooled inline-four-cylinder engine with multi-point electronic fuel injection (Euro-IV)
2023 Benelli TNT 600i Price in Pakistan
Benelli TNT 600i

23,100,00/-

PKR
Benelli, the distinguished Italian motorcycle and scooter manufacturer, has been steadily gaining traction within the Pakistani market. The much-anticipated arrival of the Benelli TNT 600i has sent waves of excitement through the riding community. This model emerges as an enticing choice for enthusiasts seeking a dynamic middleweight sport bike experience. At the heart of the Benelli TNT 600i throbs a sophisticated liquid-cooled inline-four-cylinder engine, boasting a displacement of approximately 600cc. This finely-tuned powerplant strikes an optimal equilibrium between robust power output and commendable performance capabilities. Its prowess becomes evident through its adeptness in both urban traversing and spirited highway cruising.
Aesthetically, the Benelli TNT 600i boasts a captivating amalgamation of aggression and contemporary finesse. Its sleek and cutting-edge design language, marked by sharp contours, exudes an unmistakable streetfighter demeanor. The structural integrity and agility of the motorcycle are attributed to its meticulously crafted steel trellis frame. This chassis not only imparts the necessary rigidity but also ensures a nimbleness that significantly augments the bike's maneuvering prowess. Enhancing both safety and braking proficiency, the Benelli TNT 600i is equipped with the latest iteration of the ABS (Anti-lock Braking System). The fusion of cutting-edge technology and rider-centric design is further exemplified by the fully digital instrument cluster. This intuitive dashboard seamlessly relays critical information such as speed, rpm, fuel level, gear positioning, and trip metrics.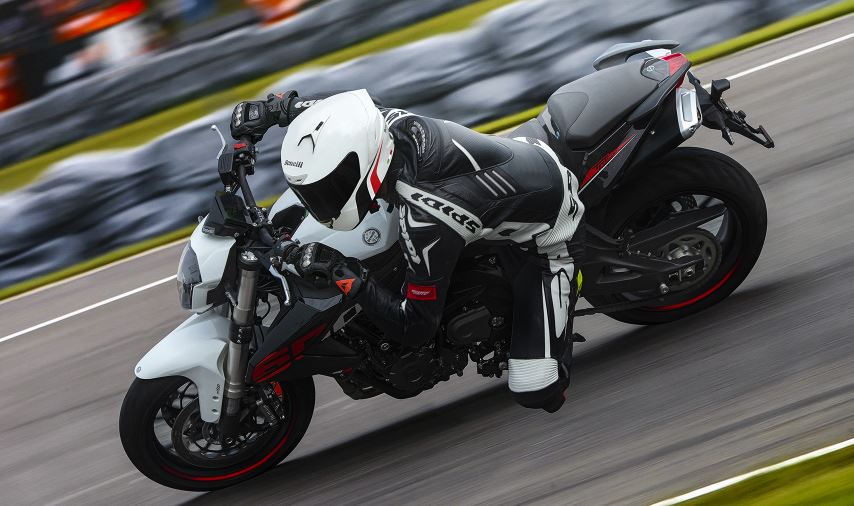 Completing the symphony of attributes, the motorcycle boasts a sleek and sporty exhaust system. Not only does it elevate the aesthetic allure, but it also contributes to the distinct auditory signature of the bike. This auditory treat complements the comfortable riding stance, tailored for both daily commutes and extended journeys. In essence, the Benelli TNT 600i stands as an embodiment of Italian craftsmanship and engineering ingenuity, offering a dynamic and well-rounded riding experience that seamlessly combines style, performance, and practicality.
Engine & Performance:
The Benelli TNT 600i stands as a testament to engineering finesse, housing a dynamic 600cc liquid-cooled inline-four-cylinder engine at its core. With an impressive power output of 60 kW at 11000 RPM, the engine seamlessly marries performance and efficiency. Bolstering its prowess, the TNT 600i generates a torque of 55 Nm at 8000 RPM, ensuring spirited acceleration and competence across diverse riding scenarios. The heart of this machine beats with a multi-point electronic fuel injection system, orchestrating an efficient dance of fuel delivery to the engine for optimal performance. This harmonious symphony is elegantly choreographed by a smooth-shifting manual transmission sporting six gears.
Complementing its spirited performance, the TNT 600i flaunts a noteworthy fuel efficiency range of 18 to 20 kilometers per liter, all made possible by a capacious 12-liter fuel tank. Hitting the open road, this motorcycle demonstrates its mettle, capable of reaching a top speed of approximately 220 km/h (137 mph), although this may vary based on rider weight and riding conditions. The sheer thrill of acceleration is embraced, with the bike darting from 0 to 100 km/h in an exhilarating 4 seconds. A masterpiece in handling, the TNT 600i owes its agility to a robust steel trellis frame and a meticulously balanced chassis. Navigating corners becomes an art form, heightened by its responsive demeanor. Effortless braking prowess is achieved, particularly with the assistance of the ABS (Anti-lock Braking System), enhancing control and stopping power.
The suspension system of the TNT 600i is a symphony of innovation. The front end is graced with an inverted telescopic fork, renowned for its sturdiness and superior damping characteristics. This translates into unwavering stability and responsiveness during braking and cornering. The rear suspension, a mono-shock absorber, adds finesse, replete with adjustable preload and sometimes rebound damping. This mono-shock configuration ensures a smoother ride and superior handling, keeping the rear wheel firmly grounded. For those seeking to personalize their ride, certain iterations of the TNT 600i offer adjustable suspension settings, empowering riders to tailor their suspension to align with their distinct preferences and riding style. The suspension travel of both the front and rear components further cements the bike's ability to gracefully conquer uneven terrains while providing a plush and comfortable ride.
Exterior Design & Build Quality:
The Benelli TNT 600i exudes a captivating and contemporary streetfighter-inspired exterior design that commands attention with its assertive stance. As a proud member of the streetfighter genre, the TNT 600i epitomizes the ethos of minimalism and aggression, manifesting in a stripped-down aesthetic that flaunts the raw essence of motorcycling. Unveiling its inner machinery with audacious confidence, the bike's design showcases exposed engine elements and embraces a purposeful lack of excessive fairings, thus forging a connection between rider and machine that is visceral and genuine. Characterized by its intricate interplay of sharp contours and bold details, the TNT 600i's design language is a celebration of edginess and distinction. At the forefront, the distinctive countenance of the motorcycle is anchored by a striking pair of twin headlights, establishing an unmistakable front profile that combines visual allure with enhanced nocturnal visibility, further underscoring the bike's aggressive demeanor.
The sculpted fuel tank, a masterstroke of design, epitomizes muscularity while harmoniously blending with the overall sporty aesthetics of the machine. This kinetic form imbues the motorcycle with an aura of dynamism and energy, encapsulating the essence of its street-oriented prowess. Embracing the authentic spirit of a streetfighter, the TNT 600i dons an upswept exhaust system, not only aligning with the genre's visual cues but also contributing to an exhilarating sporty exhaust note that resonates with every twist of the throttle. Complementing this audial delight, the bike boasts a fully digital instrument cluster that serves as an information hub, providing vital data within a contemporary and easily decipherable layout. Available in a spectrum of captivating color options, the TNT 600i provides riders the latitude to align their chosen aesthetic with their individualistic tastes. The motorcycle's allure is further heightened by the inclusion of stylish alloy wheels and purpose-built sporty tires that not only enhance its visual dynamism but also play a pivotal role in elevating its performance prowess.
Beneath its skin, the TNT 600i rests upon a robust steel trellis frame that strikes an optimum equilibrium between rigidity and lightweight design. This chassis architecture engenders stability and precision in handling, delivering a riding experience that is both engaging and confidence-inspiring. The dedication to impeccable craftsmanship is evident in the motorcycle's fit and finish, where meticulous attention is devoted to elements such as paint quality and material selection. The utilization of high-grade components and materials is emblematic of the brand's commitment to crafting a durable and reliable machine that stands the test of time. While the TNT 600i arrives with commendable components, discerning riders may opt for aftermarket upgrades to tailor the motorcycle to their specific preferences. Designed for enduring performance, the TNT 600i's longevity can be further ensured through regular maintenance and adherence to the manufacturer's prescribed service schedule, guaranteeing years of exhilarating rides on the open road.
User Reviews:
The Benelli TNT 600i has garnered substantial user satisfaction due to its robust engine, which not only generates ample power but also contributes to a smooth and enjoyable riding experience. Enthusiasts have particularly praised its sporty aesthetic and the inclusion of an electronic digital meter, adding a modern touch to the overall appeal. However, there are certain aspects that have somewhat dampened the otherwise positive feedback from users. One significant drawback is its relatively low mileage, which has left some riders wanting more in terms of fuel efficiency. Additionally, the price tag attached to the Benelli TNT 600i has raised eyebrows, being deemed as somewhat expensive by potential buyers.
Furthermore, the maintenance cost of the motorcycle has proven to be a source of dissatisfaction among users. This sentiment stems from the difficulties in sourcing spare parts, which are not readily available and come at a considerable cost when they are required. The combination of scarcity and expense has led to frustration among those who value both a smooth riding experience and cost-effective ownership.
Pros & Cons:
Pros:
Italian Craftsmanship

Dynamic Middleweight Sport Bike

Liquid-Cooled Inline-Four Engine

Urban Traversing and Highway Cruising

Aggressive Contemporary Design

Steel Trellis Frame for Agility

ABS (Anti-lock Braking System)

Fully Digital Instrument Cluster

Sporty Exhaust System

Comfortable Riding Stance

Engineering Finesse

Spirited Acceleration

Fuel Efficiency (18-20 km/l)

Top Speed (220 km/h)

Responsive Handling

Adjustable Suspension Settings

Streetfighter-Inspired Design

Exposed Engine Elements

Twin Headlights for Nocturnal Visibility

Upswept Exhaust System

Digital Instrument Cluster

Customizable Color Options

Robust Steel Trellis Frame

High-Quality Fit and Finish
Cons:
Relatively Low Mileage

High Price Tag

Maintenance Cost

Difficulty Sourcing Spare Parts
Verdict:
The Benelli TNT 600i impresses with its Italian craftsmanship, dynamic performance, and striking design, making it an enticing choice for motorcycle enthusiasts seeking a middleweight sport bike experience. Its finely-tuned engine delivers a balanced blend of power and efficiency, while features like ABS and a digital instrument cluster enhance safety and modernity. The bike's agility and handling prowess, thanks to its steel trellis frame and suspension, contribute to a thrilling ride. However, user reviews reveal mixed sentiments, praising its engine and aesthetics, yet highlighting concerns over low mileage, higher price, and maintenance costs due to spare parts scarcity.
Major Competitors:
Kawasaki Z650: A popular choice known for its balanced performance, sleek design, and smooth inline-four engine.

Yamaha MT-07: Another contender with a strong parallel-twin engine, agile handling, and a modern design.
Honda CB650R: Honda's offering features a four-cylinder engine, sporty styling, and a focus on user-friendly performance.
Suzuki SV650: Renowned for its versatile V-twin engine and accessible ergonomics, providing a good mix of sport and comfort.
Ducati Monster 821: Representing the premium side of the spectrum, the Monster series offers a distinctive design and performance-oriented characteristics.
Triumph Street Triple: Known for its powerful triple-cylinder engine, sharp handling, and a wide range of available models to cater to different preferences.
KTM 790 Duke: Offering an exciting ride with its strong parallel-twin engine, lightweight chassis, and aggressive styling.
BMW F 900 R: BMW's middleweight contender combines performance, comfort, and advanced technology features.