2023 Benelli TRK 251 
Sold in Pakistan = 2021-Present
Engine Technology = 249cc four-stroke, four-valve single-cylinder engine (EURO-IV)
2023 Benelli TRK 251 Price in Pakistan
Benelli Leoncino 500

15,800,00/-

PKR
The Benelli TRK 251 stands as a distinguished member of Benelli's adventure-touring collection, catering to riders seeking a nimble and adaptable adventure motorbike with a smaller engine capacity. Engineered with the utmost precision, the TRK 251 embraces an adventure-touring aesthetic, ensuring comfort during extended journeys across diverse road terrains. With an emphasis on rider well-being, its upright riding posture guarantees a pleasurable experience. Notably, the TRK 251 boasts a sophisticated suspension system tailored to effortlessly navigate both on-road and light off-road conditions. Enhancing safety and visibility, the motorcycle features cutting-edge LED lighting and an intuitive LCD instrument panel, furnishing riders with essential data at a glance.
Beneath its meticulously crafted exterior lies the heart of innovation—a potent 249cc four-stroke, four-valve single-cylinder engine, exemplifying Benelli's engineering excellence. This power is masterfully harnessed by an artful steel trellis frame, top-tier suspension, and high-performance brakes, seamlessly merging agility, practicality, and elegance. The TRK 251's ergonomic design harmonizes with its capacious 18-liter fuel tank, inviting riders to embark on odysseys spanning vast distances before requiring refueling. This compact marvel redefines grand expeditions, marrying accessibility with capability, making it the ideal partner for every adventure enthusiast. Presenting an array of color choices, including black, red, and white, the Benelli TRK 251 stands ready to conquer Pakistani roads, inviting riders to embrace the allure of exploration and discovery. Prepare to embrace boundless horizons with the Benelli TRK 251—your ultimate companion on the open road.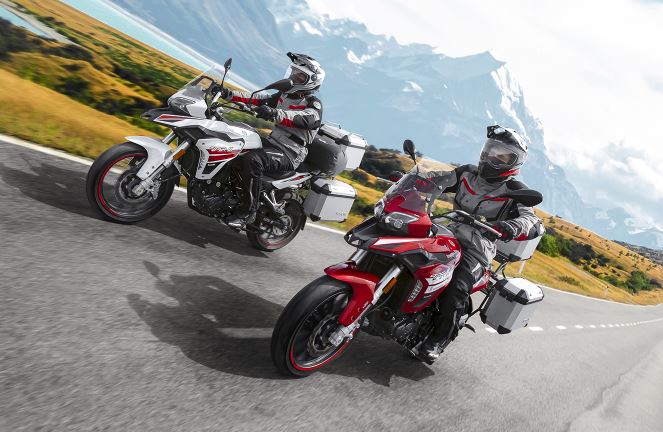 Engine & Performance:
At the heart of the Benelli TRK 251 beats a finely tuned engineering masterpiece. Its spirited core houses a meticulously crafted 249cc four-stroke, four-valve single-cylinder engine, a testament to Benelli's dedication to excellence. This powerplant isn't just about performance; it embodies efficiency and reliability. Its seamless fusion of power and refinement becomes the driving force behind the motorcycle's design, promising an exhilarating yet controlled ride. This dynamic engine propels the TRK 251 effortlessly along highways and off-road trails, creating a landscape of boundless versatility and excitement. Delivering 25.8 hp power at 9250 RPM and 21.2 Nm torque at 8000 RPM, it boasts electric start technology coupled with kick-start capability. The bike's fuel efficiency is commendable, offering 25 kilometers per liter with a capacious 17-liter fuel tank.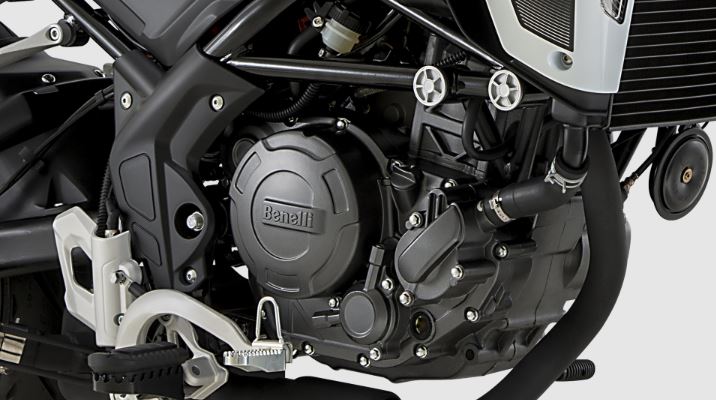 Responsive Suspension: Mastering Diverse Terrain:
At the front, a sturdy telescopic fork eagerly absorbs road imperfections, culminating in a ride that's both smooth and controlled. Engineered for versatility, this front suspension setup adeptly manages both on-road undulations and light off-road challenges, ensuring riders navigate various conditions with confidence. In the rear, the TRK 251 showcases a finely tuned mono-shock suspension that perfectly complements the front fork's capabilities. This rear suspension system enhances overall stability, empowering riders to maintain control even on uneven surfaces. The synergy between the front telescopic fork and the rear mono-shock suspension harmonizes beautifully, creating equilibrium. This equilibrium ensures the TRK 251 gracefully conquers diverse road conditions, guaranteeing riders a comfortable and confident experience.
Whether you're gliding on highways or venturing into unpaved territories, the Benelli TRK 251's suspension system is meticulously crafted to amplify both performance and rider comfort. Its engineering excellence marks the bike as an exceptional companion, capable of conquering any path with finesse and prowess.
Braking Precision for Safety and Control:
The meticulously engineered braking system of the Benelli TRK 251 stands as a testament to its commitment to safety and performance. With a thoughtful design that prioritizes reliability, the TRK 251's braking setup guarantees responsive stopping power, elevating both rider confidence and overall motorcycle capability. This proficient braking configuration features disc brakes on both the front and rear wheels, delivering efficient and precise braking performance. These disc brakes empower riders with the ability to confidently manage their speed and execute controlled stops, even when faced with varying road conditions. The front disc brake, boasting a larger diameter, harmoniously combines with a hydraulic system, ensuring a strong initial bite followed by progressive stopping power. This tandem setup enables riders to finely tune braking force, amplifying control across diverse riding scenarios.
Complementing the front brake, the rear disc brake seamlessly contributes to a well-balanced braking experience. This synergy transforms the brakes into a cohesive system that intricately considers the TRK 251's weight, speed, and handling dynamics. Such a holistic approach empowers riders with unwavering confidence, enabling them to adeptly navigate an array of terrains and situations. When the throttle is engaged, the TRK 251's engine responds with a swift and eager surge of power, seamlessly propelling the motorcycle forward. The harmonious blend of torque output and lightweight design results in agile acceleration, rendering the TRK 251 exceptionally adept at seamlessly merging onto highways and confidently overtaking, underscoring its prowess and versatility.
Exterior Design & Build Quality:
The Benelli TRK 251's exterior design seamlessly fuses the allure of adventure with contemporary aesthetics, capturing the essence of exploration and practicality. A meticulous marriage of form and function results in a motorcycle that not only grabs attention on the road but also caters to the demands of versatile riding experiences. The frontal aspect of the TRK 251 boasts a distinctive dual-headlamp arrangement, featuring sleek angular LED lights that not only enhance visibility but also establish a signature visual identity. This bold front fascia resonates with a purposeful adventure vibe, offering a glimpse into the motorcycle's prowess to conquer diverse terrains. Moving along the profile, the TRK 251 presents a well-proportioned silhouette that strikes an elegant equilibrium between ruggedness and sophistication. The thoughtfully sculpted tank design is not only a visual delight but also optimized for ergonomic comfort. It facilitates a relaxed riding posture, while also granting ample room for the rider to maneuver during extensive journeys.
Embodying its adventure-touring DNA, the TRK 251's seat and tail section provide a cozy perch for both rider and potential passenger. This section often incorporates integrated grab handles and luggage rack points, underlining the motorcycle's touring capabilities and practicality. Renowned for its robust build, the Benelli TRK 251 exemplifies the brand's unwavering commitment to crafting motorcycles that marry aesthetics with durability. Premium materials are meticulously employed in the construction, contributing to its sturdiness and enduring quality. Every component, from the frame to the engine, suspension, and body panels, adheres to stringent quality benchmarks, ensuring lasting performance. Engineered for both reliability and exceptional performance, the TRK 251's components are engineered to withstand the rigors of diverse riding conditions, spanning urban commutes to off-road escapades. Its design philosophy speaks to a seamless integration of style and substance, cementing the motorcycle's status as a dependable companion across various journeys.
Pros & Cons:
Pros:
Adventure-Touring Aesthetics: The Benelli TRK 251's design seamlessly blends adventure and modern aesthetics, capturing the spirit of exploration and functionality. Its distinctive appearance sets it apart on the road.
Versatile Riding: Engineered for versatility, the TRK 251 caters to a wide range of riding conditions, from highways to light off-road trails, making it a suitable choice for diverse terrains.
Comfortable Ergonomics: The upright riding posture and well-proportioned silhouette ensure rider comfort during extended journeys. The seat and tail section provide a cozy perch, emphasizing its adventure-touring identity.
Innovative Suspension: The sophisticated suspension system adeptly handles both on-road and off-road challenges, enhancing safety and control. This system contributes to a balanced and comfortable riding experience.
High-Quality Build: Crafted with precision and durability in mind, the TRK 251 reflects Benelli's commitment to exceptional build quality. Premium materials are used in its construction, ensuring long-lasting performance.
Cutting-Edge Features: LED lighting and an intuitive LCD instrument panel enhance safety and rider convenience, providing essential information at a glance.
Efficient Engine: The 249cc four-stroke, four-valve single-cylinder engine strikes a balance between power and efficiency, delivering an exhilarating yet controlled ride. The electric start technology and kick-start capability add convenience.
Fuel Efficiency: With a commendable fuel average of 25 kilometers per liter and a capacious 17-liter fuel tank, the TRK 251 offers excellent fuel efficiency for extended journeys.
Cons:
Smaller Engine Capacity: While suitable for its intended purpose, the smaller 249cc engine might not satisfy riders seeking higher power output or performance for more demanding scenarios.
Limited Passenger Comfort: While designed with adventure-touring in mind, the rear seat may offer limited comfort for a potential passenger on longer rides.
Limited Color Options: Despite offering a range of colors, some riders might prefer a more extensive color palette to cater to individual preferences.
Potential Off-Road Limitations: While capable of light off-road conditions, the TRK 251's off-road capabilities might not match those of larger, dedicated off-road motorcycles.
Availability and Service: Depending on the region, availability and service network for Benelli motorcycles could be a consideration for potential buyers.
Advanced Rider Features: While the TRK 251 boasts modern features, advanced rider aids such as traction control or riding modes may be absent, which could be desired by some riders.
Urban Maneuverability: Due to its adventure-touring design and size, the TRK 251 might not be as nimble in congested urban environments compared to smaller city-oriented motorcycles.
Verdict:
The Benelli TRK 251 harmoniously blends engineering prowess, modern aesthetics, and versatile functionality, making it a standout in the adventure-touring realm. Its nimble 249cc engine offers an exhilarating yet controlled ride, complemented by a responsive suspension and sophisticated braking system that enhance both performance and safety. The motorcycle's sleek design seamlessly marries form with function, reflecting its spirit of exploration. Built to last, the TRK 251 exudes durability through premium materials and precise craftsmanship. Whether navigating city streets or off-road paths, the TRK 251 is a reliable and stylish companion, embodying the essence of adventure and promising unforgettable journeys.
Major Competitors:
The Benelli TRK 251 faces competition from several other adventure-touring motorcycles in its class. Some of its major competitors include:
Kawasaki Versys-X 300: Known for its versatile performance and comfortable ergonomics, the Versys-X 300 offers a similar lightweight adventure-touring experience.
Royal Enfield Himalayan: This rugged adventure-tourer is favored for its simplicity, capable off-road abilities, and classic design.
BMW G 310 GS: From a renowned brand, the G 310 GS boasts premium features, excellent build quality, and a well-balanced riding experience.
Honda CB500X: Honda's CB500X offers a versatile package with a smooth parallel-twin engine, making it suitable for both urban commuting and light off-road adventures.
Suzuki V-Strom 250: Known for its reliability and practicality, the V-Strom 250 is a competent contender with a comfortable riding position and capable suspension.
Yamaha Tenere 250: The Tenere 250 offers an adventure-ready package with Yamaha's reputation for durability and performance.
These competitors, like the Benelli TRK 251, aim to provide a balance of comfort, performance, and versatility for riders seeking adventure-touring experiences.