2023 Benelli TRK 502
Sold in Pakistan = 2021-Present
Engine Technology = 500cc Four-stroke, parallel-twin configuration (Euro-V)
2023 Benelli TRK 502 Price in Pakistan
| | |
| --- | --- |
| Benelli TRK 502 | 22,300,00/- PKR |
| Benelli TRK 502x | 32,500,00/- PKR |
Buraq Automobiles has established a remarkable joint venture with China's Qianjiang Motor Company to introduce the renowned Benelli motorbikes in Pakistan, a partnership that has yielded impressive results. Among the impressive lineup of Benelli bikes available in the market, the Benelli TRK 502X stands out as a true champion in the realm of sports bikes in Pakistan. Uniquely designed to conquer rough terrains and cater to the thrill-seeking adventurer, the Benelli TRK 502X is an off-road-oriented variant of the already successful Benelli TRK 502 model. Its prowess lies in its adaptability to handle the most challenging journeys and diverse landscapes. The TRK 502X features a host of enhancements, including a larger front wheel, extended suspension travel, and knobby tires, all of which contribute to its superior off-road capabilities when compared to the standard TRK 502 model.
Under the hood, the TRK 502X houses a robust 499.6cc, liquid-cooled, parallel-twin engine, delivering an ample amount of power and torque for both on-road cruising and off-road escapades. This versatile engine makes the TRK 502X a reliable companion for riders seeking the best of both worlds. In terms of rider comfort and convenience, the TRK 502X is equipped with an adjustable windscreen, a thoughtful feature that allows riders to customize the wind protection based on their height and preference, ensuring a comfortable riding experience regardless of the conditions. Safety is a top priority, and the TRK 502X doesn't disappoint in this aspect. The bike comes equipped with a dual-channel Anti-lock Braking System (ABS), significantly enhancing braking performance and stability on various surfaces, whether it's the paved city streets or rugged off-road trails.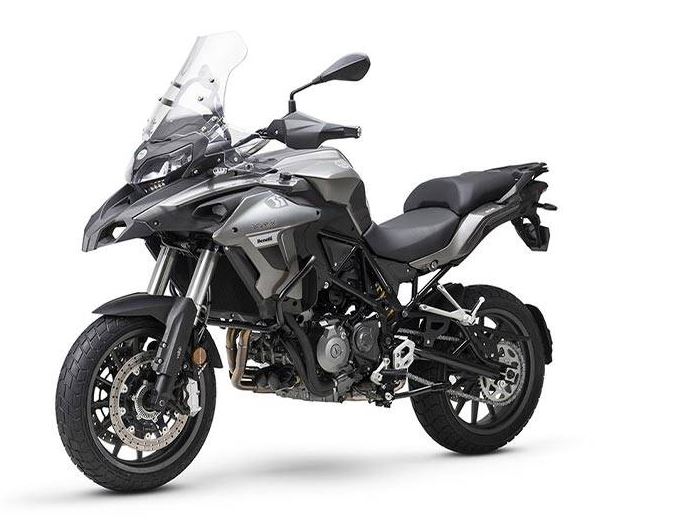 Adventure enthusiasts will appreciate the ample fuel tank capacity, enabling longer rides without frequent refueling stops, making it a formidable choice for epic journeys and extended expeditions. Moreover, Benelli offers a range of optional adventure accessories specially tailored for the TRK 502X, such as luggage racks, panniers, and engine guards. These add-ons further elevate the bike's touring and adventure capabilities, allowing riders to fully customize their riding experience.
Model & Versions Differences:
| | | |
| --- | --- | --- |
|   | Benelli TRK 502 | Benelli TRK 502x |
| Starting | Electric | Electric/Kick start |
| Engine Type | 4-Stroke In Line Two Cylinder Liquid Cooled | V2, Four-stroke |
| Clutch | Wet Type Multi-Plate | Multiplate wet clutch |
| Top Speed | 160 KM/H | 150 KM/H |
| Frame | Trestle in Steel Tubes | Trestle steel tubes and plates |
| Dimension (Lxwxh) | 2170 | 2200 |
| Ground Clearance | 240 mm | 210 mm |
| Tyre at Front | 120 – 70 | 110 – 19 |
| Tyre at Back | 160 – 60 | 150 – 17 |
| Dry Weight | 185 KG | 213 KG |
Engine & Performance:
The Benelli TRK 502X boasts a well-balanced engine, perfectly suited for both exhilarating on-road cruising and thrilling off-road adventures. This remarkable machine is equipped with a Four-stroke, parallel-twin, 499.6cc, Liquid-cooled, Electronic fuel injection (EFI) engine, delivering an impressive 47 horsepower @ 8,500 RPM and a maximum torque of 46 Nm @ 6,000 RPM. Its smooth 6-speed gearbox and wet multi-plate clutch ensure seamless gear transitions, adding to the overall riding experience. The bike's capabilities are further accentuated by its top speed of 160 kilometers per hour and a substantial fuel tank capacity of 20 liters, enabling extended journeys without frequent stops for refueling. With an average fuel consumption of 20 kilometers per liter, the TRK 502X also proves to be reasonably efficient, striking a balance between power and economy. Designed with a focus on off-road prowess, the TRK 502X incorporates several key features to tackle challenging terrains. The inclusion of a larger front wheel, extended suspension travel, and knobby tires significantly enhance stability and traction on rough and unpaved surfaces, instilling confidence in the rider when venturing into uncharted territories.
Notably, the TRK 502X's touring-oriented design and smooth engine performance also render it well-suited for highway cruising. It can effortlessly maintain higher speeds, ensuring a comfortable and enjoyable ride for long-distance journeys. The Benelli TRK 502X is designed to offer a delightful riding experience on long journeys, with its adventure-touring ergonomics playing a significant role. A tall windscreen, comfortable seating, and an upright riding position ensure that riders remain at ease even during extended rides. Whether it's conquering vast highways or venturing off the beaten path, the TRK 502X excels in providing rider comfort and control. One of the standout features of the TRK 502X is its specially tuned suspension system, optimized for both adventure and off-road riding. The front suspension employs an upside-down telescopic fork, a popular choice among adventure motorcycles. This sturdy suspension design not only provides better damping characteristics but also proves highly suitable for tackling rough and challenging off-road conditions. With approximately 145 mm of travel, the front suspension effortlessly absorbs various bumps and obstacles, ensuring a smoother ride and improved handling during thrilling off-road adventures.
At the rear, the TRK 502X features a swingarm equipped with a mono-shock suspension system. This rear mono-shock contributes to effective damping, effectively mitigating impacts from uneven terrains, and further enhancing the bike's overall stability and control. With around 45 mm of travel, the rear suspension complements the front setup, ensuring a well-balanced and controlled ride. When it comes to braking performance, the TRK 502X doesn't disappoint. The bike is equipped with a dual-disc setup at the front, boasting two disc brakes for enhanced braking power and superior heat dissipation. This configuration significantly improves the bike's stopping ability, instilling confidence in riders, especially during demanding riding situations. Completing the comprehensive safety package, the TRK 502X comes with a dual-channel Anti-lock Braking System (ABS). This essential safety feature prevents the wheels from locking up during hard braking, effectively reducing the risk of skidding and promoting better motorcycle control. The ABS system ensures a stable and secure ride, whether navigating challenging off-road trails or maneuvering through bustling urban environments.
Exterior Design & Build Quality:
The Benelli TRK 502X is a true masterpiece, boasting an adventure-touring design that seamlessly blends rugged functionality with captivating style. The bike's exterior is meticulously crafted to cater to the needs of adventure riders while exuding a bold and distinctive allure. With its tall windscreen, upright handlebars, and comfortable seating position, the TRK 502X ensures a relaxed and pleasurable ride, particularly during long-distance journeys. This thoughtfully designed setup enhances rider comfort, enabling enthusiasts to embark on thrilling expeditions without fatigue hindering their experience. At the front, the dual-headlight setup not only adds to the bike's aesthetic appeal but also plays a crucial role in safety. The powerful headlights illuminate the darkest roads and harsh weather conditions, offering excellent visibility and ensuring that riders can confidently navigate through the night.
Drawing inspiration from its adventure-focused DNA, the TRK 502X features a beak-style front fender, a hallmark of adventure motorcycles. This design not only contributes to the bike's adventurous persona but also serves a practical purpose. By deflecting debris and mud away from the rider and vital bike components, this feature ensures that the motorcycle remains reliable and protected during rugged off-road escapades. The bike's imposing and muscular appearance is further enhanced by its large fuel tank, an essential element for adventurous souls seeking extended touring capabilities. With its substantial fuel capacity, the TRK 502X grants riders the freedom to explore vast distances without the constant need for refueling stops, truly embracing the spirit of adventure.
Beneath its captivating exterior, the TRK 502X boasts a robust steel frame, providing a sturdy and dependable foundation for all kinds of adventures. The suspension components and braking system are designed to deliver reliable performance, adapting smoothly to various road and trail conditions, ensuring a stable and controlled ride. Benelli has made significant strides in improving its quality control processes, leading to positive customer feedback regarding the build quality and overall reliability of its motorcycles. As a result, the TRK 502X instills confidence in riders, assuring them of a trustworthy companion for all their daring escapades.
User Reviews:
Enthusiasts praise the Benelli TRK 502X for its comfortable ride, powerful engine, stylish aesthetics, and ample ground clearance. However, some express concern over its higher price compared to similar bikes in the category. Additionally, users find maintenance costs to be expensive, and the availability of spare parts poses a challenge. Despite these drawbacks, the TRK 502X continues to garner appreciation for its overall performance and design.
Pros & Cons:
Pros:
Powerful engine performance
Stylish design and aesthetics
Ample ground clearance for off-road adventures
Well-tuned suspension for both on-road and off-road riding
Adjustable windscreen for personalized wind protection
Dual-channel Anti-lock Braking System (ABS) for enhanced safety
Large fuel tank capacity for longer rides
Optional adventure accessories for customization
Cons:
Higher price compared to similar bikes in the category
Expensive maintenance costs
Difficulty in finding spare parts
Verdict:
The Benelli TRK 502X impresses with its remarkable adventure-touring design, powerful engine, and excellent off-road capabilities. Riders appreciate its comfortable ride, stylish appearance, and user-friendly features like the adjustable windscreen. The dual-channel ABS and ample fuel tank capacity enhance safety and convenience for extended journeys. However, some users express concerns over the higher price compared to competitors, along with expensive maintenance and difficulty in finding spare parts. Despite these drawbacks, the TRK 502X remains a popular choice among adventure enthusiasts for its reliable performance and captivating design.
Major Competitors:
Honda CB500X: The Honda CB500X is a versatile adventure-touring motorcycle known for its comfortable ergonomics, good fuel efficiency, and a smooth 471cc parallel-twin engine.
Kawasaki Versys 650: The Kawasaki Versys 650 is a popular choice in the middleweight adventure category, featuring a 649cc parallel-twin engine and a comfortable riding position suitable for both long-distance touring and occasional off-road adventures.
Suzuki V-Strom 650: The Suzuki V-Strom 650 is renowned for its reliable performance and comfortable ride. It boasts a 645cc V-twin engine, offering a blend of power and fuel efficiency.
BMW F 750 GS: The BMW F 750 GS is a premium adventure-touring motorcycle with a 853cc parallel-twin engine, offering advanced features and superior build quality.
Yamaha Tracer 700: The Yamaha Tracer 700 is a sporty and agile adventure bike powered by a 689cc parallel-twin engine. It's known for its nimble handling and versatile performance.
KTM 790 Adventure: The KTM 790 Adventure is a high-performance adventure bike equipped with a potent 799cc parallel-twin engine and advanced off-road capabilities.
Triumph Tiger 800: The Triumph Tiger 800 series includes multiple variants, each designed for different riding styles. It features a range of engine sizes and offers excellent on-road and off-road capabilities.