Honda CB1100
Sold Worldwide = 2014-2022
Status = Discontinued
2022 Honda CB1100 Price = 15,600 $ – 17,600 $
Honda CB1100 is a retro-classic motorbike introduced by Honda Japan in 2010 as a successor to Honda CB750. It is a 4-cylinder engine bike available in Japan, New Zealand, Australia, Europe, and America. The Honda CB1100 was updated in 2014 and received 6-speed transmission and a new gauge cluster called CB1100 EX. Facelift changes were made to it in 2017 and updated with new front and rear LED lights, aluminum tank, and new exhaust, and this edition is known as CB100RS. Now it's time for a Final Edition of Honda CB1100 ES and RS, and it seems to be winding down in 2022. Honda Taiwan shared some images of the new specific trim of Honda CB1100, and it will have new alloy wheels and new color options of red and glossy black. The engine and power generation will be similar to the previous models. This Final Edition CB100 will be a goodbye to the air-cooled engine of CB1100. It is no longer sold in the United States market, and Japan is the last remaining market. The reservations for Final Edition CB1100 started in November 2021, and 1600 bikes were made. The Final Edition CB1100 is not available outside Japan, and a replacement of this model will be made for the coming years. The Honda CB1100 is loved by customers, as it is a blend of a retro and a classic bike with a heavy engine. The innovative technology and efficient performance appeal to every rider, and it comes with a sporty style. It is also imported to Pakistan directly from reliable Honda bike dealers in Japan. Still, Honda CB1100 has been stopped now, and it can only be purchased in used and old condition.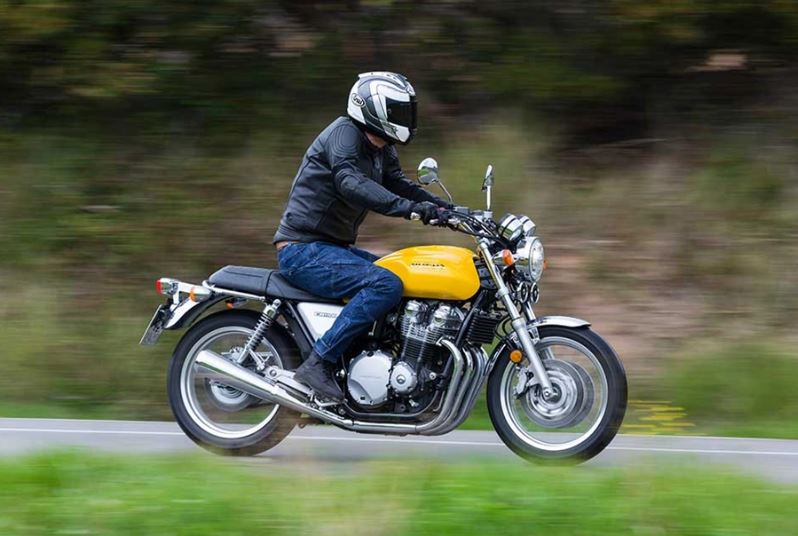 Performance & Drive:
The Honda CB1100 gets its power from a DOHC 4-cylinder 1100cc air-cooled engine that generates 89 hp of power at 7500 RPM and 91 Nm of torque at 5500 RPM. It comes with an electric start technology, and it starts the bike quickly without wasting your time. It offers a 6-speed transmission that gives a smooth performance and changes the gears precisely. It is a comfortable bike to ride and gives a smooth riding experience. The Honda CB1100's performance can be summarized into one word: SMOOTH. The dual bending valve forks in the suspension system are set softly and give a relaxed ride even when gliding over bumps and uneven tracks. The air-cooled engine has a raw sound at low Revs and has different valve timing between cylinders. It comes with a slipper clutch, and you will also get an Anti-Lock Braking system for better safety. The Honda CB1100 feels like a cruiser, and you can go on cruising in 5th or 6th gear comfortably with better handling. It also runs well at lower gears, comfortably taking you to your destination. It is a 255-kilogram heavy bike, but its weight disappears when you move forward at higher speeds and gears, and it doesn't feel unwieldy at lower speeds because the center of mass sits low. Its handling is a bit tricky, and beginners will find it difficult to ride because of the narrow width of the front and rear tires. However, the tires are Sportmax Touring, and they provide a reassuring grip on the roads. The braking system is efficient with four-piston calipers at the front and a single-piston caliper at the rear. The rear shocks come with an adjustable spring and deliver good stability. The Honda CB1100 is preferred for cruising over bruising and is not meant to be a sportbike.
Mileage & Top Speed:
The Honda CB1100 gives a mileage of 21 kilometers per liter and has a fuel tank capacity of 17 liters. It provides a top speed of 130 miles per hour.
Exterior Design & Build Quality:
The design of the Honda CB1100 is attractive with an impeccable pedigree. It has a classic street bike styling inspired by a racing bike. The EX model of Honda CB1100 has a larger fuel tank with beautiful graphics and a modified seat with sufficient height. The Honda CB1100 RS comes with an LED headlight and rear light, and the 17-inches aluminum wheels look sporty and beautiful. It has a seat height of 30.9-inches that is sufficient for giving riders maximum comfort. It has an instrument cluster that includes a fuel gauge, gear indicator, and fuel efficiency. The aluminum engine has an overall black finish, and the bright silver head completes its look. The slim brushed aluminum side panels and aluminum chain guard look attractive. The build quality of the Honda CB1100 is excellent, and everything has been designed after a detailed thought, and it has been refined over the years. All customers love the Honda CB1100's design. The maintenance value of Honda CB1100 is not very high because Honda parts are readily available at all Honda retailers but are somehow expensive compared to other street bikes.
Major Competitors:
 BW R nine T pure
 Ducati Scrambler Classic