2023 Honda CBR 500R
Sold in Pakistan = 2014-Present (As import Model)
Technology = Liquid Cool Parallel Twin engine with PGM Fi Fuel Injection

2023 Honda CBR500R Price in Pakistan :

950,000 – 15,750,00 PKR

Status =

Not sold officially

|

Import units available
Honda CBR is a sports bike introduced by Honda Japan, and it dominates all other small and heavy bikes of Honda. The design of the Honda CBR 500R was upgraded in 2020 and increases practicality, being efficient for short-distance or long-distance rides. The redesigned Honda CBR 500R has a claw contoured outlet and machined collar mounting joints; it is one of the most demanding sports bikes worldwide. There are so many reasons that make it a popular bike. We will be highlighting some of the reasons in our article today. It has a powerful engine that lets you cruise with thrill, and its 6-speed gear transmission produced ultimate power in this bike to make your adventures more exciting. It provides you maximum comfort with its updated shock absorbers, good road grip feature, and comfortable seat. Honda CBR 500R is a bit costly than other bikes in Pakistan, but its powerful engine delivers a stormy ride and putting your thrill to the next level makes you satisfied with the price tag you paid. Honda CBR 500R can be purchased by booking at any Honda dealer across Pakistan.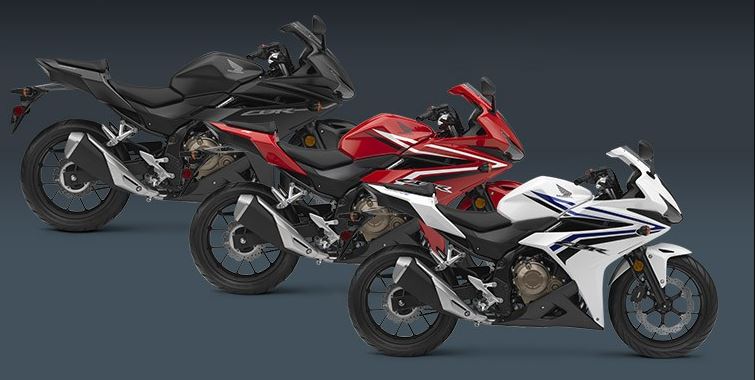 Engine & Performance:
The Honda CBR 500R gets its energy from a 4-stroke DOHC, 2-cylinder engine with a displacement of 471 CC and generates power of 47 hp. The liquid cooling technology of the machine makes the bike reliable for all kinds of riding, and its 6-speed transmission is smooth enough to ride the bike smoothly on all types of terrains. The 41 millimeters fork suspension at the front and 4.7 inches travel suspension at the rear are well-tuned to give you an efficient shock-absorbing feature, so the irregularities of roads do no discomfort your ride. The braking system is also efficient with twin-piston caliper wave disc brakes at the front and single-caliper 240 millimeter-wave disc brakes at the rear. The programmed fuel injection ensures crisp throttle response during your ride by monitoring several variables correctly, so the correct fuel mixture is delivered for the ride. The CBR 500R in Europe has a standard Anti-Lock Braking System for providing you with more protection. The diamond-shaped 35 millimeters steel mainframe of Honda CBR 500R ties to the engine by four mounts and offers impressive handling by providing a solid rock-like foundation. The aerodynamic body of Honda CBR 500R gives additional comfort to the riders by managing air, along with the effective cooling technology and the low drag coefficient. The assist clutch automatically locks up tight when you release it and requires 45 percent less effort to lighten up.
Mileage & Top Speed:
The 2021 Honda CBR 500R has an average fuel economy, giving you a mileage of 27 kilometers per liter. It has a top speed of 116 miles (186km/h) while it has a fast acceleration. It can sprint from 0 to 100 kilometers per hour in 5.70 seconds.
Exterior Design & Build Quality:
The 2021 Honda CBR 500R comes in two color options that are Pearl White and Matte Black Metallic. It has aerodynamic bodywork, and it's beautiful enough to attract every eye. It has two small LED headlights on the front that provides enough light to illuminate your way, and it features a stylish design. It has aluminum Y-spoke cast wheels that look stylish and sporty and easy to clean and maintain. The Honda CBR 500 R has a low-height 2-piece seat that is comfortable enough for long route riders. The passengers can also sit comfortably behind the rider because the seat is designed specially to accommodate a wide range of riders. The build quality of the bike is outstanding, and you will not be regretting buying it.
User Reviews:
The Honda CBR 500R is a good option for customers in search of racing bikes. They found its storming power and performance quite satisfying, and its innovative technology like a full LCD screen showing speed, time, indicators, and fuel consumption attracts the customers. One of the most common issues shared by the customers is its high price. They prefer locally assembled bikes in contrast to overpriced bikes.
Major Competitors:
Kawasaki Ninja 400
KTM RC 390
Yamaha R6
Honda CB500F