Honda CD200 Benly | Road Master
Sold in Pakistan = 1980-2007 (As Imported Bike)
Status =

Discontinued Worldwide

Honda CD200 Road Master Price in Pakistan =

2 – 6 Lac PKR

(As Per Model Year & Condition)
Honda introduced CD200 for developing countries like Pakistan, Bangladesh, and South Africa in 1981. It was known as Roadmaster and had a twin-cylinder with a 360-degree crankshaft engine whose pistons moved together and moved to top dead center and bottom dead center at the same instant. The United Kingdom version of Honda CD200 Benly has a 12-volt electrical system. It comes with a lightweight seat and chrome megaphone exhaust. This bike ruled the roads from 1981 to 2007 and now has a successor Honda CD200 Benly. Different variations of Honda CD200 have similar engines but vary in their features. Honda CD200 is imported to Pakistan also, and the price of CD200 depends on its condition and the model year. It is now known as Twinstar in the United States of America that generates 16 bhp of power and gives a top speed of 71 miles per hour. The Honda CD200 is an attractive bike because it had a ring-shaped headlight with an analogue speedometer. The twin chrome exhaust of the Honda CD200 impressed every bike lover and gave a powerful Stance. The Honda CD200 can be purchased in a 2nd hand condition, and it is suitable for the roads of Asian countries, and if you want the best performance, you should replace its tires and engine parts from time to time.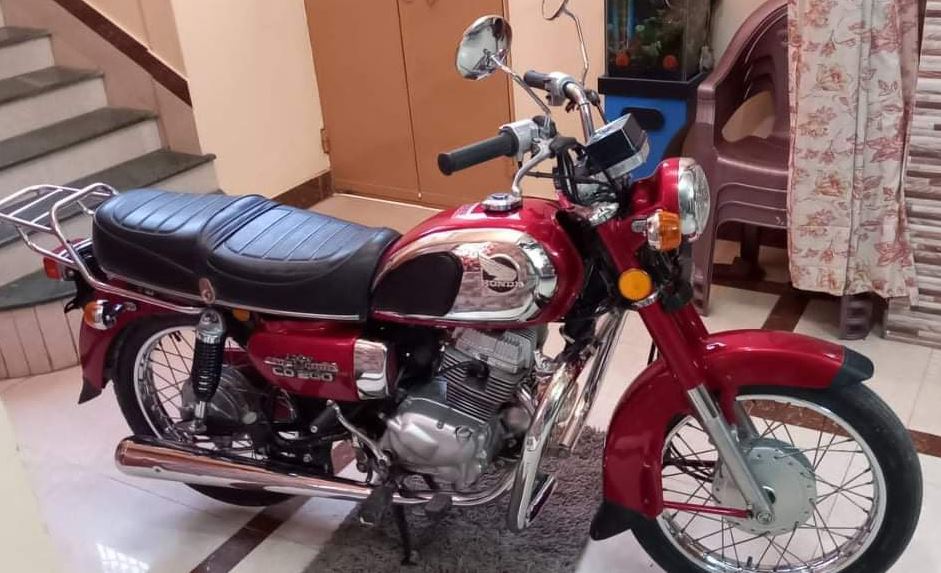 Performance & Drive:
The Honda CD200 has a twin-cylinder, 4-stroke 194cc air-cooled engine and generates 16.5 hp of power at 9000 RPM. It uses a wet plate clutch and offers a 4-speed manual transmission. It comes with kickstart technology and also offers electric start technology. The Honda CD200 has brakes with front discs and rear drum brakes. The front disc brakes are 140 millimeters in size, and the rear drum brakes are 130 millimeters in size. Both the brakes work efficiently to deliver a smooth and safe ride. It has an oil-dampened telescopic suspension at the front, and twin shock, oil-dampened suspension at the rear. The tires of Honda CD200 are of heavy performance, but they do not perform well on rough roads. It can be used for daily chores and long travels. The bike has a top of 122 kilograms, so it is comfortable to drive. The overall performance of the bike remains good. It is best suited for city traveling and gives you a comfortable ride.
Mileage and top speed:
The Honda CD200 has a fuel tank capacity of 10.5 liters with a fuel reserve capacity of 1.5 liters. The fuel economy of the Honda CD200 is not bad and gets 30 to 40 kilometers per liter. It gives a top speed of 121 kilometers per hour. It takes 18 seconds to accelerate from 0 to 100 kilometers per hour and 4.2 seconds to accelerate from 0 to 60 kilometers per hour. The top speed and fuel economy of the old bike like Honda CD200 are impressive, compared to other old bikes.
Exterior Design & Build Quality:
The Honda CD200 has an overall length of 1990 millimeters, a width of 845 millimeters, and a height of 1105 millimeters. It has an open-diamond, tubular steel frame made rigid and robust. The 122 kilograms weight of the bike makes it easier to ride, and the bike's design is much more attractive. The square speedometer in the front is not extraordinary and looks like the other bikes, while the mudguards at the front and rear are larger. There are twin chrome exhausts and a choke tucked in beside the handlebars. The fuel tank is chrome plated and has a Honda logo encrypted beautifully on it, and the side panels have mock chrome air inlets on them. The seat has a height of 744 millimeters and has a ground clearance of 130 millimeters. The seat is made comfortable and has enough height, so the rider can rest his feet on the ground when waiting at stop signals. The front and rear wheel tubes have 3/0-17 inches tires that provide firm road grip, but the old tires need to be replaced by a new one for better performance. The Honda CD200 is available in black, black, grey, red, and blue exterior colors.
User Reviews:
The Honda CD200 Roadmaster is loved by many customers and disliked by many too. The spare parts of Honda CD200 are not available easily and are much more costly compared to the locally-produced new bikes. The Honda logo on the fuel tank and the twin chrome exhaust attract the customers, but the speedometer is not attractive. Some customers don't like to spend money on a 2nd-hand used bike, but they instead want to buy a brand new local car at the same price. The bike's performance gets unimpressive when the roads become bumpy. Users get annoyed when they spend a lot of money on its maintenance. The Honda CD200 is much expensive, and middle-class family users can't afford to buy the bike.