2023 Kawasaki KX450
Sold worldwide: 2019-present
5th Generation
2023 Kawasaki Kx450 price in the USA:
KX450
Starts at:

9,599 $

KX 450x
Starts at:

9,799 $
The first generation Kawasaki KX450F was introduced in 2005, and it was a 449cc, liquid-cooled Motorcross motorcycle. The current 5th generation Kawasaki KX450 was launched in 2019, and the F was dropped from its name in this generation. It is an all-new bike with electric start technology, and the air fork was changed into a coil-based fork, giving A-kit technology to Kawasaki KX450F. The present Kawasaki KX450 was built on the 2021 KX450 design, and no drastic changes were introduced, as the 2019 KX450 was an all-new bike with an updated design and features. The 2023 Kawasaki KX450 has received significant upgrades, and Kawasaki has focused on how KX450 will dominate in off-road adventures by delivering high performance. It is available in lime green colour option only, and some essential features of the 2023 Kawasaki KX450 include:
Race-ready Showa suspension
Coned-disc hydraulic clutch
ERGO-FIT adjustable handlebar
Factory-style Renthal bar
Aluminium perimeter frame
Electric start
Dual-position mounting points on footpegs
It is an off-road motorcycle that has been tuned perfectly for off-road racing. It has a similar aggressive style with bold graphics on the radiator shrouds that gives it a racing bike look, and the sleek body has a narrow chassis design so the rider can easily handle the bike when sliding back and forth.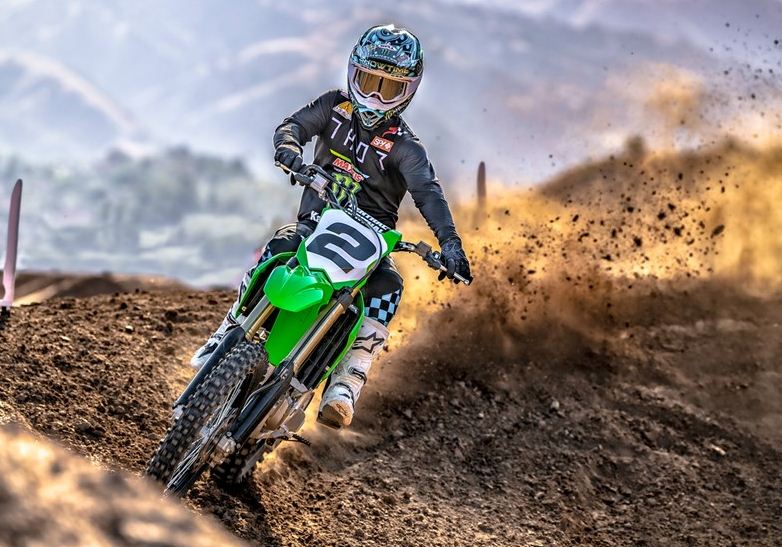 Engine & Performance:
The latest Kawasaki KX450 gets its power from a 4-stroke, DOHC, liquid-cooled, 449cc engine with a digital CDI ignition system. It generates a maximum of 52.2 hp power at 9500 RPM and torque of 32.4 lb-ft at 6900 RPM. It offers a 5-speed transmission with a manual clutch and a hydraulic clutch. The suspension system has telescopic coil-spring fork suspension at the front, and the fork enables smooth action and firm damping with the help of large pistons. The Uni-track linkage system at the rear boasts A-KIT technology with large compression adjusters and is connected to Showa compact rear shocks. The braking system is efficient with the 270-millimetre, petal-shaped brakes at the front and 250-millimeter petal-shaped brakes at the rear. The lightweight engine takes power directly from Monster Energy technology powered by a compact Lithium battery. It features electric start technology that starts the bike with the push button. The swing arm pivot's dimensions are designed carefully, so the rear axle and output sprocket focus on the centre of gravity for a balanced bike's handling. The Renthal handlebars in  KX450 feature 4-way adjustable mounts with the adjustability of 35 millimeters according to the rider's requirement. The knee angle can be reduced by 5 millimeters when taller riders are seated on the bike to ride it comfortably. The Kawasaki Launch Control Mode automatically manages engine output to reduce the wheel spin, and the engine speed is also limited when the rider holds the throttle open. The engine speed is increased when the rider releases the clutch. The rider can choose from different riding modes according to his requirement, and each mode offers a greater level of intrusion.
Mileage & Top Speed:
The Kawasaki KX450 has a fuel tank capacity of 1.64 gallons and an approximate mileage of 25 kilometers per liter. It can reach up to a top speed of 260 km/h with an acceleration of 0-60 mi in 3.8 seconds only.
Design & Build Quality:
The Kawasaki KX450 has an aggressive design that attracts every customer's eye. The Kawasaki KX450 is made to withstand wear and tear in off-road travelling, and the KX450 graphic kit helps to prevent scratches. It has an eye-catching design made specifically for Motorcross and dirt biking. The aluminium perimeter frame is lightweight and cast parts that add rigidity and help in cornering with style at high speeds. The swing arm pivot is designed carefully to give balanced handling, and the Ergo Fit system helps to provide an adjustable handlebar to suit different riders' positions. It offers a range of riding positions that increase his comfort and control. It has a seat height of 37.6-inches, which is suitable for all riders, and 13.4 inches of ground clearance helps to maintain a stable ride. It has an overall width of 32.3 inches, length of 86.0 inches, and height of 49.8 inches. The build quality of the bike is suitable and reduces its service cost.
User Reviews:
Most users are satisfied with the performance of the Kawasaki KX450. They love its suspension and steering controls. The throttle is one of the most satisfying in other dirt bikes. It performs well even when riding it for three to four hours continuously. It starts with a push button and does not show any problem. It works well on uneven roads and tracks. All users love the Kawasaki KX450's comfort. Its style is one of the best features that attract customers. The spare parts and service costs can be high, but those who afford to buy Kawasaki KX450 can afford its service too.
Pros:
Brisk, clean
Light and quick-revving throttle response
Nice spread of power
Outstanding traction
Stability and confidence
Better feel
Cons:
The throttle response at low rpm is jerky.
The engine has a weird hit when the throttle is first turned.
It makes less horsepower than almost any other 2022 450 motocross bike.
The KX450 works best when the front and rear suspension are balanced and the chassis is flat and level.
 Major Competitors:
Yamaha YZ450F
Husqvarna FC450
KTM 450SXF
Honda CRF450
GasGas MC 450F
Suzuki RM-Z450