2024 Kawasaki Versys-X 300
Sold in the USA = 2017-Present
Engine Technology = 296cc parallel-twin engine with fuel injection, liquid cooling (EURO-IV)
2024 Kawasaki Versys-x 300 Price in the USA
| | |
| --- | --- |
| Versys-x 300 (Non ABS) | 58,99 $ |
| Versys-x 300 (ABS) | 61,99 $ |
The Kawasaki Versys-X 300 is a small-displacement adventure touring motorcycle produced by the Japanese manufacturer Kawasaki. It was first introduced in 2017 for riders who want a versatile bike capable of handling a variety of riding conditions. Its upright riding position, fuel efficiency, and capable chassis make it well-suited for commuting, weekend getaways, and light touring. The summer season comes to a close, the motorcycle world is getting ready for the exciting latest motorcycle releases. Kawasaki has introduced the Versys-X 300, which is good news for those just beginning to ride motorcycles. It is one of Kawasaki's bikes tailored for beginners. The Versys-X comes with fresh and stylish paint options, adding more appeal. Kawasaki gave the Versys-X 300 a fresh new look for 2023 onward. It now comes in a combination of colors: Pearl Matte Sage Green and Metallic Matte Carbon Gray, along with some updated graphics. You can get the latest model with or without ABS. The one with ABS costs $6,199, while the one without ABS is $5,899.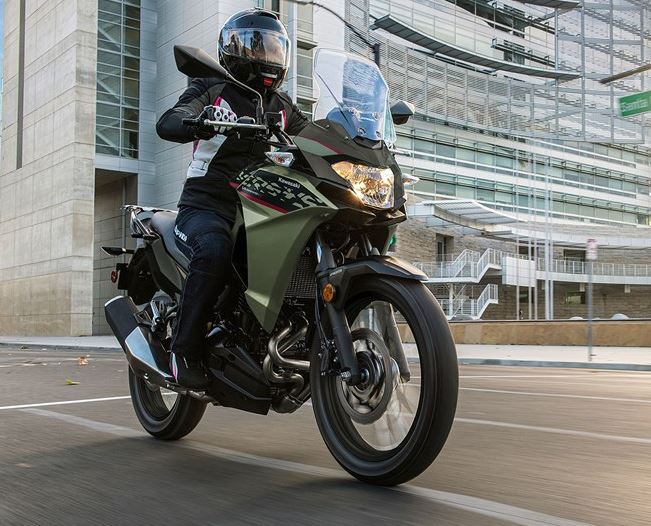 Engine & Performance:
The Versys-X 300 has a 296cc engine with two cylinders arranged side by side. It is paired with a six-speed gearbox with a clutch for easier handling, especially for beginners. The engine, which provides 32 horsepower and is cooled by a liquid, is securely placed in the frame, following Kawasaki's usual method. It has a front suspension called a telescopic fork and a rear suspension called Uni-Trak, which work together to make the ride smoother over bumps. The bike has good suspension travel, and it can handle bumps well. The front wheel is 19 inches in diameter, while the rear one is 17 inches. Both wheels have sturdy spokes and are built of aluminum. To stop the bike, it uses brakes with two-piston calipers that grip onto discs, which are 290mm and 220mm in diameter. The Versys-X 300 is for comfortable long-distance rides or everyday commuting. It does this by putting the rider in an upright and relaxed sitting posture. The seat is one solid piece and has enough space for the rider and the passenger. The bike has a standard windscreen, but it can't be adjusted. If riders want to make their journey even more comfortable, they can choose to add extra features like a taller seat or hand guards. It has a fuel tank capacity of 4.5 gallons and gives an average fuel average for daily commutes. The Kawasaki Versys-X 300 is known for its agile and easy-to-handle nature. Its handling characteristics make it a popular choice for a wide range of riders, including beginners and those looking for a versatile, nimble bike. The Versys-X 300 is a lightweight motorcycle, contributing to ease of handling. This makes it particularly well-suited for urban commuting and maneuvering through traffic.  The bike's upright riding position allows for good visibility and control, making it easier for riders to navigate through different road conditions. It has a ground clearance of 7.1 inches (180 mm), which can handle mildly uneven surfaces and the occasional gravel road, making it suitable for light off-road use. The bike's steering is responsive for easy maneuvering through corners and turns. This makes it enjoyable for riders who want to explore winding roads. The 19-inch front and 17-inch rear spoked aluminum rims contribute to the bike's stability and handling, especially when riding on different terrain.  The seat height of 32.1 inches (815 mm) is relatively low, which allows many riders to reach the ground comfortably, enhancing confidence at stops.
Exterior Design & Build Quality:
The Versys-X 300 is designed with adventure touring in mind. It features a rugged and robust appearance, with elements like a high front fender, a beak-like front end, and a tall windscreen. These design cues are reminiscent of larger adventure bikes. The bike's front end is characterized by a sharp and angular headlight assembly, giving it an assertive and dynamic look. The design is intended to provide good visibility while adding to the bike's distinctive style. The standard windscreen is non-adjustable and designed to provide wind protection. It helps deflect airflow, enhancing rider comfort during longer journeys. The bodywork of the Versys-X 300 is sculpted to provide an aerodynamic profile. The panels blend form with function, offering wind protection and contributing to the bike's overall aesthetic. The fuel tank has a capacity of approximately 4.5 gallons (17 liters) and has a shape that allows for a comfortable and ergonomic riding posture. It also features knee cutouts for added grip. The Versys-X 300 has updated graphics to enhance its visual appeal. These graphics can include decals and branding that add a sporty touch to the overall design. The bike has spoked aluminum rims, which not only contribute to its aesthetics but also add to its off-road capable appearance. The rear of the bike is designed to be compact and tidy. It features a sleek tail light assembly and a one-piece seat that complements the overall look. The Kawasaki Versys-X 300 is known for its commendable build quality, which reflects Kawasaki's commitment to producing durable and reliable motorcycles. The Versys-X 300 is constructed using high-quality materials, including robust metals and durable plastics. These materials are chosen to withstand the rigors of everyday riding and varying weather conditions. The paintwork and finish on the Versys-X 300 are of a high standard. Kawasaki pays attention to detail to provide a quality finish that not only looks good but also helps protect the bike's surfaces from corrosion.
User Reviews:
The Kawasaki Versys-X 300 received generally positive reviews from riders. The Versys-X 300 is praised for its versatility. Many reviewers note that the Versys-X 300 is approachable for newer riders. The bike's ergonomic design, including the comfortable seat and upright riding position, received positive feedback for providing a relaxed and enjoyable riding experience, especially on longer journeys. The suspension system is praised for providing a smooth ride and absorbing bumps effectively. Few experienced riders may find the 300cc engine lacking in power for more aggressive riding styles or highway cruising, particularly when carrying a passenger or heavy luggage. The windscreen is often mentioned as being non-adjustable. Few riders might prefer more customization options for wind protection.
Pros & Cons:
Pros:
Versatility: The bike is suitable for various riding conditions, including commuting, weekend getaways, and light touring.
Beginner-Friendly: It's a good choice for new riders, thanks to its manageable power and easy handling.
Upright Riding Position: The comfortable seating position provides good visibility and control.
Fuel Efficiency: It offers good fuel economy for daily commutes.
Suspension: The bike has a capable suspension system that smooths out bumps.
Lightweight: It's a lightweight motorcycle, making it easy to maneuver, especially in urban traffic.
Ground Clearance: With 7.1 inches of ground clearance, it can handle mildly uneven surfaces and light off-road use.
Responsive Steering: The bike is nimble and responsive, making it enjoyable on winding roads.
Stable Rims: The 19-inch front and 17-inch rear spoked aluminum rims contribute to stability.
Low Seat Height: The relatively low seat height enhances rider confidence at stops.
Durable Build Quality: Kawasaki is known for its durable and reliable motorcycles, and the Versys-X 300 is no exception.
Cons:
Limited Power: Some experienced riders may find the 300cc engine lacking in power for aggressive riding or highway cruising, especially with a passenger or heavy luggage.
Non-Adjustable Windscreen: The windscreen is fixed and cannot be customized for different rider preferences.
Limited Wind Protection Customization: Riders may desire more options for adjusting wind protection.
Major Competitors:
Honda CB300R: This is another small bike from Honda. It's stylish and sporty, like the Versys-X 300.
BMW G 310 GS: BMW makes a similar small adventure bike called the G 310 GS. It's known for its quality and brand.
Suzuki V-Strom 250: Suzuki has the V-Strom 250, which is a similar type of motorcycle, good for light adventures.
KTM 390 Adventure: KTM, a famous off-road brand, offers the 390 Adventure. It's more powerful and geared towards serious off-road riding.
Yamaha Tracer 300: Yamaha has the Tracer 300, which competes in the same class, offering versatility and comfort.