2023 New Asia Ramza 100cc Scooter
Sold in Pakistan = 2022-Present
Technology = Self Start Air Cooled Four Stroke Engine
2023 New Asia Ramza Price in Pakistan
New Asia Ramza Scooter

270,000/-

PKR
New Asia is a Pakistani-based motorcycle manufacturing company that produces a range of motorcycles, including 70cc, 100cc, and 125cc bikes. Since 1993, the company has established a large network of dealerships across Pakistan. One of its notable latest products is the New Asia Ramza, a 100cc scooter known for its fuel efficiency and affordability. The Ramza features a four-stroke engine, automatic transmission, and an electric start mechanism. It boasts a stylish design and comes in various colors like red, black, and blue. The New Asia Ramza 100cc is renowned for its smooth ride and low maintenance costs, making it an excellent choice for daily commuting and short trips. It has gained a good reputation among customers in Pakistan due to its reliable performance and low maintenance costs and more importantly decent looking design. New Asia Motorcycles invests in research and development to meet the evolving needs of customers in Pakistan, and the New Asia Ramza is no exception.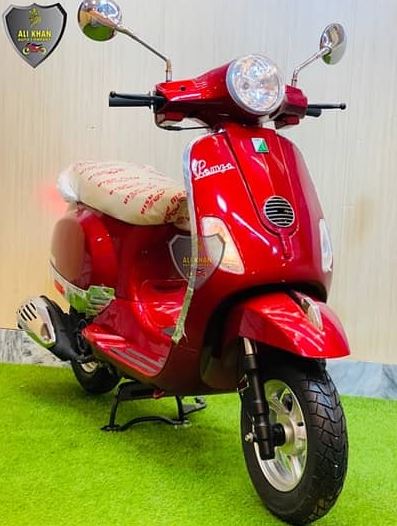 Engine & Performance:
The New Asia Ramza scooter has a four-stroke, air-cooled engine with a displacement of 100cc, which produces a maximum power of 7.0 horsepower at 7000 rpm and a maximum torque of 7.5 Nm at 7000 rpm. It comes with a CDI ignition system, and its four-stroke engine is known for its fuel efficiency and low maintenance costs. Designed to deliver reliable performance even under challenging conditions, it's an ideal choice for city travel. The Ramza features a four-speed constant mesh transmission that is smooth and easy to operate, resulting in a comfortable ride for most riders. The electric-start technology makes it easy to start the scooter and maintain efficient performance. The Ramza scooter has a hydraulic disc brake on the front wheel and a mechanical drum brake on the rear wheel, which provides adequate stopping power for a safe and comfortable ride. The Ramza suspension system is well-tuned to absorb bumps and shocks, while the scooter's lightweight frame and low seat height make it easy to handle and maneuver in traffic.
Mileage &  Top Speed:
The New Asia Ramza 100cc gives a fuel average of 30-35 kilometers per liter and has a fuel tank capacity of 5 liters. It can reach a top speed of 75 kilometers per hour.
Exterior Design & Build Quality:
The New Asia Ramza scooter has a sporty and modern exterior design that appeals to younger riders in Pakistan while females have also been targeted with provision of decent ladies colors. Its streamlined body with a sharp front fairing gives it a dynamic and aggressive look, complemented by a stylish headlight with a sharp design and a prominent New Asia Ramza logo on the front cowl. The Ramza also features a sporty windshield that protects from wind and debris while riding. Its sculpted fuel tank provides a comfortable seating position, and the stylish and comfortable split seat accommodates a pillion rider. The sleek LED taillight complements its sporty design, while the stylish alloy wheel adds to its visual appeal. It is available in black, blue, pink, red, and white exterior color options. The New Asia Ramza's build quality is generally considered good, made of high-quality materials and components to withstand the harsh conditions of daily use in Pakistan. The frame is high-strength steel, providing a strong and durable foundation for the scooter. The bodywork is made of high-quality plastic, well-designed, and sturdy.
User Reviews:
There are mixed reviews of the New Asia Ramza in Pakistan. Some riders are impressed with its affordability, fuel efficiency, and performance, while others have raised concerns about its build quality and durability. Many riders appreciate the modern and sporty design of the New Asia Ramza, as well as its comfortable riding position and good handling. However, there have been reports of mechanical issues, such as problems with the engine, transmission, and brakes. Some riders have also reported issues with the quality of the materials used in the construction of the scooter, particularly regarding the bodywork and finishing.
Pros & Cons:
Pros:
 Basic Scooter Looks
Looks like Antique Scooter
Fuel Efficient
Multiple colors options
Available in ladies' colors as well
Cons:
Fuel Efficient
Expensive in its category
Major Competitors: