2023 Road Prince RX3 250 cc 
Sold in Pakistan = 2017-Present

Technology = Euro-III

Road Prince official Contact = 

042-111-773-375 
2022 Road Prince RX3 250cc Price in Pakistan
Price Effective From 15-Feb-2023
Road Prince RX3 250cc

922,000

PKR
The RX3 250cc bike by Road Prince is an Adventure Tourer delivered in Pakistan by Zongshen China, and it is one of the most demanding Chinese-structured heavy bikes in Pakistan. It has a steel swingarm body outline which is fueled with twin-spar steel. Its electric framework has a 12V battery, and its 250cc, liquid-cooled engine is incredible. It has a phenomenal execution in all climate conditions. It is equipped with a standard equipment package, including a large windscreen, dual-sport tires, skid plates, and a top case. It comes in five exterior color options: black, white, red, orange, and blue. It is a perfect touring bike for rides that include adventure touring, commuting to work, or off-road excursions. The RX3 bikes have a record of durability all around the globe, and their stunning outlook catches every gaze. Its engine is designed to be low maintenance, so you don't have to worry about its repair every now and forth. After its huge demand all over the world, Road Prince is bringing it to Pakistan as well. You can book your Prince RX3 online on Road Prince's official website and make a 50 percent advance payment in favor of Eiffel Industries Limited.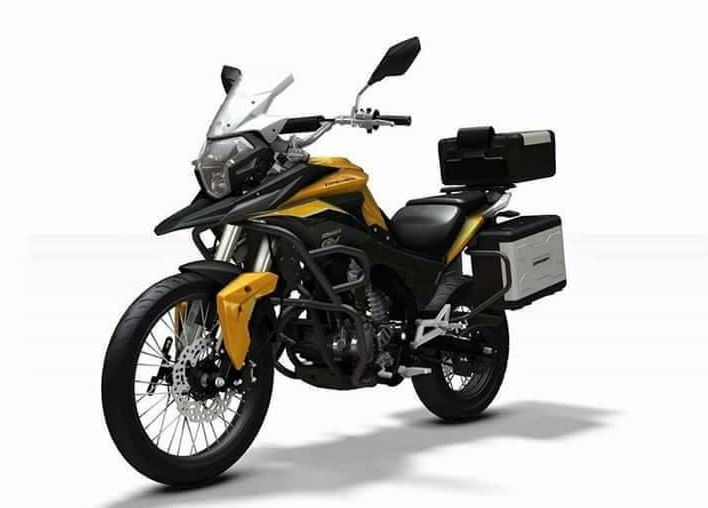 Performance & Ride:
The Road Prince RX3 has a 250cc, SOHC, water-cooled, single-cylinder engine paired with a six-speed transmission and it generates 24.5 horsepower @ 9000 rpm with 6.6lbft @ 7000 rpm of torque. This sports bike is known for its powerful performance, making it the best touring bike, especially on off-road adventures. The gear changes are so efficient, and you can change the gears gently, so the quality of the ride is not compromised. The water-cooled engine is equipped with Delphi fuel injection with an electric start for enhancing your convenience. Off-road adventures are made easy and convenient because of 211 millimeters of ground clearance that lets you drive comfortably over challenging terrain. It produces 25 hp of power at 9000 RPM and a torque of 22Nm, and it gives you overall excellent performance. Its windshield does a job to provide you with maximum speed with smooth execution, and its clutch pull is linear and linear. It has disc brakes at the front, which is less efficient than its other features, but the rear brakes are much better. The inverted fork and single-shock suspension do an excellent job to make your rides smooth and exciting, so the irregularities of the road do not disturb your adventures. The tires are so powerful to give a good grip on roads.
Top Speed & Mileage:
The Road Prince RX3 can give you a top speed of 130-140 kilometers per hour. The fuel economy of Road Prince RX3 is not bad, and it gives you a mileage of 59 miles per gallon (22-25 km/L) driving and has a fuel tank capacity of 16 liters.
Exterior Design & Build Quality:
The frame and body of Road Prince RX3 consist of a steel frame, body panels, footpads, fenders, a seat, and a side stand. Two 8 millimeters bolts fix the front seat, and the rear seat is removable, and a tool kit is stored under it. The left body panel is also removable to give access to the air filter. The RX3 has 17-inches steel wheels at the rear and 18-inch steel-rimmed wheels at the front that look stunning and give it a sporty look. The front end has a large windshield and diamond-shaped LED headlight, while the other equipment of the bike includes mirrors, an engine guard, a side stand, a swingarm, panniers, a top case, a rack, and an exhaust pipe. The rider seat is designed ergonomically to ride the bike comfortably and not feel tired. The passenger seat is also very comfortable, so the passenger at the rear enjoys the thrilling ride. The fuel tank has a fantastic shape that enhances the beauty of the bike.
User Reviews:
Road Prince RX3 is one of the most demanding heavy bikes with an affordable price range. Heavy bikes are priced high, but users expect a fantastic performance after spending money on them. Their users much love the design and style of Road Prince RX3. The quality of its ride is excellent, and it makes your adventures more exciting and thrilling. The users also appreciate the fuel consumption, and it gives quick acceleration as well. One of the cons of RX3 is the high price of its spare parts which makes its maintenance cost a bit high, but it runs well and satisfies the users with its performance.
Major Competitors:
ZXMCO Monster ZX 250 D
Super Power Sultan 250
Benelli TRK 251
OW Ninja 250
FUEGO Scrambler 250
OW ninja 250
OW R3 250
OW S1000RR 250