2022 Yamaha YZ125
Sold in the USA = 2005-Present
2022 Yamaha YZ125 Price in the USA =

6,899 $
The Yamaha YZ125 has been ruling the racing motorcycles' world since 1974. It comes with a two-stroke engine, delivering efficient performance. It has been taken to 5 AMA National Motocross Championships. Firstly the Yamaha YZ125's engine was air-cooled from 1974 to 1980, and then it updated to liquid-cooled from 1981. It had the backbone frame made of aluminum alloy since 2005, and many changes were introduced from time to time. The new 2022 Yamaha YZ125 is more powerful and advanced, offering ideal performance and reliability. It is a perfect bike for aspiring motocrossers as it is light and competitive. The lightweight rider-friendly chassis helps in nimble handling and is an ideal platform for advanced skills and giving a confident ride. The latest Yamaha YZ125 completely is redesigned with a new 2-stroke engine that produces more power, and the braking system has been updated, providing exceptional brake power. The rider ergonomics have also been improved with a new and flatter seat and narrow fuel tank, allowing the rider to ride the bike comfortably with increased control. The suspension damping has been revised in the 2022 Yamaha YZ125. Still, the new high precision carburettor features precise ignition timing and, as a result, gives a crisp throttle response and improved fueling. Some styling changes have also been made in the latest Yamaha YZ125 with dark blue graphics that look stunning and updated air intake design. The 125cc bikes are popular in Pakistan too, and the Yamaha YZ125 comes with a bundle of comfort, class, and quality. The Yamaha YZ125 bikes are imported to Pakistan in very few amounts. It is a popular bike in the United States and can be purchased from any Yamaha dealer, and it comes with a limited factory warranty of three years. The spare parts of the bike are available widely, but its resale value is not very high.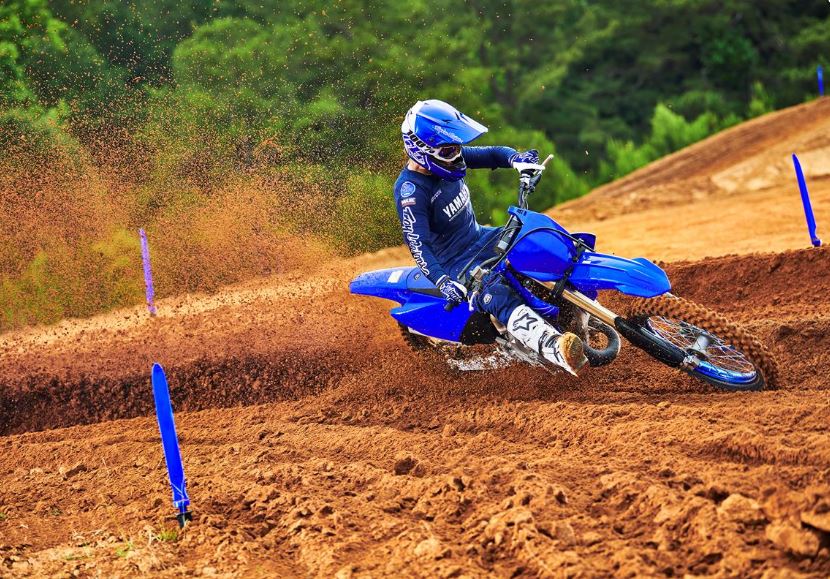 Engine & Ride:
The Yamaha YZ125 comes with a liquid-cooled, 2-stroke, 125cc engine that generates 33.53 hp power. It has a compression ratio of 8.2:10.1:1. It offers a 6-speed, constant transmission and comes with multiple wet clutches. It comes with an inverted fork and fully adjustable suspension at the front, and a single shock, a fully adjustable suspension at the rear. The braking system consists of hydraulic brakes at the front and the rear, reducing unsprung weight in providing the best braking power. The braking system is updated with larger front pistons with an increase of thirty percent in the pad contact area and the friction pad material. The rear motor is redesigned for exceptional braking power. The KYB fork gave precise damping and increased performance, while the advanced KYB shocks give maximum comfort, adding up to the rear wheel control and capability. The 2-stroke engine generates improved acceleration and better mid to high RPM power. The lightweight frame of Yamaha YZ125 is made from aluminum and is designed to provide you with the exact amount of strength, perfect for the best stability and balanced ride when cornering the bike. The handling of the Yamaha YZ125 is great, and the rider feels less fatigue. The 6-speed transmission has a close-ratio and optimized gear ratios to provide a smooth ride. It has a high-capacity radiator that features a ten-row core with black louvres, delivering maximum cooling efficiency and giving it an aggressive appearance. The power valve system combines crisp acceleration with strong, mid-range, and high RPM power. The Bridgestone premium X20 tires in Yamaha YZ125 provides stronger grip and race-developed performance.
Mileage & Top Speed:
The Yamaha YZ15's fueling is improved with Hitachi Astemo Keihin PWK38S, carburetor for precise ignition timing. It comes with a fuel tank capacity of 7.9-liters and gives you a mileage of 26 kilometers per liter to 28 kilometers per liter. It gives you a top speed of 70 miles per hour.
Exterior Design & Build Quality:
The latest Yamaha YZ125 has been redesigned with more attractive looks. It has an overall length of 84.1-inches, 32.5-inches in width, and 51.0-inches in height. It comes with a ground clearance of 14.4-inches and a wet weight of 209 pounds. It has become slimmer and more aggressive with a new front and rear fender design and narrow body panels. A new radiator had been added with bold graphics to highlight YZ's pedigree. Some dark blue graphic stickers to the fuel tank and other parts look more attractive. The air intake design is also updated, allowing drawing air into the intake tract efficiently. The seat is designed ergonomically with a height of 38.6-inches and is made flatter, along with smooth body panels. The seat's increased width helps the rider move forward and backwards comfortably by shifting body weight for more control and confidence. It is available in striking blue color. The Yamaha YZ125 provides excellent durability and its maintenance value as low as it runs smoothly without showing any problems soon.
Major Competitors:
KTM 125SX
Yamaha YZ250F
Husky TC 125