2023 Yamaha YZ250 Motocross
Sold Worldwide: 2001-Present
Updated Model: 2019-Present
2023 Yamaha YZ250 Price in the USA: 
Yamaha YZ250
Starts at:

7,899 $

Yamaha YZ250F
Starts at:

8,599 $

Yamaha YZ250 Monster Energy racing Edition
Starts at:

8,099 $
Yamaha introduced the Yamaha YZ250F in 2001, and it was the first Motorcross bike by Yamaha. It brought many updates: a new engine was introduced in 2008, and electric start technology was introduced in 2019. The Yamaha YZ450F is a class-leading bike with the latest technology, refined suspension, smoother performance, and a ready-to-own podium. It has a reversed head 250cc engine, and this layout helps to deliver agile handling by centralizing mass. The new Yamaha YZ250F is available with new graphic stickers and an eye-catching design. There has also been introduced a Monster Energy Racing Edition by Yamaha. The rider ergonomics have been improved, and seats have become flatter. It allows more freedom of movement, and the premium graphics are embedded to enhance the bike's durability. The Hitachi Astemo Keihin carburettor in Yamaha YZ250F provides a crisp throttle response, and the high-performance brakes increase performance efficiency. It is designed for competitions, and the new clutch plate is made resistant to high temperatures, ideal for long-routes cross-country competitions. The Yamaha YZ250F features a striking graphic package, and its vibrant colours stand out among rivals on the track.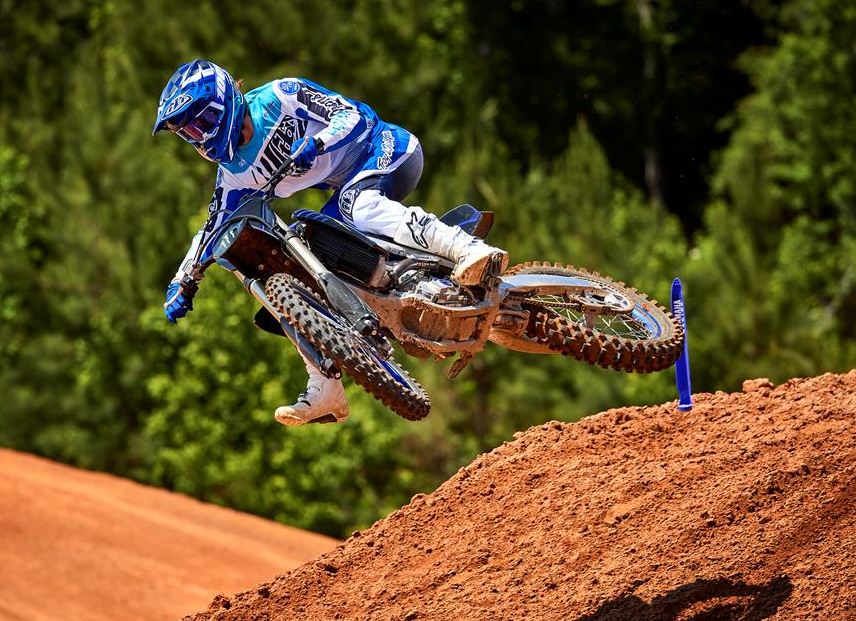 Trims & Versions:
Yamaha YZ250 Motocross is available in three different versions, one of which is Monster Race Edition. The Major Difference among the Trims is Given below.
YZ250F

YZ250 Monster Power Race Edition

YZ250 Standard

250cc liquid-cooled DOHC 4-stroke; 4 valves

249cc liquid-cooled 2-stroke; reed-valve inducted

249cc liquid-cooled 2-stroke; reed-valve inducted

(Bore x Stroke

) : 77.0mm × 53.6mm

(Bore x Stroke

) : 66.4mm × 72.0mm

(Bore x Stroke

)  : 66.4mm × 72.0mm

Compression Ratio:  13.8:1

8.9~10.6:1

8.9~10.6:1

Fuel Delivery: Mikuni® fuel injection, 44mm

Hitachi Astemo® Keihin PWK38S carburetor

Hitachi Astemo® Keihin PWK38S carburetor
Engine & Performance
The Yamaha YZ250F gets its power from a 250cc, liquid-cooled, four-stroke, four-valve, DOHC engine with a Mikuni fuel injection system. It offers a 5-speed constant mesh transmission. The 4-valve engine features a high-spec piston and reversed cylinder head and is known for mid-range torque and useable powerband.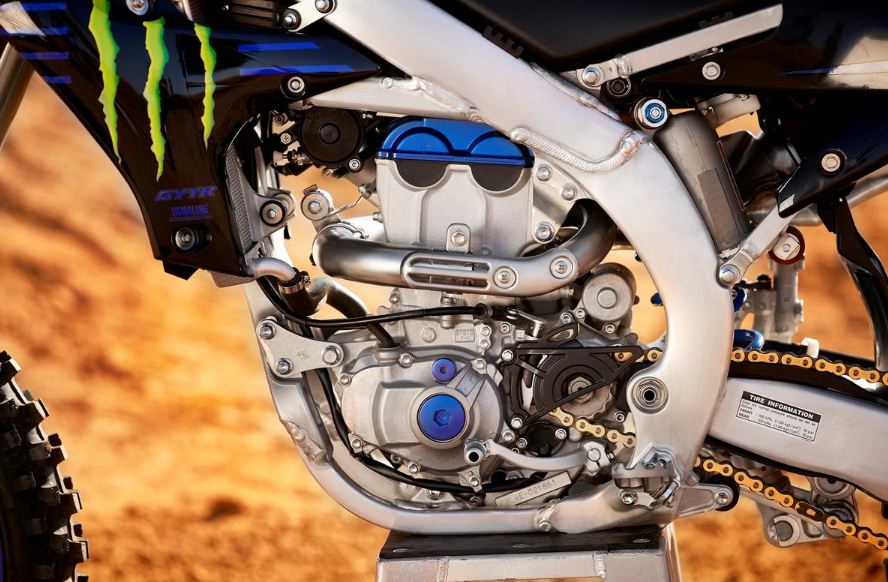 Its engine ensures exceptional reliability because of its high-strength connecting rods, counterbalancer, and optimized crank. The fuel injection system has a throttle body of forty-four millimeters and provides optimal fuel optimization. The transmission system is durable with smooth gear shifts, and a large diameter clutch increases reliability even in high temperatures. You can adjust the engine character with its two-mode adjustable engine that allows immediate adjustments in the changing tracks according to the weather conditions. The Yamaha YZ250F has a class-leading suspension with KYB adjustable fork at the front and KYB linkage-type rear suspension. The adjustable KYB coil spring forks deliver an exceptional balance between the bike's handling and shock absorption, increasing stability. The Yamaha YZ250F features a high-performance braking system with large front brakes and a rigid calliper, and the compact rear calliper has a 240-millimeter rotor. The front and rear brakes give exceptional stopping power and ensure the ride's safety. The Yamaha YZ250F has agile handling, and its reduced weight and drive inertia contribute to the bike's nimble handling. It offers an electric starter system that uses an ultra-lightweight lithium-ion battery and starts the engine with the convenience of a push-button for effortless restarts when you are riding under pressure on tracks. It is one of the best Motorcross, delivering exceptional performance on tracks.
Mileage & Top Speed:
The Yamaha YZ250F has a fuel tank capacity of 1.6 gallons and gets an average mileage of 27 to 30 miles per gallon. It has a top speed of approximately 65 miles (110 kmph) per hour.
Design & Build Quality:
The Yamaha YZ250F is an eye-catching bike with beautiful graphics and colours. It has an overall length of 85.6-inches, 32.5-inches width, and 50.6-inches height. It has a bilateral aluminium frame that gives handling stability and precise performance. The broader frame at the rear and the longer upper frame centralize mass to balance stiffness, grip, and absorption. The fuel tank and the exhaust are positioned accordingly to increase mass centralization, and the wide footpegs lower the center of gravity of the rider to provide improved balance and comfort. The lightweight wheels in Yamaha YZ250F are refined and provide durability, while the 3-spoke rear wheels improve overall feel by impact absorption. The aluminium handlebar is secured to adjustable handlebar mounts that adjust the positions in four directions. The lightweight gold drive chain, clutch perch, and blue rims enhance the beauty of Yamaha. The beauty of the Yamaha YZ250F is that it uses compact bodywork, and it includes a narrow fuel tank and a seat designed to give more room to the rider to ride the bike comfortably; the reduced bike weight design provides more control and better knee grip. The bike's build quality is exceptional and appreciated by the users.
User Reviews:
The Yamaha YZ250 gives a top-quality performance and gets many good reviews. Its engine gets good ratings, and the bike's lightweight is loved by the users, which makes its handling easy. Users love it because it is entirely in control of the rider instead of heavier bikes. The fuel consumption is low and depends more on how you ride it. Users love the durability and reliability of the motorcycle and are satisfied by the easy availability of its spare parts.
Major Competitors:
Husqvarna TC 250
TM MX 250