2022 Yamaha YZ450F
Sold in the USA = 2018-Present
Generation = 7th
2022 Yamaha YZ450F Price in the USA =

9,599 $
The Yamaha YZ450F was introduced as a successor to Yamaha YZ426F in 2003. Many generations of this racing motorcycle have been launched yet, and the latest one is the 7th-generation. The 7th generation YZ450F was introduced in 2018 and upgraded with electric start technology and a fuel injection system. The Yamaha YZ450F 7th generation comes with an ultra-compact layout, and its excellent power makes it the best choice for every racer. The latest Yamaha YZ450F has a redesigned rear wheel hub, and the aluminium hub has been made lighter and thinner while maintaining the bike's strength. The YZ450F's unsprung weight has been reduced, and the lightweight drive chain reduces driveline inertia. It also introduces a 3-spoke pattern on the rear wheel that looks beautiful, and other features include a 4-stroke engine, aluminium beam frame, and class-leading braking system. If we say that Yamaha YZ450F is the most well-balanced and capable bike of the 450 class, it will not be wrong. It is built to win races, and the commanding ergonomics let the rider give his best performance while providing maximum comfort. Yamaha has facilitated its users with an innovative Power Tuner app that shows the precision tunability and flexibility on your smartphones so you can make fueling and ignition timing changes for ultimate track-side tuning. The suspension settings have also been improved in the latest Yamaha YZ450F, so we can take maximum advantage of the lightweight rear wheel assembly, resulting in increased stability. Some blue and dark blue graphics on the model are scratch-resistant and make the bike look attractive. The black-coloured radiator adds aggressiveness to its looks, and the overall appearance of the Yamaha YZ450F is eye-catching. The Yamaha YZ450F can also be imported here in Pakistan, or you can go for a used and 2nd-hand YZ450F if you are a lover of a racing bike.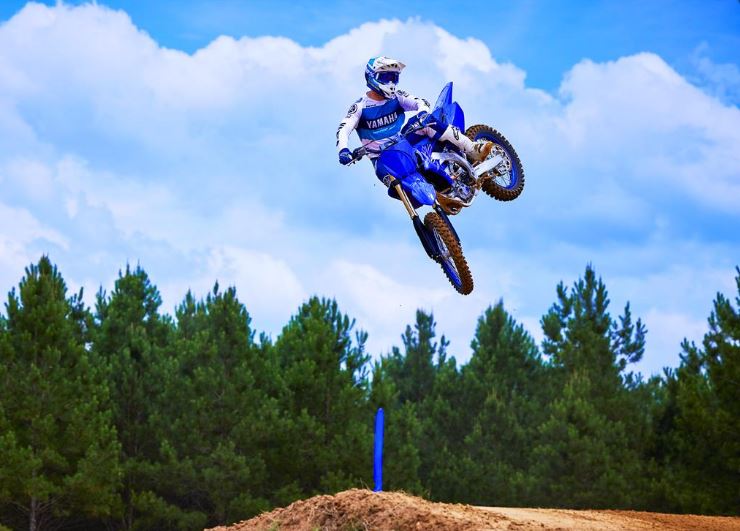 Engine & Drive:
The Yamaha YZ450F comes with a DOHC, 4-stroke, liquid-cooled, 4-valve, 450cc engine, and it generates 53.1 hp of power and 33lb-ft of torque. The ultra-compact 450cc engine has a reversed head and the front faces inlet, ensuring optimum intake efficiency. Its engine is placed ideally within the frame, so the weight is distributed optimized. The steep valve allows a straighter down-craft intake port. The large-diameter exhaust header works with a higher compression piston to provide exceptional chassis balance and control. The Yamaha YZ450F comes with radiators that are angled to optimize incoming air for cooling effect and works in every extreme condition. The 5-speed transmission works efficiently, and it uses gears, having a wide surface area. This design boosts durability, improving the feel when changing gears. The exhaust pipe's rear end is forward, which enables positioning the muffler closer to the bike's centre of mass, and as a result, the power development is increased. The Yamaha YZ450F comes with an electric start system that minimizes restart delays and is convenient. It comes with a launch control system for a smooth ride and boosts controllability that ensures the best chance to grab the holeshot. It offers a class-leading suspension with a coil-spring fork that balances handling and shock absorption. The rear suspension comes with shock absorbers to provide a smooth ride. The braking system consists of a rigid calliper at the front for excellent performance. The rear has a compact calliper and rear rotor for improved heat dissipation. The handling is improved because of the lightweight rear hub, drive chain, and sprocket that decrease unsprung weight, and the lightweight aluminium beam frame plays an essential role in its excellent handling manoeuvre.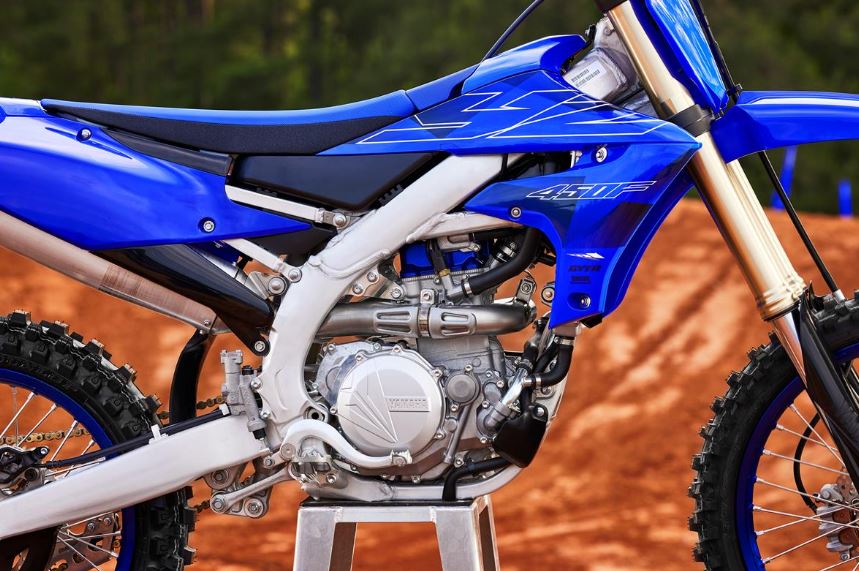 Mileage & Top Speed:
The Yamaha YZ450F engine ensures optimum fuel atomization because of its ultra-compact throttle body, improving mass centralization. It comes with a fuel tank capacity of 1.6 gallons and gives an estimated mileage of 119 kilometers with a full tank. It provides a top speed of 80 miles (128 kmph) per hour.
Exterior Design & Build Quality:
The Yamaha YZ450F has an attractive design and new graphics highlighting its unmatched racing pedigree. The premium blue and dark blue pictures added on it look beautiful and are durable. The unsprung weight is reduced, resulting in agile handling and a safer ride. The Yamaha YZ450F comes with a 3-spoke wheel design on the rear wheel that improves impact absorption and gives YZ450F a sporty look. Some of the award-winning details in its eye-catching design include aluminium tapered handlebars, stylish blue rims, gold drive chain, wide footpegs, and clutch perch. The tripe clamp handlebar provides comfort and reduces vibration, giving an improved steering feel. The seat is firm, and the forward-positioned handlebar is lower so the rider can shift weight forward even when riding aggressively. The bodywork is stylish, and the fuel tank design is narrow. It comes with a length of 86-inches, 32.5-inches width, and width of 50.6-inches and has a ground clearance of 13.0-inches.
Major Competitors:
Kawasaki Kx450
KTM 450 EXC
Honda CRF450R