2022 Yamaha YZF-R3
Sold in the USA = 2015-Present
2022 Yamaha YZF R3 Price in the USA: Starts at

52,99 $

Yamaha YZF R3 Price in Pakistan =

4.5 to 11.3 Lac PKR

(As Per condition and Model)
One of Yamaha's most popular, inline-twin sportbikes, the YZF-R3, was launched in 2015. It is manufactured in Indonesia at Yamaha Indonesia Motor Manufacturing. It is also known as R3, and its design was updated in 2019. The Yamaha YZF-R3's design is similar to R25, such as its engine uses a downward induction fuel injection system. The ABS is not offered as a standard in it. Still, the 2017 model provides optional ABS, and the 2018 edition of R3 has dual-channel ABS. The latest Yamaha YZF-R3 features flowing bodywork, and the MotoGP YZR-M1 inspired ergonomics. It also adds new colours and graphics to the bike that look pretty amazing. It comes with updated handling whether you are on rushy road traffic or twisty roads; R3 is a perfect choice for beginners who want to ride a sports bike. It is also imported to Pakistan and benchmark sports bike enthusiasts. You can purchase Yamaha YZF-R3 used models from Yamaha dealers here, and its price depends upon the bike's condition. The Yamaha YZF-R3 is ultra-light and confidence-inspiring so that you can ride it confidently from the tight streets and wide tracks. It ensures a legendary refinement with reliability so you can go on a thrilling adventure while the fuel efficiency is kept low. The forged aluminium pistons are light in weight and provide excellent strength, so the reliability is ensured at higher RPMs. The high-revving supersport engine of Yamaha YZF-R3 has award-winning technology and gives you efficient power with exciting high RPM performance, keeping the quality of rides smooth and comfortable.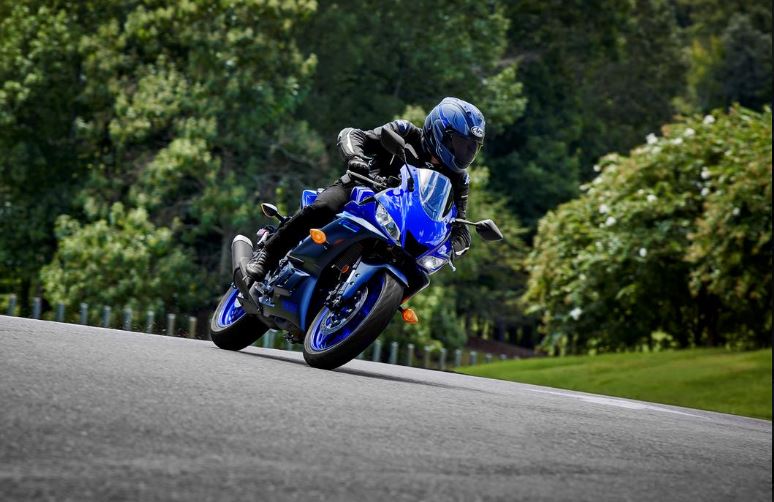 Engine & Performance:
The Yamaha YZF-R3 has a 321cc, 4-stroke, liquid-cooled, inline twin-cylinder, DOHC engine that generates 42 hp of power at 10750 RPM and a 28.8 Nm of torque at 9000 RPM. It offers a 6-speed transmission with a smooth gearbox that ensures the correct ratio whether riding on tracks or in the streets. The high-revving engine comes with a compression ratio of 11:2:1 with double overhead cams and the motor is designed for quick performance. The 180-degree crank design minimizes the vibrations so you can enjoy a smooth performance. The engine is made from high-silicon aluminium that ensures excellent heat dissipation, and it reduces horsepower loss, improving power and fuel efficiency. The suspension system consists of the inverted fork at the front and mono cross rear shock. The inverted front fork comes with an optimized spring that improves fork rigidity, and the single shock layout centralizes mass that gives a perfect balance between comfort and sporty performance. It absorbs all the bumps and irregularities, giving you a smooth ride. It comes with front and rear disc brakes that provide excellent stopping power. The anti-lock braking system further enhances the rider's confidence by preventing locking up wheels in emergency conditions. The lightweight chassis comprises a high tensile steel frame that provides stability. The long asymmetrical swingarm ensures the engine power is delivered to the rear wheel so that you can have a stable ride performance. It gives you the confidence to enjoy riding it on wide tracks, and even the tight city streets do not feel rough. The quality of the ride is balanced perfectly because of the overall dimensions, engine placement, weight distribution, and all these factors contribute to enhancing performance. The short muffler design in the exhaust system improves agility for improved handling.
Mileage & Top Speed:
The Yamaha YZF-R3 gives a top speed of 188 kilometers per hour. It sprints to 60 kilometers per hour in 2.89 seconds and accelerates to 100 kilometers per hour in 6 seconds. The downdraft induction fuel injection system gives excellent fuel economy and gives a mileage of 26.31 kilometers per liter.
Exterior Design & Build Quality:
The Yamaha YZF-R3 has an aggressive design and is inspired by YZR-M1 MotoGP. The improved overall aerodynamics and improved ergonomics help in enhanced ride quality. The refined ergonomics come from the low-profile fuel tank design and the compact handlebar position so the rider grip the bike naturally and confidently ride it. The seat is designed ergonomically with a height of 780 millimeters so that you can ride the bike comfortably—a multi-functional instrument panel with an analog tachometer and digital speedometer, and a shift timing indicator lamp. The instrument panel shows the fuel gauge, gear indicator, water temperature, clock, and trip meters. The YZF-R3 comes with 10-spoke aluminum wheels that minimize weight and provide refined handling and improved suspension. The R3 comes with an LED headlight and taillight that provide brilliant illumination for making your rides safer at night. The rear seat cowl in R3 changes your bike into a single-seater motorcycle, so it looks sportier, and it comes with a stylish cushion for your comfort. The integrated frame sliders protect the body and frame against damage, and the fender eliminator pulls the license plate up gives it a clean look. It is available in midnight black, icon blue and electric teal colors.
Major Competitors:
Kawasaki Ninja 300
KTM RC390
Benelli 302R 
Apache RR 310