McLaren holds the crown for making world's first carbon fiber chassis sports car. The McLaren F1 was the fastest car in world when introduced in 1993. This tittle ended after a long tenure until it was passed by Koenigsegg CCR in 2005 that too followed by Bugatti Veyron. Unlike other sports cars, F1 was first race inspired sports car to have 3 seats including driver seat in center for ultimate racing experience. In 1980's the McLaren's designer Gordon Murray began sketching the car and later on convinced Ron Dennis in playing key role in development of McLaren F1. Although Murray has been working on the concept of 3-seater sports car since 1969, it was only 20 years later that his idea started to come in practical form as McLaren F1.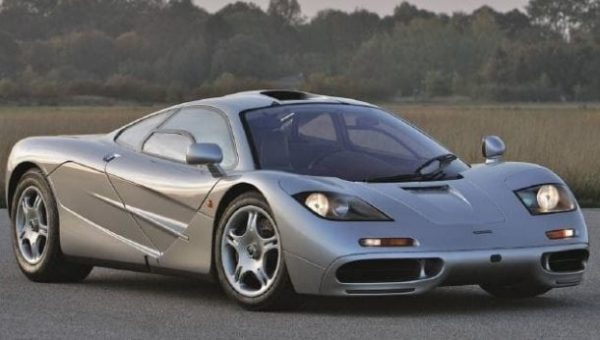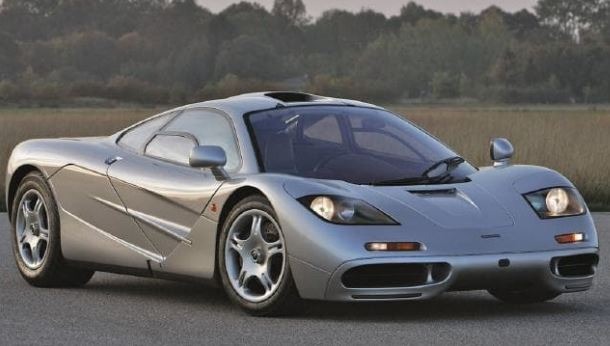 The first ever McLaren F1 rolled out in 1995, it had 6.1L engine generating a massive horsepower of 618 back in the day. The car was unlike any other automotive vehicle ever produced. It came with mid-engine and rear wheel drive (RWD) and a 6-speed manual transmission. The chassis and interior of this sports car was fully made from Carbon Fiber for the first time in world. This car stood out to be fastest production car in world with a top speed of 240 mph which is 368 km/h. As the name indicates F1 was developed by Formula-1 racing team but as a road legal car, so a lot of planning and effort had to be put in car in order to balance power with drivability. In order to make car fastest, the development team knew it had to weigh light for faster speed therefore aluminum was used instead of iron making it much lighter. The wheels in addition were made from magnesium alloy to be lighter; so much detail went into the car that, even the supporting structures and tool kit was made from titanium. Reminded you that all these materials are super expensive and exclusive.  In other words the F1's each element was carefully handpicked by the team, the design was innovative to reduce drag, increasing down force on car and reducing weight to make it the perfectionist vehicle of all time. Therefore it only weighed 1138 kg.
Read Also: 2JZGTE- Car Enthusiasts Favorite Engine of all Times | Heart of Toyota Supra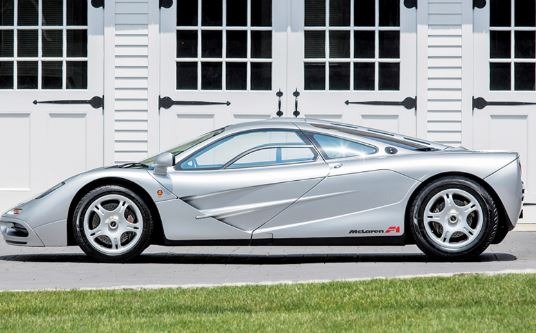 When it comes to exterior and functionalities of F1, again it had to be one step ahead of everyone in order to be the best in market. World's fastest car had to possess more efficient braking than others therefore McLaren F1 came with world's first Airbrakes controlled by a computer to stabilize the car when pushing the brake pedals hard. Since the sports car had central driving seat positioning so the doors were made in dihedral style to access the driving seat easily. Also it was more stylish, decent and useful. Back in 90's McLaren F1 had computer to monitor car performance and diagnostic of faults in vehicle. The exterior of McLaren is said to be "most streamlined car" ever produced. This was the result of months testing the air flow on car during tunneling. The F1 development team did not put any wing or spoilers yet so much went into applying latest ground methodologies on car that it was stable even at highest speed therefore despite the F1 was made to drive on roads and streets, a slightly modified and upgraded version of McLaren F1 won plenty of races around the globe, the list includes 24 Hours Le Mans.
Read Also: Biggest Flopped Truck of 30 Years | The Pickup Truck No One Bought
The production of McLaren F1 started in 1995 and ended in 1998. There were only 106 cars ever made with each one having slight differences in design. The car to the day is exclusive and owned by only handful list of people like Rowan Atkinson, Elon Musk and Sultan of Brunei. Now that the 25 years have been passed till the McLaren F1 rolled out into the world, even after 20 years later it is yet considered Naturally Aspirated (N/A) fastest car on planet Earth. Therefore the F1 is a true engineering marvel which could not have been done better. The McLaren F1 to this day holds its priceless value in millions due to the legendary status it possesses in automotive world.