Every car enthusiasts from the era of 1990's admired three Japanese cars that were ahead from another sports car manufactured by other car-makers. The name includes Nissan GTR 34, Toyota Supra and Honda NSX (sold as Acura NSX in USA). These three cars were the ultimate nightmare for others however when It comes to engineering and technological advancement, surely does the Honda NSX stand out. The first generation of Honda NSX came from 1990-2005, then discontinued. However here we will be taking a look at more advanced Second Generation Honda NSX that comes with Hybrid Technology.
Since the NSX was discontinued in 2005, Honda announced that they had plans to launch the NSX's next model by the 2010. However the financial instability proved to withdraw this plan from Honda's wish list in 2008. Regardless to this Honda in 2011 the automotive magazines reported that Honda was in process of developing mid-engine based sports car under the Acura arm in USA with help of Original NSX engineering team for the first generation. In 2012 Honda announced their plans officially when they introduced the concept during Geneva Motor Show in front of public eyes. This car was styled as 2-door coupe with a Hybrid engine for environmental friendly purposes and making the car more practical for daily use thus the titled "everyday super car". Although the NSX was introduced as a concept in 2012, the first car officially rolled out in 2016, January. The first NSX was put to auctioned won by the Owner of NASCAR team for $1,200,000. All the proceedings from auction were sent for charity cause.
Read Also: World's First Carbon Fiber Car- McLaren F1 | World's fastest Naturally Aspirated Sports Car
Honda NSX comes with 3.5L V6 engine powered by 3 electric motors with 2 powering up the wheels and one for dual-clutch transmission. The sports car comes with Sport Hybrid SH-AWD and a quick 9-speed dual-clutch transmission. This enables the NSX to generate a total of 573 horsepower while completing a quarter mile run in just about 10.8 seconds. When it comes to structuring and modeling of NSX its chassis  is made up from high-tolerance steel, aluminum and some other light weighted materials that are first to be put into any vehicle's production.  The suspension of NSX is double wishbone suspension as in every other sports car of the time. Although the NSX is a Hybrid, however it is not the "plug-in" hybrid as normal cars. The Hybrid technology used in this car is to maximize the mileage in a more eco friendly way.  It also comes with optional Carbon-Ceramic brakes.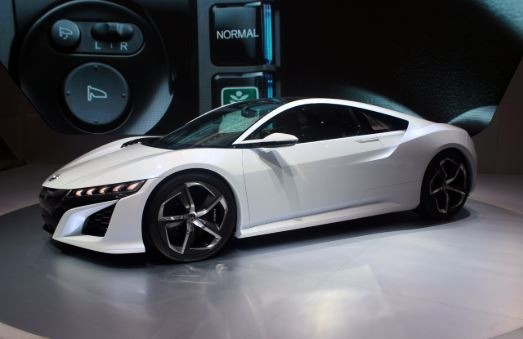 When it comes to interior of Honda NSX, it is rather not impressing as the dashboard looks quite normal which you would not expect in a super car. In addition sadly the NSX has same display unit as the Honda Jazz which is a small market car. Also the Garmin Satellite Navigation is also not much of a fancier option in NSX. So in terms of multimedia it lacks from its competitors. However the seating of car is quite comfortable for long drives, daily commutes and sitting in the car for a relatively long amount of time. This makes Honda NSX more comfortable than the McLaren 720S and BMW i-8. There is also a decent sized boot in the back for your everyday family shopping. The NSX is extremely quite when it comes to driving which someone would not specifically want in a super car however Honda makes the NSX as a everyday super car making it more pleasant for the environment and yourself. In addition the car even has a quiet mode which reduces the engine noise. Although the mileage of Super Car is the secondary concern of buyer, Honda NSX gives an astonishing mileage of 9.9 kilometer per-liter (28 mpg). The Honda gives a three years warranty with 60,000 miles for NSX which is far more than other competitors so excluding the NSX experiment from a risk.
Read Also: World's Most Expensive Oil Change for car | Buggati Veyron Oil Change
The NSX starts at a price of $156,000 in USA market. The Honda NSX is a great super car that can be driven by anyone which is quite not common when it comes to super car driving experience. However the simplicity in drive and safety features makes it have advantage than its Porsche and other competitors making the NSX ranks #4.