Dodge Challenger is one of the most iconic muscle car every kid grew up watching it racing on drag strips to racing in movies and streets. Challenger is dream of every Muscle Car guy since it debuted in 1970. The Challenger is now in its third generation ongoing from 2008 to present 2018 however each year there have been made changes from time to time in terms of performance, styling, engine horsepower's and some facelifts. Special editions also introduced spinning of more power from wheels named "Hellcat" editions. The 2018 Challenger received some minor changes in form of entertainment unit, additional $500 red braking calipers, performance tires and new steering however no car enthusiast, automotive magazine, websites or social media had the clue to what was going to happen in New York Auto show held in 2017.
 Dodge introduced greatest muscle car of all times named Dodge Challenger Demon with a jaw dropping power of 800+ horsepower. This left automotive world in complete surprise as it was never speculated from years that accomplished by Dodge by keeping the whole project under full secrecy.
The Dodge Demon comes with 6.2L V8 tagged with 2.7-L supercharger which generates an insane power of 808 horsepower on a normal road without any modifications or racing fuel. The horsepower can be extended to 840hp with racing fuel of 100 octane grade instead of regular 88, Wheels for Demon were made by Nitto Tire under the code NT05R, the ones on front being thinner than back, these tires are drag-strap ready with a capability of being road legal. The Dodge demon is a true marvel of drag and street legal conditions, Dodge claims this car being capable of running astonishing lower 9's second on a 1/4 mile drag strip which makes it fastest production car ever built in American Muscle Car history. The car is built for drag purposes so Dodge removed every extra amount of weight they possibly could includes rear passenger seat leaving it with driver seat only. Similarly it is equipped with "Transbrake" that locks the Demon in Reverse and 1st gear simultaneously for building hydraulic pressure followed by a front tire lifting launch (wouldn't be a drag car if it couldn't do this, right?).
Read Also: Honda NSX – The Hybrid Super Car | Acura NSX in USA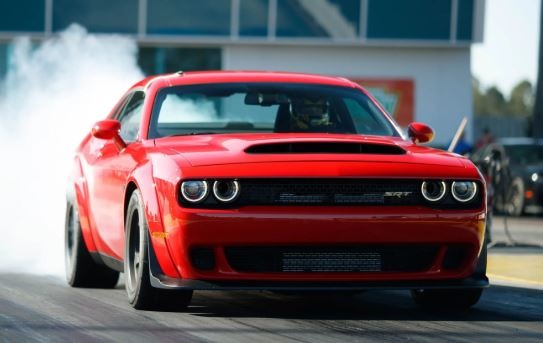 The Dodge Demon is priced at $100,000 with only 3300 being made; the production was started in summers of 2017 and came to an end in 2017 fall.  There is only one driver seat in Demon with an option to install rear and passenger seat for $1 each. In order to reduce maximum weight from the Demon, the rear and front brake calipers are replaced with light aluminum calipers along with lightweight aluminum alloys.   In addition to the normal Challenger the Demon has a Demon logo engraved on dashboard and seats along with performance screen set up in car, the touch screen panel also has Demon logo set in it. Just like the SRT edition, Demon also comes with two keys; the black key restricting the power to 500hp only while the red key unleashes the car to its full potential.
Read Also: World's First Carbon Fiber Car- McLaren F1 | World's fastest Naturally Aspirated Sports Car
Since Dodge Demon is a true monster on streets and strip than why didn't the world sees it coming? Well this is the result of extreme secrecy strategy adopted by the Dodge SRT officials from the time when the planning started in 2015 till the revelation in 2017. How did they do this? Well the SRT only handpicked 25 officials for this project, as far as others were concerned including Dodge dealers, they were told that company was working on ADR version of Challenger or in simple words a SE (Special Version) which was normal in case of challenger since they have been coming. The data for Demon was stored on separate server while the dyno's were conducted on Chrysler's C07 one out of two machines in world, specifically designed for NASCAR. The tests were conducted in night on weekends and the project name was set to "Benny" just to not raise suspicions, even the tests conducted on drag strips were kept confidential from drivers, so only 10 people in total knew the actual figures and horsepower of Dodge Demon. The official figures for Demon were not released until 30 minutes to New York's Auto Show; Hence making Demon one of most secret yet jaw-dropping innovation of Dodge in history of Automotive World.