Indian automobile industry is the fourth largest auto industry in the world with its sale increasing from 9.5 percent per year and reached 4.02 million units sale in the year of 2017, which is a huge number and that's what makes the Indian automobile industry to compete with the world and reach the fourth position in vehicles sales ranking. Two wheeled motorcycles and bikes are not yet included to this counting, those also sells in huge numbers and an important part of Indian automobile industry and is popular among middle class families. Indian exports of automobiles are also increasing day by day, increased up to 20.78 percent from April to November in 2018 while Demand of automobiles within the country is also increasing to overwhelming units. On calculation the sales in the year 2018 from April to November were 24.97 million vehicles with an increased sales percentage of 7.01. Let us have a look on the sales of 2019 up till now and see which car is going favorite among people according to its sale percentage. Maruti has managed to be on top in ranking scale and has proved to be the most favorite automobile company in India. Here is the list of sales in January 2019.
Sales in January, 2019
Maruti Alto were sold in huge numbers of 23,360 in January and got the first number in the ranking sale.
Maruti Dzire managed to sale 19,073 units in the month of January.
Maruti swift sold 18,795 units in January, 2019.
Maruti Baleno sold 16,717 units in January.
Maruti Brezza sold 13,172 numbers of cars in the month of January.
Hyundai i20 sold 11,749 units.
Hyundai Creta managed to be among top ten by selling 10,314 units.
Hyundai Grand i10 sold 10,285 units.
Hyundai WagonR sold 10,048 units.
Maruti Celerio sold 9,217 units in the month of January.
Let us have a look on the top five cars in detail.
Maruti Alto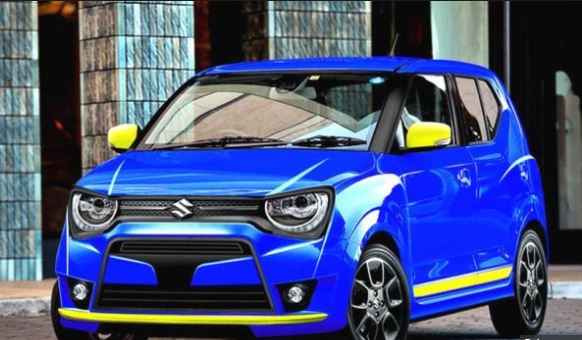 Maruti Alto has managed to be on top among most selling cars of 2019 because of its awesome features in an economic price range which is afforded by all families in India. Maruti Alto has 800 cc engine with option of petrol or CNG. Petrol engine is 796 cc 12V F8D and CNG engine is also available in 796 cc option. It is available in manual transmission with a mileage of 24.7 kilometers per liter. It has a overall length of  3430 millimeters and width of 1490 millimeters, generates maximum power of 47.3 bhp at 6000rpm and maximum torque of 69Nm at 3500 rpm.It has a seating capacity of five persons and offers all basic facilities including power windows ,wheel covers, air conditioner power steering, child safety locks, rear seats arm rest, anti thief alarm. It has a price range from 3.83 lacs to 4.24 lacs Indian rupees depending on which variant you are buying.
Maruti Dzire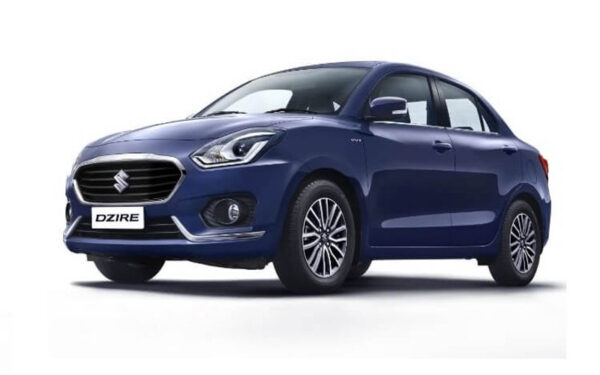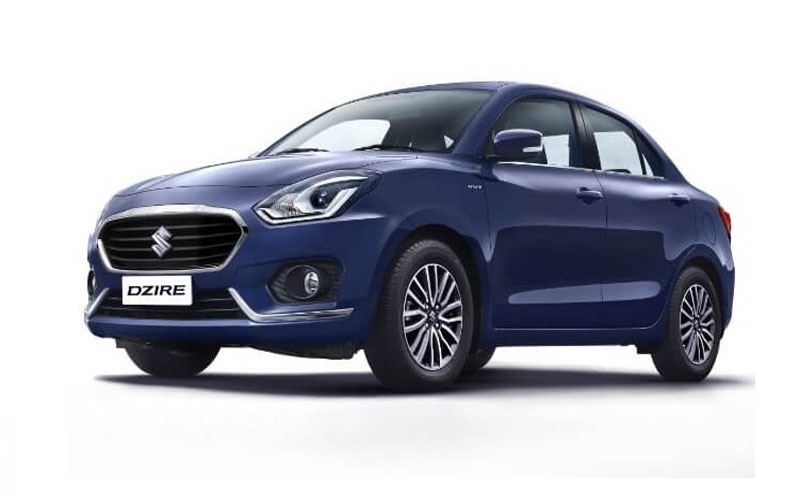 Maruti Dzire is on the second number among top selling cars of 2019 in India. Maruti Dzire offers 1197 cc engine with petrol and diesel variants. It gives a total mileage of twenty two kilometers per liter with manual transmission option only. It offers a boot space of 378 liters and provides all basic facilities including power windows of front and back, air bags for drivers and passenger's safety, central locking, power steering, ABS, good interior quality, ZDI+ /ZXI+ variant is also offering seven inch touch screen for infotainment system. It has a price range from 5.69 lacs to 9.54 lacs Indian rupees.
Maruti Swift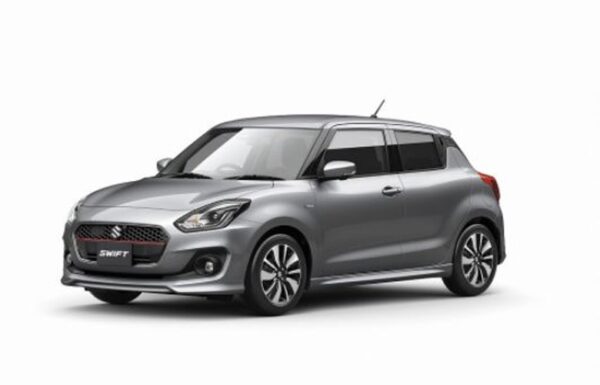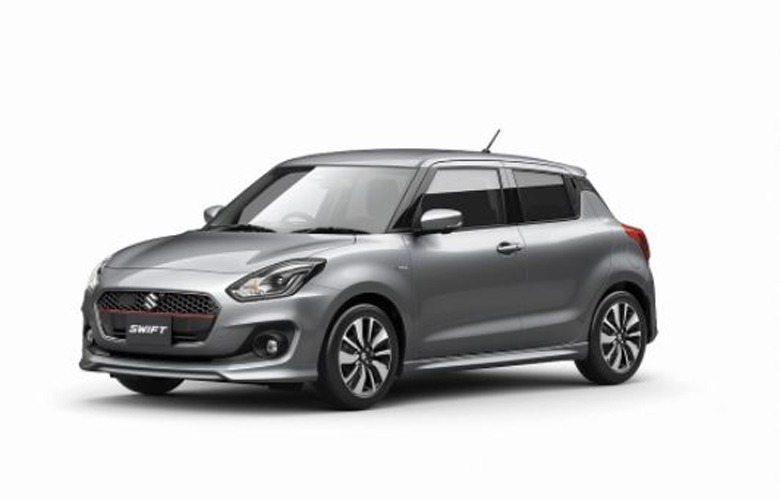 Maruti Swift has a price range from 4.99 lacs to 8.85 lacs Indian rupees depending on which variant you are purchasing. It offers both petrol and diesel variants and give a mileage of 22 kilometers per liter in city and 28 kilometers per liter on highways. Petrol engine is 1197 cc with manual transmission power and boot space of 268 liters. It provides air bags for the safety of drivers and passengers and has a seating capacity for five persons. It does not have power windows and central lock system. You can choose the color of your choice among six exterior colors of the car.
Maruti Baleno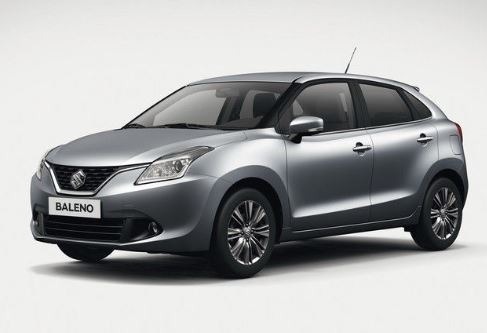 Maruti Baleno has maintained a well deserving position in market despite the tough competition faced by it; it still manages to be on 4th position of top selling cars of 2019 in India. Maruti Baleno is a very economic car starting from a price of 5.46 lacs Indian rupees. It has a 1197 cc engine offering the option of petrol for fuel type and manual transmission with a boot space of 339 liters, providing all basic facilities of a good automobile including power windows for front, air bags for front passengers and drivers, ABS, central locking, air conditioner, gives a mileage of 21.4 kilometers per liter, offers a top speed of 180 kilometers and it can speed up from zero to 100 kilometers per hour in just 12.36 seconds. It provides comfortable seating with seat belt warning and an entertaining infotainment system.
Maruti Brezza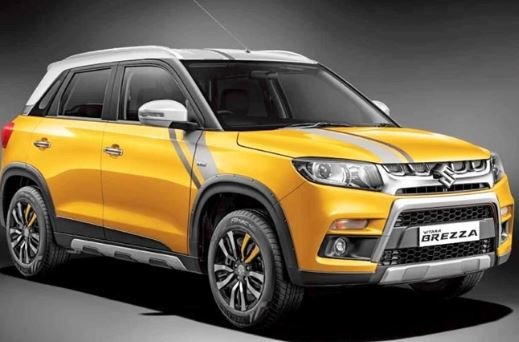 Maruti Brezza has a starting price of 7.67 lacs Indian rupees. It has a 1248 cc engine with a fuel option of diesel and offers manual transmission with a boot space of 328 liters. It gives a mileage of 24.3 kilometers per liter and generates a power of 88.5 bhp at 4000 rpm, offering front wheel drive and generates a torque of 200Nm at 1750rpm. Apart from this it provides all basic facilities like power windows, power steering, central locking, air conditioner, air bags, ABS, an entertaining music system and comfortable seating for drive with adjustable seats and back seats arm rests.
Conclusion:
All the five vehicles are from Maruti Suzuki and there is no doubt about that Suzuki is the most favorite company among the Indians, Reason for being favorite is not only the name or Tag of Suzuki but the Features and Specs Suzuki offers in the affordable price range is important. All other competitors are also present their like Honda, Toyota, VW, TATA etc, but Suzuki is outselling all the other brands because of affordable price and good features. Like India Maruti, Suzuki is also the best selling company in Pakistan but in comparing to Indian Maruti vehicles, Quality of Suzuki vehicles in Pakistan is still too low that is the reason people prefer to import rather than purchasing local manufactured vehicles of the company. Suzuki should have to consider this fact and have to provide and manufacture better quality vehicles in Pakistan as well.